Month: May 2018
Photo by Richard Hurd
NRSSH Launches to Combat Hunger
Looking to join a premier networking group focused on giving back to the community, professional development, and volunteering? NRSSH (pronounced NOURISH) is your answer!
Join us for the launch of NRSSH – aka the Next Rising Stars of Second Harvest – an organization comprised of young professional members making a difference in the fight against hunger in Southwest Wisconsin while expanding our professional development and gaining an understanding of board membership at the non-profit level.
More information at https://www.secondharvestmadison.org/donation-pages/nrssh-launch-party
Pre-registration fee: $20 / At the door fee: $25
Fee will be waived when you apply for membership
Membership fee prior to and during event: $50
Date:
June 14, 2018
Company:
Second Harvest Foodbank of Southern Wisconsin
Contact:
Laura Gaffney
Phone:
608-216-7205
LauraG@shfbmadison.org
Photo by Richard Hurd
Datica Celebrates 5th Anniversary as a Compliance and Security Leader for the Cloud
MADISON, WISC. AND SEATTLE — MAY 31, 2018
Datica™ announced today that this month marks the company's 5th anniversary since carving out a niche market in 2013 when it first addressed compliance and security in the cloud. Today, Datica's Platform for healthcare continues its evolution in one of the most highly regulated industries in the U.S. and has become an enabler for cloud-based strategies.
Last year, the company launched its first international pod and will be adding more in 2018. Getting in front of the European Union's General Data Protection Regulation (GDPR) has been a driving force for Datica over the past year and a half. In 2017, the company began a GDPR audit process of its Platform, a move that soon makes the Platform compliant with the regulations of HIPAA, HITRUST, GDPR and GxP.
Other milestones Datica (originally founded under the name Catalyze) has had since its May 2013 launch include:
Raised $12.5 Million in funding since inception
First to make the Kubernetes technology for deploying containerized workloads HITRUST CSF Certified
Selected as a premier healthcare speaker at AWS re:Invent 2017, and featured in the main keynote at the 2018 Microsoft Build conference
Pioneered the Digital Health Success Framework, leading to industry-wide acclaim, including presenting at Health 2.0 and SXSW
Embraced a virtual workforce in 2013, tapping top healthcare technology talent across the nation
"Since 2013, we've put an emphasis on supporting customers by controlling growth, and in the first half of 2018 we've continued that company focus by spending all available resources on engineering and servicing customers, " said Travis Good, MD, CEO and chief privacy officer. "When I think back to the start of the company, it's humbling to see how our customer base has expanded from early-stage startups, then to mature healthcare vendors, and finally to the Fortune 500 mix of enterprise customers. It's the compliance and security aspects that bring these customers to Datica; it's core to our mission, so we ensure the Platform remains first and foremost secure."
As Datica celebrates the past five years, it's also a time to look to the future. Though healthcare has, up until now, been a core focus of the company, Datica's newly introduced Cloud Compliance Management System will open a host of new opportunities for organizations to manage the compliant state of their entire enterprises in one actionable view — across multiple clouds and within multiple industries. "As we expand our partnerships with Microsoft Azure and AWS, and on to Google Cloud, Datica will explore offering end-to-end compliance beyond healthcare," said Good.
About Datica
The Datica Platform is designed for those who store, manage and share protected health information (PHI) in the cloud and manages all ongoing compliance and security burdens found within the exacting standards of HIPAA, HITRUST, GDPR, and GxP. Customers can license and deploy cloud-native applications on their own cloud account, or tap Datica's cloud account to receive compliance, security and electronic health record (EHR) integration expertise to launch and manage applications. Datica's Kubernetes-enabled platform customers include mid-to-late stage startups to Fortune 100 companies across the healthcare spectrum: solution providers, hospital organizations, pharmaceutical giants and nationwide health insurance payers. For more information, go to Datica.com.
Photo by Richard Hurd
RMR Financial Advisors, LLC re-brands as RMR Wealth Advisors, LLC
RMR Financial Advisors, LLC has modified their company name to RMR Wealth Advisors, LLC.
Photo by Richard Hurd
Starion Bank presents Kindness Cash to Habitat for Humanity
Starion Bank presented Habitat for Humanity of Dane County with a $250 Kindness Cash donation.
Madison Kindness Cash donation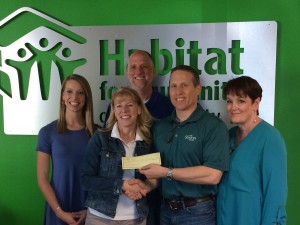 Photo by Richard Hurd
Scott Ducke Named Chief Lending Officer at State Bank of Cross Plains
May 24, 2018, MADISON, Wisconsin— State Bank of Cross Plains (SBCP) has hired Scott Ducke to its executive leadership team as Chief Lending Officer. Formerly a Senior Vice President at Park Bank, Ducke joins State Bank of Cross Plains to fill the role currently held by Alan Langeteig, who will be retiring after more than 30 years in local commercial banking.
"I appreciate the opportunity to learn from and follow in the footsteps of one of the most well-established and well-liked commercial business bankers in this area as he closes out his career," Ducke shares. "Alan has created a legacy of leadership and excellence in this industry that I'm looking forward to continuing and hopefully building upon."
With a Masters of Business Administration from Edgewood College and an additional degree from the University of Wisconsin-Madison Graduate School of Banking, Ducke brings 25 years of local experience to SBCP's leadership team. In addition to his community banking expertise, Ducke has served more than six years on the Board of Directors for Gilda's Club and is the organization's current Board Chair.
"This new role fulfills my goals both professionally and personally," explains Ducke, who has worked in community banking his entire career. "The relationships I've built over the last 25 years are really important to me. I want to grow without moving into the corporate banking realm. I love the way community banking fits into the Dane County business culture, and having gotten to know the State Bank of Cross Plains President and CEO, Jim Tubbs, over the years, I am excited to work with another widely respected leader in the community."
Ducke officially came on board April 23 to direct SBCP's business banking team as Chief Lending Officer. In this capacity, he is committed to finding ways to make banking easier for business clients.
"State Bank of Cross Plains has the progressive mindset I was looking for," Ducke says. "We are small enough to know who you are, but sophisticated enough to provide the technology and solutions you want and need to grow your business."
For more information about business banking at State Bank of Cross Plains, visit CrossPlainsBank.com.
# # #
State Bank of Cross Plains is known for our modern, progressive approach to supporting businesses and consumers by offering services more typical of larger financial institutions in an environment that values one-on-one personal relationships and community involvement. Celebrating our 110-year anniversary in 2018, State Bank of Cross Plains is a $900 million institution, offering a full range of business and personal financial services including business, real estate, and consumer lending, as well as wealth management and financial advisory services. The largest independent community bank in Dane County, we have ten convenient locations. Member FDIC and Equal Housing Lender.
For additional information, please visit www.crossplainsbank.com or contact VP-Marketing Director Darin Tessier at 608-826-3514.