Month: August 2018
Photo by Richard Hurd
American Family Insurance and gener8tor Announce gBETA Social Impact
FOR IMMEDIATE RELEASE
Contact
Joe Kirgues
joe@gener8tor.com
(414) 940-3287
American Family Insurance and gener8tor Announce gBETA Social Impact
Accelerator program will focus on social impact nonprofits and for profits
MADISON – American Family Insurance and nationally ranked startup accelerator gener8tor announced the launch of gBETA Social Impact, a free accelerator for startup companies and emerging nonprofits.
gBETA is a free, seven-week accelerator for early-stage companies with local roots. The program requires no fees and no equity. Participants receive intensive and individualized coaching and access to gener8tor's national network of mentors, customers, corporate partners and investors. The program is designed to help startups gain early customer traction on their product or idea, and establish metrics that make them competitive applicants for fulltime, equity-based accelerators or seed investment.
gBETA Social Impact will be open to emerging nonprofits as well as for-profit startups. Five organizations will be selected for the inaugural program, which will be focused on companies making a positive impact on K-12 education. gBETA Social Impact will be based out of the Spark – Madison's new building dedicated to innovation, collaboration and entrepreneurship. The location will create the environment for program participants to collide with the broader entrepreneurial ecosystem, creating opportunities for further collaboration.
"gBETA Social Impact is gener8tor's newest, exciting program that will give entrepreneurs the resources and mentorship they need to make a difference in education in their communities," said gener8tor Co-Founder Joe Kirgues. "Investing in our best and brightest has always been gener8tor's mission, and this program does exactly that."
gBETA Social Impact is made possible by a new initiative focused on corporate and social impact by American Family Insurance.
"We could not be more excited to partner with gener8tor to make gBETA Social Impact a reality," added American Family Insurance Chief Business Development Officer Peter Gunder. "One of the things that American Family Insurance is passionate about is our community, and this program is another way to make a substantial investment in the future."
###
gener8tor is a nationally ranked accelerator that invests in high-growth startups. gener8tor supports the growth of these startups through its network of experienced mentors, technologists, corporate partners, angel investors and venture capitalists. gener8tor is a proud member of the Global Accelerator Network (GAN) and is sponsored by American Family Insurance. gener8tor is a GOLD-tier accelerator in the U.S. as ranked by the Seed Accelerator Rankings Project. Learn more about gener8tor at www.gener8tor.com.
gBETA is a program of nationally ranked startup accelerator, gener8tor. gBETA is a free, seven-week accelerator for early-stage startups. Each program is capped at five teams, and requires no fees and no equity.
American Family Insurance is the nation's 13th-largest property/casualty insurance group and ranks 311 on the Fortune 500 list. The company sells American Family-brand products, including auto, homeowners, life, business and farm/ranch insurance, primarily through its exclusive agents in 19 states.
Photo by Richard Hurd
Sani-Matic Inc. Breaks Ground on New 93,500 Square-Foot Manufacturing and Office Facility
FOR IMMEDIATE RELEASE
Thursday, August 23, 2018
SANI-MATIC INC. BREAKS GROUND ON NEW 93,500 SQUARE-FOOT MANUFACTURING AND OFFICE FACILITY
New facility to accommodate growth, increase operational efficiencies and support collaborative culture
MADISON, Wisc., August 23, 2018—Sani-Matic, Inc., a Madison, Wisconsin-based manufacturer of sanitary process cleaning equipment and components, today began a new chapter in its 75-year history with a groundbreaking ceremony commencing construction of the company's new facility. The move will bring its two facilities under one roof, accommodate ongoing growth, provide operational efficiencies, and enhance the customer experience.
The property for the planned 93,500 square-foot facility is located eight miles from the company's current facilities in the newly developed Park 151 industrial park in Sun Prairie, Wisconsin. It will be the second building developed within the park and is slated for completion in May 2019.
"We have been operating from two facilities for several years to accommodate our ongoing growth, but it isn't an efficient way to work and doesn't support our strong collaborative culture," stated CEO and President Aaron Zell. "As our scalable growth initiatives continue to help us grow, it became clear we needed a new facility to reunite our 160 employees under one roof and accommodate our ever-growing team of experts."
The property also supports continued growth with space available for expansion.
A facility to inspire learning and innovation
The facility will feature 67,500 square feet of manufacturing space and 26,000 square feet of office space. The office area will include a training classroom and lab, automation and engineering labs for innovation, and dedicated Factory Acceptance Testing (FAT) customer rooms that connect to the manufacturing floor.
"We host several trainings for our distributors, manufacturer's representatives and customers every year," commented Zell. "We also have many customers visit us to participate in week-long Factory Acceptance Tests. That is why creating an environment that is easy to work in as well as one that encourages learning and inspires innovation was heavily weighted in our planning."
Selecting a location and community
The facility's location was carefully chosen for its proximity to the company's current facility. "The commitment to retaining every employee was top of mind in our choice of property. We didn't want to lose good employees due to commuting challenges," said Zell. "We also wanted to remain close to the Dane County airport and the City of Madison for talent recruitment and ease of access for our customers."
Zell added, "The City of Sun Prairie has been an excellent partner during this process—from site selection to the final approvals needed to proceed. We look forward to becoming an active community partner."
Sun Prairie city officials share the enthusiasm and desire to develop a strong partnership. "Sani-Matic is a great business to have in Park 151, and their project will be a key anchor in what we anticipate being one of the most attractive business parks in Dane County," stated Sun Prairie Mayor Paul Esser. "Like Sani-Matic, we are looking for businesses that will bring good jobs with competitive wages to the area as well as be an active partner in the Sun Prairie community. We are excited about their investment here and welcome them to Sun Prairie."
About Sani-Matic, Inc.
Sani-Matic, Inc. delivers reliable sanitary process cleaning solutions through targeted engineering, automation and craftsmanship. For the past 75 years, the Madison, Wisconsin-based manufacturer has successfully served the food, beverage, and biopharmaceutical industries with a full line of equipment and supporting sanitary components including clean-in-place (CIP) systems, clean-out-of-place (COP) parts washers, GMP cabinet washers, tunnel washers, boosted pressure systems, strainers, spray devices and more. The company's Milwaukee, Wisconsin-based ownership firm, WING Capital Group, continues to invest in Sani-Matic's long-term success. WING Capital Group also owns Wisconsin-based manufacturing firms Kickhaefer Manufacturing Company (KMC) and Muza Metal Products.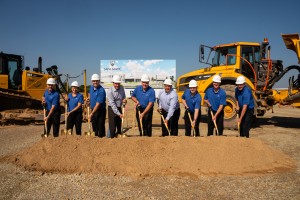 Photo by Richard Hurd
Hunter and Mastronardi join WPS Board of Directors
FOR IMMEDIATE RELEASE
Contact:
Tom Enwright
(608) 977-7165
thomas.enwright@wpsic.com
Hunter and Mastronardi join WPS Board of Directors
MADISON, Wis.—August 23, 2018—Christine Hunter, M.D., and Nick Mastronardi, Ph.D., have been elected to the Board of Directors for Wisconsin Physicians Service Insurance Corporation, doing business as WPS Health Solutions.
Dr. Hunter recently retired from the U.S. Office of Personnel Management, where she served as Medical Director for the Federal Employees Health Benefits Program since 2011. While in that role, she was Co-Chairman of the National Committee for Quality Assurance (NCQA) Committee on Performance Measurement and contributed to the design of new federal insurance offerings.
Dr. Hunter developed a distinguished career in the Navy with expertise in direct delivery, health system, health plan, and insurance operations. She attained the rank of Rear Admiral in 2005.
From 2009 to 2011, Dr. Hunter served as Deputy Director of TRICARE Management Activity, coordinating health care for 9.6 million military beneficiaries.
She was Commanding Officer of the Naval Medical Center in San Diego, California, from 2007 to 2009.
From 2004 to 2006, Dr. Hunter was Chief of Staff for the Navy Bureau of Medicine and Surgery in Washington, D.C. She was responsible for setting strategic priorities and directing the work of 40,000 military medical professionals worldwide.
Dr. Hunter earned her medical degree from the Boston University School of Medicine. She is a Fellow of the American College of Physicians.
Dr. Mastronardi is an accomplished economist, presidential policy analyst, and entrepreneur. He is founder and Chief Executive Officer of POLCO, a Madison-based firm specializing in advanced policy polling and civic analytics.
Earlier in his career, Dr. Mastronardi served on the President's Council of Economic Advisers. He also was a Senior Economist with Amazon.
Much of Dr. Mastronardi's career has been devoted to military service. From 2004 to 2014, he was an active-duty officer in the Air Force, reaching the rank of Major. Since 2014, he has been an officer in the Air Force Reserve, working with the U.S. Cyber Command and in emerging technologies and data science.
From 2009 to 2014, Dr. Mastronardi was an Assistant Professor of Economics at the Air Force Academy where he taught game theory, microeconomics, quantitative finance, econometrics, and statistics.
He also served as an Economic and Security Analyst in the Office of Secretary of Defense at the Pentagon. Earlier in his military career, he was a Research Physicist and Program Manager with the Air Force Research Laboratory.
Dr. Mastronardi earned a bachelor's degree in mathematics and physics from the University of Notre Dame, and a doctorate in economics from the University of Texas at Austin.
About WPS Health Solutions
WPS Health Solutions is a nationally regarded government contractor and a leading Wisconsin not-for-profit health insurer. The WPS Health Insurance division offers affordable health plans and benefits administration. The WPS Government Health Administrators division administers Part A and B Medicare benefits for millions of seniors in multiple states, and the WPS Military and Veterans Health division serves millions more members who are active in the U.S. military, veterans and their families. In 2018, the international Ethisphere® Institute named WPS one of the World's Most Ethical Companies® for the ninth straight year. For more information, please visit wpshealthsolutions.com. WPS is a member of the National Association of Corporate Directors (NACD).
Photo by Richard Hurd
36 DeWitt Attorneys Named Best Lawyers in America® – 2019 Edition
FOR IMMEDIATE RELEASE
FOR INFORMATION CONTACT:
Michelle M. Friedman, (262) 754-2877, mmf@dewittross.com
36 DEWITT ATTORNEYS NAMED BEST LAWYERS IN AMERICA® – 2019 EDITION
Three Madison DeWitt Attorneys Named Lawyer of the Year
MADISON|MILWAUKEE|MINNEAPOLIS – The law firm of DeWitt Ross & Stevens S.C., and its affiliate DeWitt Mackall Crounse & Moore S.C., announced today that 36 lawyers from its Wisconsin offices have been named for inclusion in The Best Lawyers in America® 2019. In addition, three of its attorneys also received the distinction of Lawyer of the Year in their respective practice areas for the region: Brian L. Anderson Tax Law Lawyer of the Year; Ronald W. Kuehn Government Relations Practice Lawyer of the Year; and Joseph T. Leone Litigation Lawyer of the Year. Only one attorney per practice area is recognized per community.
The attorneys selected for The Best Lawyers in America inclusion represent 28 areas of law.
The 32 Madison-based attorneys and their specialties selected for inclusion are:
*The years listed in parentheses are their inaugural years of being featured on the list
Brian L. Anderson (2005) Employee Benefits, Tax Law, Trusts and Estates (Lawyer of the Year – Tax Law)
Jon P. Axelrod (1995) Commercial Litigation
Donald L. Bach (2007) Water Law
Denis P. Bartell (1989) Banking and Finance Law, Bankruptcy, Commercial Litigation, Real Estate Law
Frederic J. Brouner (2005) Corporate Law, Real Estate Law, Tax Law
Paul A. Croake (2006) Corporate Law
Michael R. Davis (2005) Personal Injury-Plaintiffs
Stephen A. DiTullio (2007) Commercial Litigation, Employment Law, Labor Law
Peter R. Dohr (2006) Corporate Law
Bryan C. Esch (2011) Real Estate Law
Eric A. Farnsworth (2005) Medical Malpractice-Plaintiffs, Personal Injury-Plaintiffs
Bradley C. Fulton (2013) Commercial Litigation
Jeffrey A. Goldman (2016) Trusts & Estates
Henry J. Handzel, Jr. (1989) Environmental Law
Hugh J. Hayes (2011) Family Law
Stuart C. Herro (2005) Real Estate Law, Trusts and Estates
Christopher S. Krimmer (2014) Family Law
Jayne K. Kuehn (2007) Education Law
Ronald W. Kuehn (2009) Government Relations (Lawyer of the Year – Government Relations Practice)
Jordan K. Lamb (2009) Government Relations Practice
Joseph T. Leone (2007) Copyright Law, Intellectual Property Litigation, Patent Litigation, Patent Law, Trademark Law (Lawyer of the Year – Litigation – Patent)
Troy A. Mayne (2005) Corporate Law, Real Estate Law
William E. McCardell (2007) Construction Law, Employment Law, Labor Law
Richard W. Pitzner (1983) Corporate Law, Tax Law
Ron R. Ragatz (2006) Commercial Litigation, Environmental Law
Joseph A. Ranney (2010) Commercial Litigation, Intellectual Property Litigation, Patent Litigation
John Rashke (1987) Employee Benefits
Greg E. Scallon (2013) Corporate Law
Mark R. Sewell (2009) Land Use & Zoning Law, Municipal Law
Wrede H. Smith, Jr. (2005) Commercial Litigation, Corporate Law, Real Estate, Trusts and Estates
Timm P. Speerschneider (2006) Environmental Law, Land Use & Zoning Law
Michael W. Wilcox (1983) Trusts and Estates
The four Metropolitan Milwaukee-based attorneys and their respective specialties are:
*The years listed in parentheses are their inaugural years of being featured on the list
Douglas H. Frazer (2007) Tax Litigation and Controversy, Tax Law
Paul R. Hoefle (2017) Litigation – Insurance, Personal Injury Litigation – Plaintiffs
Brian R. Smigelski (2013) Construction Law
John P. Yentz (2013) Corporate Law
About Best LawyersÒ
Since it was first published in 1983, Best Lawyers has become universally regarded as the definitive guide to legal excellence. Because Best Lawyers is based on an exhaustive peer-review survey in which tens of thousands of leading attorneys cast votes on the legal abilities of other lawyers in their practice areas, and because lawyers are not required or allowed to pay a fee to be listed, inclusion in Best Lawyers is considered a singular honor.
About DeWitt
DeWitt Ross & Stevens S.C., including its affiliate DeWitt Mackall Crounse & Moore S.C., is one of the ten largest law firms based in Wisconsin, with an additional presence in Minnesota. It has nearly 140 attorneys practicing in Madison and Metropolitan Milwaukee, Wisconsin, and Minneapolis, Minnesota, in a variety of legal areas and has the experience to service clients of all scopes and sizes. The firm is known for its work in several areas, including civil rights litigation, corporate law, employment, environmental, employee benefits, estate planning, family law, government relations, health care, intellectual property, patents, trademarks and copyright law, litigation, personal injury, real estate, and tax law.
Photo by Richard Hurd
Feel the Love Wisconsin Seeks Nominations for Homeowners in Dane County to Receive a Donated and Installed Furnace
Contact: Kendall Richards, Impact Committee Chair for Feel the Love Wisconsin, and President of All Comfort Services
Phone: 608-838-7300
Email: krichards@allcomfortservices.com
Date: August 15, 2018
FOR IMMEDIATE RELEASE
Feel the Love Wisconsin Seeks Nominations for Homeowners in Dane County to Receive a Donated and Installed Furnace
Madison, Wis. – If you know someone who could use a helping hand keeping their home warm, All Comfort Services wants to hear from you. Lennox Industries' Feel the Love Wisconsin, formerly Heat U.P. Wisconsin, seeks nominations for homeowners in need, as well as those who deserve recognition for their military or community service, to receive a free high-efficiency Lennox furnace. On Saturday, October 6, 2018, local HVAC contractor All Comfort Services will be among about 70 participating Lennox dealers across Wisconsin and Upper Peninsula of Michigan who volunteer a day of labor and materials to install furnaces at no cost to the families. The project is supported by Lennox Industries, which donates up to 100 high-efficiency furnaces and Honeywell thermostats.
"Every year we really look forward to this program. It really makes our day. I'm proud of our team for volunteering their time to serve those in need of a helping hand or just a thank you," says Kendall Richards, Lennox Impact Committee Chair and President of All Comfort Services.
Nominations for 2018 installations are due by September 5. Those received after that date will be considered for the following year. For more information or to nominate a household, go to http://www.feelthelove.com.
The Feel the Love Wisconsin program began in 2010. Since then, Lennox Industries and local dealerships have provided well over $2 million in support to households in need. This is a true "giving back" community program. The Feel the Love program has now spread to Lennox dealers in Minnesota, Illinois, North Dakota, South Dakota, Missouri, Colorado, and four provinces in Canada.
More video about local recipient: