Month: July 2018
Photo by Richard Hurd
Gas line rupture in Sun Prairie: Not TDS
MADISON, Wis. (July 12, 2018) — Today, TDS Telecom confirms the contractor who ruptured the gas line in Sun Prairie, Wis. was not hired by, nor doing work for TDS.
"This has been our assessment since the beginning of the incident, however we needed time to investigate the details and facts associated with this tragedy before we confirmed," stated Jim Butman, president and CEO of TDS Telecom.
During the past 18 months, TDS has been building a new fiber optic broadband network in Sun Prairie; however, we have confirmed TDS contractors were not associated with this accident.
What happened in Sun Prairie Tuesday evening is devastating. Our hearts go out to the community at large, injured first responders, and especially to the family and friends who lost their loved one. We would like to thank the first responders, local government, Red Cross and other organizations for taking such great care of the citizens of Sun Prairie during this heartbreaking situation.
Media contact: Cindy Tomlinson, Associate Manager of Public Relations, TDS Telecom | 608-664-4471 | cindy.tomlinson@tdstelecom.com
TDS Telecommunications LLC (TDS Telecom/TDS®) is the seventh largest local exchange telephone company in the U.S. with 1.2 million connections to high-speed internet, phone, and TV entertainment services in nearly 900 rural, suburban, and metropolitan communities. TDS, a growing force in the cable industry, operates BendBroadband, which is part of TDS Broadband Service LLC. For residential customers, TDS deploys up to 1Gig internet access, IPTV service (TDS TV), cable TV options, and traditional wireline services. For businesses, TDS offers advanced communications solutions, including: VoIP (managedIP Hosted voice), high-speed internet, fiber optics, data networking, and hosted-managed services. Visit tdstelecom.com | tdsbusiness.com | tdsfiber.com.
TDS Telecom, headquartered in Madison, Wis., employs more than 2,800 people and is a wholly owned subsidiary of Telephone and Data Systems, Inc. In 2018, TDS was recognized in Forbes list of America's Best Employers for Diversity. The TDS family of companies, which includes TDS Telecom, is listed at 190 out of 250 top employers in the U.S.
Telephone and Data Systems, Inc. [NYSE: TDS], a Fortune 1000® company, provides wireless; cable and wireline broadband, TV and voice; and hosted and managed services to more than six million connections nationwide through its businesses U.S. Cellular, TDS Telecom, OneNeck IT Solutions LLC, and TDS Broadband Service. Founded in 1969 and headquartered in Chicago, Telephone and Data Systems, Inc. employs more than 9,900 people. Visit tdsinc.com.
Photo by Richard Hurd
Platz named CEO of Mead & Hunt, national architecture-engineering firm
FOR IMMEDIATE RELEASE
July 10, 2018
Platz named CEO of Mead & Hunt, national architecture-engineering firm
Mead & Hunt announced that Andy Platz is the new CEO effective July 1, 2018. Platz will continue as President, and former CEO Raj Sheth will continue as Chairman of the Board.
"We have a fantastic team and company, and I am honored to be chosen to lead us through our next chapters," said Platz in a message to employees. "Our industry is constantly changing—new delivery methods, new services, new markets, new technologies and new demands seemingly spring up every minute. Yet despite all this change, our values remain the same and have proven to be the secret to our success."
He went on to thank employees saying, "Our success over the years is due to your hard work and dedication, and I look forward to supporting each of you as we build upon our success and become an even better company. Starting as CEO of a company with such a successful track record has its own challenges. We want to continue our growth and stay competitive, while still being able to enjoy what we have all worked hard to create."
Mead & Hunt is one of the largest privately-held architecture, engineering, and planning consulting firms in the nation. In the past 24 years the firm has grown from 130 employees to more than 650. Offices increased from two civil engineering offices in Wisconsin to more than 30 multi-discipline offices across the nation. Revenues increased from $10 million in 1994 to an expected $125 million in fiscal year 2018.
Platz joined Mead & Hunt in 1985 as a project engineer in the aviation department. In the ensuing 33 years, he quickly rose through the ranks as project manager, department manager, business unit leader, group leader, president, and now CEO/President.
"Andy is a great leader. He's passionate about employee and client success," said Sheth. "I'm confident he will continue our focus on people, a culture of growth and opportunity, and commitment to solving clients' problems." Sheth continued that he would remain active and involved in Mead & Hunt's future for some time.
Platz is the sixth person to lead the company in the 118-year history of Mead & Hunt.
Mead & Hunt provides clients with expert planning, architecture design, engineering, environmental and construction administration services across a wide variety of market sectors, including transportation (aviation, highways, roads and bridges), food and beverage processing, renewable energy, municipal infrastructure, military, telecommunications, cultural resources, and hydropower and water resources. In each of these disciplines, the company has developed unique methodologies and processes to deliver cost-saving solutions that meet clients' needs.
Founded in 1900, the employee-owned (non-ESOP) consulting firm remains strong on ENR's Top 500 design firm list with a national ranking of 139 in 2018. Mead & Hunt made the Zweig Group 2018 Hot Firms Top 100 list for the 15th time in the past 16 years, demonstrating the company's continued fast paced growth. Mead & Hunt was named by CE News as one of the top 10 engineering companies to work for in the nation.
# # #
Media Contacts:
Andy Platz, CEO and President, andy.platz@meadhunt.com 608-443-0600
Raj Sheth, Chairman of the Board, raj.sheth@meadhunt.com 608-443-0310
Meghan Stiklestad, Director of Marketing, meghan.stiklestad@meadhunt.com 608-443-0378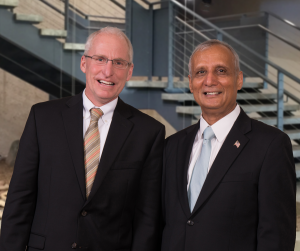 Photo by Richard Hurd
Wisconsin Bank & Trust Welcomes John Jennings as Business Development Officer
John Jennings New Role Press Release_FINAL
Photo by Richard Hurd
Suttle-Straus Announces Creative Throwdown Poster Design Contest
Waunakee, WI – Suttle-Straus, a commercial printing and marketing services provider, announced a "Creative Throwdown" contest for graphic designers. The winner receives an Apple iPad.
Creative workers are invited to show their love for Wisconsin by creating a poster design celebrating how they are inspired by "The Badger State."
All entries will be voted on by the public on the Suttle-Straus Facebook page. The Top 10 designs with the most votes will have their design printed, displayed, and distributed to attendees at a Paper Show event on September 20, 2018. One Best in Show entry will win an Apple iPad (retail value $349).
The deadline for entry is July 31st and there is no entry fee. Full information can be found on the website: https://www.suttle-straus.com/creative-throwdown
About Suttle-Straus
Suttle-Straus provides comprehensive marketing solutions including creative design, mailing, fulfillment, distribution, wide-format, conventional and digital printing. Our S4 Marketing Resource Center print-on-demand technology advances the execution speed of local marketing for distributed networks. Through long-term, collaborative client partnerships, Suttle-Straus produces quality work, exceeds expectations, and offers innovative products and services.