Category:
Member News
Learn who's growing, changing, moving and more! Stay on top of what's new with your neighboring businesses. We share news releases and announcements from your peers in the Madison area. Want to toot your own horn? Use our Submit Member News form to share your own stories.
Photo by Richard Hurd
WPS Health Solutions recognized as one of the Achievers 50 Most Engaged Workplaces® Awards 'Elite 8'
FOR IMMEDIATE RELEASE
Contact:
DeAnne Boegli
Vice President of Communications
608-512-5754
deanne.boegli@wpsic.com
WPS Health Solutions recognized as one of the Achievers 50 Most Engaged Workplaces® Awards 'Elite 8'
MADISON, Wis.—Oct. 22, 2021—WPS Health Solutions today announced its recognition as one of the "Elite 8" companies within the 2021 Achievers 50 Most Engaged Workplaces® Awards, which celebrate the top 50 employers that make engagement, alignment, and recognition central to the employee experience.
The coveted Elite 8 recognition is given to the companies that most exemplify one of Achievers' Eight Elements of Employee Engagement™ used to evaluate the most engaged workplaces: Accountability & Performance, Belonging, Equity & Inclusion, Culture Alignment, Manager Empowerment, Professional & Personal Growth, Purpose & Leadership, Recognition & Rewards, and Wellbeing.
"With employee resignations and labor shortages plaguing the workforce, it has never been more important for companies to commit to improving the employee experience," said Jeff Cates, CEO and president at Achievers. "The number of submissions we received for the Achievers 50 Most Engaged Workplaces® Awards proved not only that employers understand this need, but also shows their willingness to put people first during a crisis. The Elite 8 have exemplified what it looks like to be an employee-first company, and I want to congratulate them on both the well-deserved award and their dedication to their employees."
Sara Siekierski, Talent Development Manager, said, "This award is affirmation of the effort and attention we've placed on our culture over the last several years. Our performance-based culture fosters an empowering employee experience where employees contribute to their highest ability and results in a meaningful impact on our business."
The Elite 8 and Achievers 50 Most Engaged Workplaces® Award winners were officially recognized during the annual awards gala held virtually on Oct. 21, 2021.
The full list of 2021 Elite 8 winners are:
Insight Enterprises for Accountability & Performance
Cadillac Fairview Corporation for Belonging, Equity & Inclusion
WPS Health Solutions for Culture Alignment
Herbalife Nutrition for Manager Empowerment
Discover for Professional & Personal Growth
Air Canada for Purpose & Leadership
Meijer for Recognition & Rewards
Lloyds Banking Group for Wellbeing
For more information about Achievers 50 Most Engaged Workplaces® Awards, please visit achievers.com/engaged. Follow the conversations on Twitter at @Achievers or use the hashtags #Achievers50.
About WPS Health Solutions
Wisconsin Physicians Service Insurance Corporation (WPS Health Solutions), founded in 1946, is a nationally regarded benefits administrator for a variety of U.S. government programs and a leading not-for-profit health insurer in Wisconsin. WPS Health Solutions serves active-duty and retired military personnel, seniors, individuals, and families in Wisconsin, across the U.S., and around the world. WPS Health Solutions, headquartered in Madison, Wis., has more than 2,800 employees. Within the enterprise, there are three divisions: WPS Government Health Administrators, WPS Military and Veterans Health, and WPS Health Insurance/WPS Health Plan/EPIC Specialty Benefits. For more information, please visit wpshealthsolutions.com.
About Achievers
Achievers' employee voice and recognition solutions bring your organization's values and strategy to life by activating employee participation and accelerating a culture of performance. Achievers leverages the science behind behavior change, so your people and your organization can experience sustainable, data-driven business results. Visit us at www.achievers.com.
©2021 Wisconsin Physicians Service Insurance Corporation. All rights reserved.
###
Photo by Richard Hurd
Portillo's Set to Open in West Madison in November
Oak Brook, Ill. – Fast-casual chain Portillo's is excited to announce that it will host the grand opening for its new restaurant, located at 7230 West Towne Way in Madison, Wisc., on November 23, 2021. The restaurant is the second location in the Madison area. It officially opens to the public at 10:30am.
Portillo's has always been known for its fast and efficient drive-thru. To cater to the increase in takeout and delivery business, the new restaurant will feature Portillo's first-ever three-lane drive-thru, with the third lane dedicated to delivery drivers and pickup for online orders.
Portillo's is now hiring in anticipation of the opening. On average, Portillo's hires approximately 150 people for new restaurants. The restaurant is looking to fill a variety of hourly and shift leader positions. Applicants can apply online; the brand is also conducting walk-in interviews on site. Details can be found at portillos.com/careers.
Once open, guests can expect to enjoy Portillo's signature menu items like Chicago-Style Hot Dogs, Famous Italian Beef Sandwiches, Char-Grilled Burgers and Portillo's Famous Chocolate Cake. The 7,800-square-foot restaurant features seating for more than 180 guests inside as well as a seasonal outdoor patio. The interior features a diner theme, drawing inspiration from the 1950s and 1960s.
To help launch the new restaurant, Portillo's designed a limited-edition t-shirt for this location. Guests are invited to sign up for Portillo's Birthday Club to receive one of these shirts on opening day, while supplies last. Fans who sign up also receive a slice of Portillo's homemade chocolate cake on their birthday.
Fans are invited to register for a chance to attend a sneak peek training meal prior to opening and receive updates on the Portillo's Westfield location by signing up at portillos.com/west-madison.
For more information on this restaurant and others, please visit portillos.com or follow Portillo's on Facebook, Twitter and Instagram.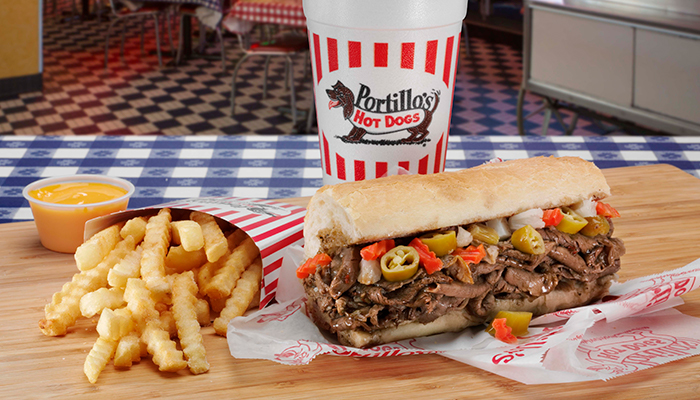 ABOUT PORTILLO'S HOT DOGS
In 1963, Dick Portillo invested $1,100 into a small trailer to open the first Portillo's hot dog stand in Villa Park, IL, which he called "The Dog House." Years later, Portillo's has grown to include restaurants in more than 60 locations across several states. Portillo's is best known for its Chicago-style hot dogs, Italian beef sandwiches, char-grilled burgers, fresh salads and famous chocolate cake. Portillo's ships food to all 50 states via Portillos.com. Portillo's Home Kitchen is the company's fast-growing catering business.
MEDIA CONTACT
ICR
PortillosPR@icrinc.com
###
Photo by Richard Hurd
Wisconsin Union Theater: Grammy Winner Terence Blanchard Will Pay Tribute to Living Jazz Legend Wayne Shorter During Nov. 5 Performance
FOR IMMEDIATE RELEASE
Oct. 14, 2021
Contact Information:
Shauna Breneman, Communications Director
Email: sbreneman@wisc.edu 
Phone: (608) 262-8862
GRAMMY WINNER TERENCE BLANCHARD WILL PAY TRIBUTE TO LIVING JAZZ LEGEND WAYNE SHORTER DURING NOV. 5 PERFORMANCE
MADISON – The Wisconsin Union Theater team presents a performance featuring Oscar-nominated, Grammy-winning trumpeter and composer Terence Blanchard, who will pay tribute to his mentor Wayne Shorter in a special collaborative project, called ABSENCE, with The E-Collective and Turtle Island Quartet on Nov. 5 at 7:30 p.m. in Shannon Hall at Memorial Union.
For Blanchard, this project presents an opportunity to pay homage to Shorter and his 50 years of creating and performing music as well as his jazz innovation. Blanchard says that Shorter's music shaped his musical identity.
Called the world's greatest living jazz composer by The New Yorker, saxophonist Shorter founded the jazz fusion group the Weather Report, recorded more than a dozen albums, played in Art Blakey's Jazz Messengers and composed pieces for the group, as well as performed in and composed for Miles Davis's Second Great Quintet.
His protégé Blanchard has become a jazz icon, as well, with a career that includes composing more than 40 film scores, winning five Grammys, receiving two Oscar nominations, and recently becoming the first Black composer to have his work performed by the Metropolitan Opera.
The Nov. 5 program will include compositions by Shorter as well as original pieces from Blanchard's quintet The E-Collective. The E-Collective's original works aim to weave in musical storytelling, which is a hallmark of Shorter's compositions and performances. Patrons will experience how Blanchard embeds his passion for social justice in his musical storytelling.
"You feel the level of intolerance that exists for people who ignore other people's pain. Musically, I can't ignore that," Blanchard said. "I can't add to that intolerance. Instead, I have to help people heal from it."
Patrons can purchase tickets to the in-person performance through the Campus Arts Ticketing website or at the Memorial Union Box Office. Current University of Wisconsin–Madison students, staff and faculty as well as Wisconsin Union members are eligible for discounted tickets. Ticket prices range from $10-50.
Patrons are welcome to arrive at Memorial Union early and enjoy a beverage at the Shannon Sunset Lounge across from the Shannon Hall lobby or food and beverages at the Memorial Union's many on-site dining options.
Tickets for most Wisconsin Union Theater season events are also available for purchase, with the exception of single tickets for a April 30, 2022, concert with opera legend Renée Fleming and the Black Arts Matter Festival, which will go on sale in early 2022.
Wisconsin Union Theater patrons and all Wisconsin Union team members must follow the current UW–Madison health and safety protocol of wearing a face covering when indoors on campus, unless actively eating or drinking. The Theater team has established the temporary additional health and safety measure of ensuring 20 feet of space between performers and audiences in performance spaces. The Wisconsin Union team also thoroughly and regularly cleans and disinfects its spaces.
Patrons can click here for more information about the upcoming performance.
-###-
About the Wisconsin Union Theater
The Wisconsin Union Theater's (WUT's) mission is to present, promote and cultivate a lifelong appreciation of the performing arts, especially among University of Wisconsin–Madison students. For more than 75 years, WUT has served as a center for cultural activity in the heart of the University of Wisconsin–Madison campus. Through a student-led committee, WUT presents an annual season of up to 40 events. Additionally, the Theater serves numerous renters on and off campus for graduations, lectures, conferences, and performances by university departments, registered student organizations, and community organizations. The Wisconsin Union Theater is committed to social justice and works to create an equitable, diverse, and inclusive place for patrons, staff and performers.
Learn more: union.wisc.edu/wisconsin-union-theater.
[Click here to download a photo of Terence Blanchard. Photo by Henry Adebonojo.]
To read this release online, visit union.wisc.edu/about/news/absence.
Photo by Richard Hurd
Eppstein Uhen Architects: Beyond Design Bike Tour Online Auction Raises Money for Local Charities
MILWAUKEE + MADISON, WI, October 11, 2021 —For the past 15 years, Eppstein Uhen Architects (EUA) has held a Beyond Design Bike Tour (BDBT) to raise money for charities within the community. Due to circumstances related to the pandemic, the 16th Annual Beyond Design Bike Tour was canceled out of an abundance of caution and safety for our bikers, sponsors, and volunteers.
Although the event was canceled, EUA held an Online Silent Auction from August 23rd – 26th that raised over $7,500 with proceeds benefiting the intended charities of Camp One Step and Shining Stars Foundation.
EUA would like to thank all our sponsors who contributed to the 16th Annual Beyond Design Bike Tour and a special thank you to the sponsors who opted to still contribute their donations of $40,350:
Baker Tilly, BMO Harris Bank, CD Smith, CG Schmidt, Gilbane Building Company, Giles Engineering Associates, Graef, Grumman/Butkus Associates, Grunau Company, Kapur & Associates, M3 Insurance, Mortensen Construction, Next Generation Wealth Management, Riley Construction, Ring & DuChateau, RTM Engineering, Tour of America's Dairyland
EUA looks forward to hosting the 17th Annual Beyond Design Bike Tour on August 25th, 2022 in support of Camp One Step and Shining Stars Foundation in the fight against childhood cancer.
To learn more about how the charities will be utilizing the donations contact Katie Weil at Camp One Step and Mackenzie Brenneman at Shining Stars Foundation:
Camp One Step
Katie Weil
Vice President, Philanthropy
kweil@camponestep.org
Shining Stars Foundation
Mackenzie Brenneman
Director of Programs and Events
Mackenzie@ShiningStarsFoundation.org
About Eppstein Uhen Architects (EUA) 
Eppstein Uhen Architects (EUA) is best known for designing environments that elevate people's potential. Nearly 180 employees in Denver, Milwaukee and Madison demonstrate unparalleled commitment to the markets, communities and clients they serve. The respected 114-year-old firm specializes in several markets including aerospace, education, workplace, industrial, healthcare, senior living, mixed-use, community and science + technology. For additional information, please visit the firm's website at eua.com.
###
Megan Kocchi, Marketing Leader, at 414.298.2204 or megank@eua.com.
Photo by Richard Hurd
Wisconsin Homecoming Committee and Wisconsin Union Invite All to Homecoming 2021 Events
FOR IMMEDIATE RELEASE
Oct. 11, 2021
Contact Information:
Shauna Breneman, Communications Director, Wisconsin Union
Email: sbreneman@wisc.edu
Phone: (608) 262-8862
WISCONSIN HOMECOMING COMMITTEE AND WISCONSIN UNION INVITE ALL TO HOMECOMING 2021 EVENTS
MADISON – After a 2020 Homecoming of completely virtual festivities, the Wisconsin Homecoming Committee and the Wisconsin Union invite all to Homecoming festivities Oct. 24-31, including a parade, free hot chocolate, a Badger Bash tailgate celebration and more.
Some of the events attendees can experience include the following:
Attendees can read the most current list of events here: wiscohoco.com/2021-homecoming-events. The Committee, the Wisconsin Union and others will continue to add events to the calendar. The Committee encourages attendees to monitor the events listings to plan their Homecoming activities. All events are free and open to the public. 2021 marks the 110th anniversary of homecoming celebrations at UW‒Madison.
One of the most beloved Homecoming traditions, the Homecoming parade, will return with Bucky Badger; the UW Spirit Squad; the Bucky Wagon; the UW Alumni Band; the Madison Area Jugglers; the Black Star Drum Line; the University of Wisconsin Marching Band; circus artists from Head Over Wheels, who specialize in the German wheel; high wheel bicyclist Jonathan Bee; and professional clown Bingo the Balloon Clown. The Committee and Union-run parade will feature a trick-or-treat with Bucky theme and, in keeping with the theme, plenty of candy for attendees. The parade will begin on Langdon Street at 6 p.m., proceed to Wisconsin Avenue between Langdon Street and Gilman Street, travel along Gilman Street to State Street and then continue to Lake Street.
Homecoming parade participants will include more than two dozen organizations, including but not limited to the Alpha Kappa Chapter of Kappa Delta Chi Sorority, Inc.; Dance Elite; The Madhatters; Redefined A Cappella; the Wisconsin Premiere Dance Team; Wisconsin Racing; and the Wisconsin Singers.
Numerous campus leaders and talented students will appear in the parade, including Chancellor Rebecca Blank and 2021 Big Ten Track champion and Olympic trial athlete Destiny Huven.
The Committee and the Union invite UW‒Madison registered student organizations (RSOs) and UW‒Madison departments to submit events for the official Homecoming event calendar. Events must take place between Oct. 24-31, be free, be open to the public, and be submitted by Oct. 15. Departments and RSOs can submit events here.
"I am very excited to be able to bring together the greater campus community through Homecoming Week," Wisconsin Homecoming Committee President Grace Sexton said. "Our committee is thrilled to be able to hold in-person events on campus. I am particularly excited for the Homecoming parade to take place on State Street once again, as it has been my favorite event since I began at UW‒Madison. I look forward to spending a week celebrating with my fellow students, University of Wisconsin‒Madison faculty and staff, and the greater Madison community in just a few short weeks."
The Wisconsin Homecoming Committee is a non-profit, student-run organization that aims to bring together the Badger community to celebrate what it means to be a Wisconsin Badger, whether someone is a Badger or a Badger-at-heart. This year's Committee executive board members include President Grace Sexton, Vice President Samantha Henschel, Director of Marketing and Communications Lara Klein, and Community Events Chair Danny Gattoni.
2021 marks the 110th anniversary of homecoming celebrations at UW‒Madison. Due to COVID-19, the Committee held a virtual version of the festivities in 2020.  The members look forward to celebrating the annual commemoration event in-person.
In light of COVID-19, patrons must wear face covering indoors when not actively eating or drinking. Guests do not need to wear face coverings outdoors but are welcome to do so. The Committee and the Union appreciate attendees' help in creating a safe Homecoming celebration.
Those interested in attending Homecoming can visit wiscohoco.com for official UW‒Madison Homecoming celebration information.
-###-
About the Wisconsin Homecoming Committee
The mission of the Wisconsin Homecoming Committee is to bring together the Badger community by providing opportunities to honor Wisconsin tradition. Empowered by UW‒Madison Student Affairs, the Homecoming Committee reaches out to the student body, alumni, and community members to celebrate what it means to be a Wisconsin Badger. Learn more about the Committee: wiscohoco.com.
About the Wisconsin Union
The Wisconsin Union enhances the lives of members and visitors through recreational, cultural, educational and social opportunities. Formed in 1907, the Wisconsin Union is a membership organization that blends study and leisure to create unique out-of-classroom opportunities. Learn more about the Union and its tradition of providing experiences for a lifetime: union.wisc.edu.
[Click here to download Homecoming photos.]
To read this release online, visit union.wisc.edu/homecoming-2021.