Category:
Member News
Learn who's growing, changing, moving and more! Stay on top of what's new with your neighboring businesses. We share news releases and announcements from your peers in the Madison area. Want to toot your own horn? Use our Submit Member News form to share your own stories.
Photo by Richard Hurd
Madison Reading Project's Community Book Drive Is Close to Reaching Goal
FOR IMMEDIATE RELEASE
MORE INFORMATION:
Rowan Childs, Rowan@madisonreadingproject.com, (608) 347-79790
Ann Christianson, Ann@madisonreadingproject.com, (608) 345-0792
Madison Reading Project's Community Book Drive Is Close to Reaching Goal
DANE COUNTY – The Madison Reading Project's fourth annual Community Book Drive is asking for your support to reach its goal of $100,000.
"Our organization is committed to increasing book ownership for children in Southern Wisconsin. MRP is dedicated to giving away new books this holiday season. Monetary donations help contribute to our larger goal of year-round book-giving," says Rowan Childs, Madison Reading Project's Executive Director and Founder.
"Your support will help get thousands of new books that children want, many of whom have few books in their homes," Childs adds. "We're confident we'll reach our donation goals. Everyone deserves that new book feeling, especially our children."
Books given to MRP then get funneled out to numerous school districts, social workers, educators, and large toy and book-giving events such as Empty Stocking Club, Toys for Tots, Gifts for Christmas, and Santas Without Chimneys during December, ensuring that every child has a new book to take home with them.
Local bookstores participating in Community Book Drive include Lake City Books, Mystery To Me, Leopold's Books Bar Cafe, Room of One's Own, Book Deal, and Books 4 School.
"Books can be donated online or via various local bookstores across Dane County or by stopping by the Book Center, 1337 Greenway Cross, in Madison," Childs adds.
Donations can be made throughout December. Visit the website for more information on the book drive, book suggestions, book-giving programs, or to make a monetary contribution: www.madisonreadingproject.com/communitybookdrive
Madison Reading Project is a nonprofit organization with a mission to connect our community with free books and literacy enrichment programs that ignite a love for reading.
—30—
Photo by Richard Hurd
Weichert, Realtors® – Lakepoint Contributes to Thanksgiving Food Drive to Benefit Dane County Community
FOR IMMEDIATE RELEASE
December 7, 2023
Contact:
Evan Roeser
Franchise Communications Specialist
Weichert Real Estate Affiliates, Inc.
Phone: (973) 401-5578
Email: ERoeser@weichertrealtors.net
Weichert, Realtors® – Lakepoint Contributes to Thanksgiving Food Drive to Benefit Dane County Community
Madison, Wisc. – Giving back to the local community has been a cornerstone for the team at Weichert, Realtors® – Lakepoint, and this year the real estate brokerage continued its giving nature by spearheading efforts for the Goodman Community Center Thanksgiving Basket Drive.
The Weichert, Realtors® – Lakepoint office located on Atwood Avenue served as one of the drop-off locations where community members could donate to the drive. The company, led by Broker/Owner Rob Grether and Director of Operations Emily Ruzicka, made contributions to the drive, shopped for additional food items, and dropped all the donations off at the Goodman Community Center.
This year marked the 35th annual Goodman Community Center Thanksgiving Basket Drive. The initiative provided 4,000 Dane County families with delicious meals to enjoy over the holiday.
"It's always great to come together with the local community to provide for those in need," said Grether. "We are proud to give back to the Dane County community, and we hope to carry on this Thanksgiving tradition for many years to come."
For more information about the event, visit https://www.goodmancenter.org/get-involved/events/thanksgiving-baskets.
Weichert, Realtors® – Lakepoint is an independently owned and operated Weichert® affiliate.
For more information about Weichert, Realtors® – Lakepoint, call 608-721-8002 or visit www.weichert-lakepoint.com.
# # #
About Weichert Real Estate Affiliates, Inc.: Weichert Real Estate Affiliates, Inc. is a top real estate franchisor established in 2001 by Jim Weichert, president, chairman and CEO of Weichert Companies, which has been in operation since 1969. The company provides a clearly defined business model for operating, managing, and marketing a real estate brokerage, along with industry-leading technology, marketing tools, and coaching. Its first affiliate opened in 2002, and the franchise network has since grown to over 370 offices, serving markets in over 40 states. The company has been named one of the top traditional residential real estate franchises by Entrepreneur magazine for 19 straight years and identified by Franchise Business Review as a top franchise for owner satisfaction eight years in a row. For more information about Weichert, visit Weichert.com. For more information about franchise opportunities, visit WeichertFranchise.com.
Each Weichert® franchised office is independently owned and operated.
Documents and/or Photos available for this release:
To view supporting documents and/or photos, go to www.enr-corp.com/pressroom and enter Release ID: 444241
Photo by Richard Hurd
New Chief Information Security Officer chosen at WPS
FOR IMMEDIATE RELEASE
Contact:
DeAnne Boegli
Vice President of Communications
608-512-5754
deanne.boegli@wpsic.com
New Chief Information Security Officer chosen at WPS
Chad Joranlien promoted to leadership team
MADISON, Wis.—Dec. 6, 2023—Chad Joranlien has been selected as the new WPS Health Solutions Chief Information Security Officer. Joranlien has been with WPS since 2021, serving as Deputy CISO. The CISO position oversees all aspects of cybersecurity and IT security compliance.
"I am excited for the opportunity and energized to lead the cybersecurity efforts at WPS during the next stage of growth," Joranlien said.
Prior to his work at WPS, Joranlien worked as the Director of IT Security at Fiserv Corporation. He also held information security leadership positions at TSYS Corporation and Promega Corporation.
"Chad has strong leadership skills and is well suited to step into this vital role," WPS Chief Information and Digital Officer Bruce Gray said.
About WPS Health Solutions®
Wisconsin Physicians Service Insurance Corporation (WPS Health Solutions), founded in 1946, is a nationally regarded benefits administrator for a variety of U.S. government programs and a leading not-for-profit health insurer in Wisconsin. WPS Health Solutions serves active-duty and retired military personnel, seniors, individuals, and families in Wisconsin, across the U.S., and around the world. WPS Health Solutions, headquartered in Madison, Wisconsin, has more than 2,800 employees. Within the enterprise, there are three divisions: WPS Government Business, WPS Health Insurance, and WPS Data Logistics. For more information, please visit wpshealthsolutions.com.
###
Photo by Richard Hurd
WayForward Resources in the news
WayForward Resources Executive Director Ellen Carlson wrote a guest column published the day before Thanksgiving in the Wisconsin State Journal that addresses the dramatic increase in need food pantries in Dane County are seeing and how the community can help.
"Visits to our food pantry, which serves all of Dane County, have more than tripled since January 2022. We are now distributing the equivalent of 125,000 meals each month," Carlson wrote.
Carlson shared that the demand shows now sign of going away and that experts point to pandemic-era support, general inflation and the steep increase in housing costs that cause people to focus even more of their income on paying rent.
"We have never turned anyone away, but we have had to put some limits on the amount of food people can take," Carlson wrote. "We worry about how we and other local food pantries can continue to ensure that everyone in our community has access to nutritious food."
In addition Carlson addresses the misconception is that food pantries operate mainly with state or federal support. She notes that only a small amount of food comes in through the federal Emergency Food Assistance Program. WayForward stocks its shelves by relying on a complex web of systems and collaborations. That includes strategic partnerships with Second Harvest Foodbank of Southern Wisconsin, surplus from local grocery and convenience stores, as well as monetary and food donations from businesses, foundations, churches and individuals.
"Food pantries need your support now more than ever. Donations of money, food and your time can all make an immediate difference," she wrote, adding that she wants people in our community to know food pantries will be there to prove a safety net.
"We must come together to make sure food pantries can continue to keep our neighbors from experiencing hunger," she wrote.
This month, Isthmus covered the increased demand on area food pantries and WayForward Strategic Engagement Director Leslie Huber was quoted about how Madison's highest-in-the-nation rent increases are also pushing some to need help with food too. Huber said some seeking assistance report $100 to $200 increases as their leases are renewed. "That hundred or two hundred is a game changer," she told Isthmus. "When people are putting more and more income into staying in their home, there's very little left for food."
WayForward Board member Dane Monogue, Superintendent of Middleton-Cross Plains Area School District, was interviewed by WKOW 27 about the growing need in our community for a story the station broadcast about WayForward's annual Holiday Art Market.
"It's a wonderful way for us to promote what WayForward Resources does as an organization … at a time where we've seen unprecedented need," she said.
Photo by Richard Hurd
One Community Bank Hosts Annual Free Community Event: Badger Tailgate
December 4, 2023
FOR IMMEDIATE RELEASE
Contact:
Ameilia Abraham
One Community Bank
608-838-3141
aabraham@onecommunity.bank
One Community Bank Hosts Annual Free Community Event: Badger Tailgate
(December 2023) – One Community Bank is proud to serve our clients, support our colleagues and invest in our communities. OCB held its third Annual Badger Tailgate at its Waunakee location on Saturday, October 21. There was an excellent turn out of clients, community members, and colleagues.
"I am thrilled to be able to host the Annual Badger Tailgate again this year. I am passionate about bringing the community together and making a difference with the money raised. Thank you to all of our sponsors who help make this event possible," said Chris Zellner, Market President at One Community Bank Waunakee.
This family friendly event featured free fresh grilled food, grilled by Todd Schmidt – Waunakee Village Administrator, Brendan Flanagan – AVP Bank Manager, and Brian O'Handley – SVP Head of Mortgage and Consumer Lending. Bucky Badger and the UW-Madison Alumni Band kicked off the event with Badger pride. The first 100 guests received a complimentary Badger shirt from OCB. Door Prizes from Sundara Spa, Chula Vista, Pinseekers, The University Book Store, and Meffert Car Wash were given away.
Additionally, free beverages were provided by Octopi Brewing. The game was enjoyed on a jumbotron provided by Bishops Bay. And kids enjoyed painting pumpkins.
This event raised money for the Waunakee School District Student Financial Assistance Fund and The Schumacher Farm Educational Barn Project. This year One Community Bank donated $500 to each organization, the community raised $300, and Waunakee Remodeling donated $500 to the Waunakee School District Student Financial Assistance Fund.
The Student Financial Assistance Fund ensures that all students and families can participate in their school communities regardless of a family's financial situation and ability to pay.
The Schumacher Farm Educational Barn Project raised funds for a new building on the farm. The Schumacher Farm Park offers a variety of events and workshops for all ages.
One Community Bank remains committed to investing in our communities and is proud to support these Feel Good organizations.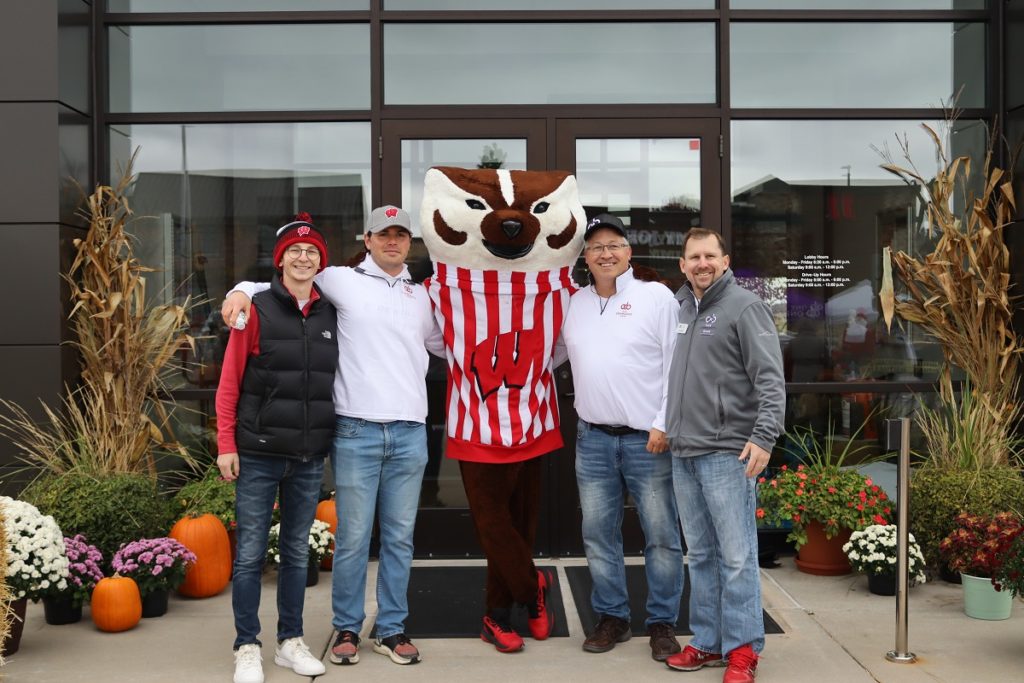 ---
One Community Bank is one of the largest community banks in south central Wisconsin. The locally owned bank has 15 bank locations and $2.1 billion in assets. It provides both personal and business banking solutions, with an intense focus on serving clients, supporting colleagues, and investing in its communities. Five years in a row named one of Madison's best places to work, One Community Bank serves the communities of Oregon, McFarland, Waunakee, Stoughton, Sun Prairie, Middleton, Adams, Oxford, Grand Marsh, Hillsboro, La Farge, Readstown, Wonewoc, and Union Center. Member FDIC.