Category: Accolades
Photo by Richard Hurd
Endres Manufacturing Wins Project of the Year Award
Endres Manufacturing Company was presented with the prestigious Project of the Year Award in May for their work on The Cosmos project in Madison, Wisconsin. The award was given by the Steel Plus Network in the "Medium Project" category. Endres is one of Wisconsin's largest and most highly respected structural steel fabricators. Endres won the highly sought-after award over other nominees including Pittsburgh Steel, Lainco, Beauce Atlas, Rampart Steel, and Benson Steel.
One of the most complicated and largest projects ever taken on by Endres, The Cosmos is a magnificent highrise, eight-story building located in the Capitol East District on the 800 block of East Washington Avenue in downtown Madison, Wisconsin. The Cosmos, which is also referred to as the Gebhardt Building, is a 148,000 square foot state-of-the-art facility that houses both office and retail space and the three-story Sylvee, a 2,500 person capacity concert venue and the location of Endres' 2018 rocking holiday party. Endres supplied all of the structural steel as well as the stairs, railings, and other miscellaneous metals. The project consisted of 1,000 tons of steel and 5,400 labor hours.
Endres was extremely excited to be given this opportunity because being the supplier of choice for their customers is something they take great pride in. The general contractor on the project, Miron Construction, sought out Endres due to their long work history together and their confidence in Endres to get the job done right and on time. The job included a pair of 75 foot long girder trusses, one of which ended up weighing close to 40 tons. To add to the complexity, the building includes three separate tenants and all materials and labor needed to be separated by area. The concert venue, The Sylvee, is the largest tenant and uses space from the first to the third floor. Frank Productions, one of the largest concert promoters in the US, located their new offices there. Lastly, Gebhardt Development owns and leases a bank of offices at the top level of the structure. There were a variety of miscellaneous metals required such as catwalk and chain-link fence framing, and internally lit handrails around the darkened concert venue. The concert venue included unique challenges such as sound isolation connections requiring special materials and design. While it was a very challenging project, it provided a great sense of satisfaction and pride upon completion.
The Steel Plus Network Awards Ceremony has been a tradition for the last 25 years. Steel Plus Network is a business network bringing together the most dynamic fabricators and suppliers of structural steel from all across North America.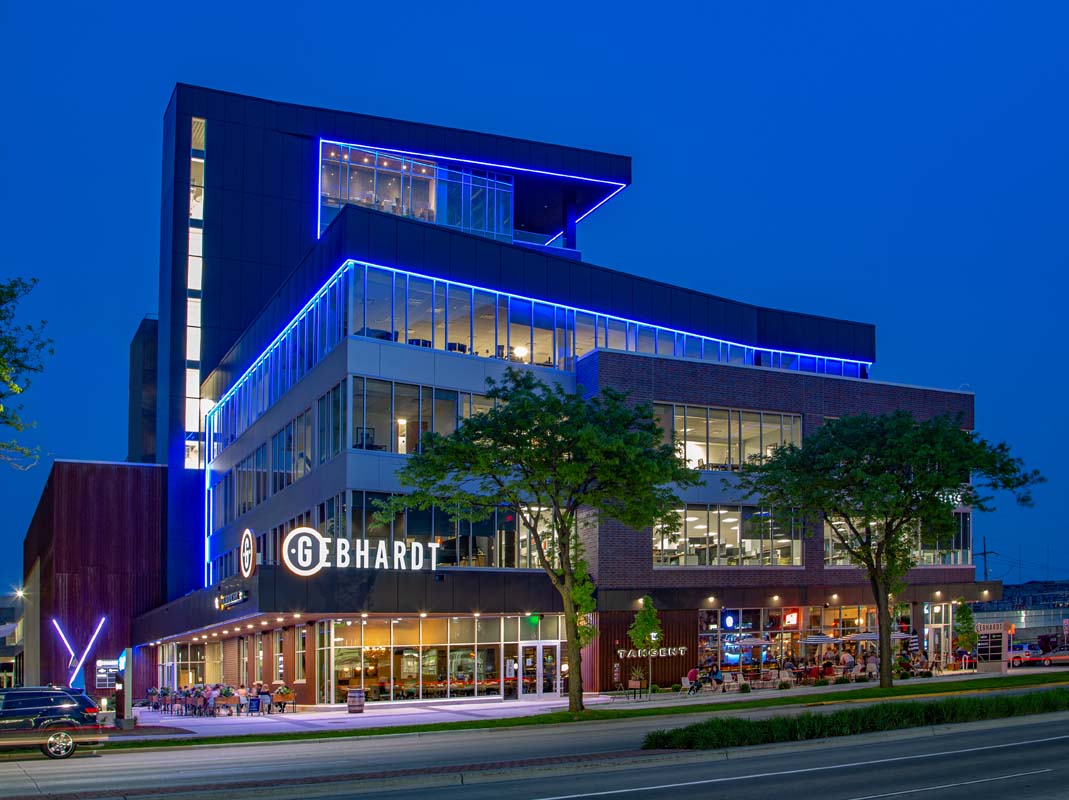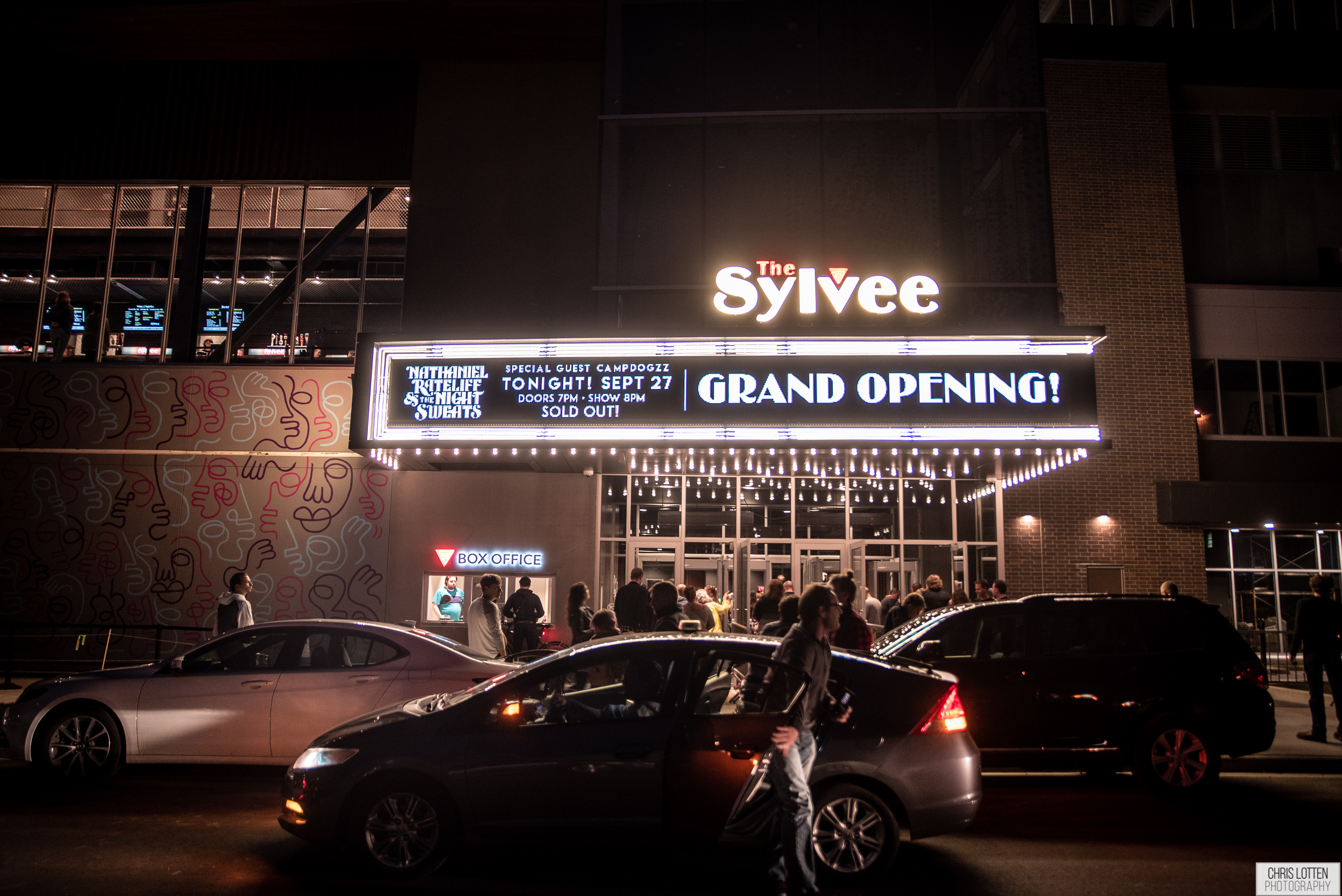 Photo by Richard Hurd
CBRE Named Top Sales Firm for 2019 in Madison Market by CoStar
FOR IMMEDIATE RELEASE
Contact:
Derek Paumen
+1 612 336 4224
Derek.paumen@cbre.com
CBRE Named Top Sales Firm for 2019 in Madison Market by CoStar
Gretchen Richards Also Named Top Sales Broker
MADISON – May 7, 2020 – CBRE recently was named the top sales firm for 2019 in the Madison market by CoStar Group, Inc., as part of their Power Broker Award program. CBRE's Gretchen Richards, Senior Associate in Madison, was also named a top sales broker for 2019.
"Gretchen joined CBRE 4 years ago and has very quickly ascended to become a top investment broker in the Midwest," said Chris Zubel, CBRE Wisconsin Managing Director. "Her tenacity and professionalism are two of her many attributes and she puts her client's needs and goals first."
Richards specializes in multifamily investment sales as part of the Capital Markets Investment Properties group. Since joining CBRE, Richards has participated in several commercial real estate transactions totaling more than $161 million throughout Wisconsin."
"As an investment sales broker, this award reflects the trusted relationships we have with our local and national clients," said Richards. "Navigating transactions in partnership with owners, on CBRE's unmatched platform, ensures success for our clients. Mirroring the national investment sales market share in Madison reminds our clients of our strong market presence and far reach – we are both local and global."
The annual CoStar Power Broker Awards recognizes both professionals and firms in commercial real estate with the largest transaction volume in their respective markets.
About CBRE Group, Inc.
CBRE Group, Inc. (NYSE:CBRE), a Fortune 500 and S&P 500 company headquartered in Los Angeles, is the world's largest commercial real estate services and investment firm (based on 2019 revenue). The company has more than 100,000 employees (excluding affiliates) and serves real estate investors and occupiers through more than 530 offices (excluding affiliates) worldwide. CBRE offers a broad range of integrated services, including facilities, transaction and project management; property management; investment management; appraisal and valuation; property leasing; strategic consulting; property sales; mortgage services and development services. Please visit our website at www.cbre.com.
Photo by Richard Hurd
Four DeWitt Intellectual Property Attorneys Included in Managing Intellectual Property Magazine's 2020/21 List of IP Stars
FOR INFORMATION CONTACT: 
Michelle M. Friedman
262-754-2877 | mmf@dewittllp.com
Four DeWitt Intellectual Property Attorneys Included in Managing Intellectual Property Magazine's 2020/21 List of IP Stars
MADISON | MILWAUKEE | MINNEAPOLIS – DeWitt LLP law firm announced today the inclusion of four of its attorneys in the 2020/21 Intellectual Property (IP) Stars list of highly recommended IP practitioners, as released by Managing Intellectual Property IP Stars. 
The IP Stars are private practice IP professionals who have been highly recommended by their peers and clients. DeWitt and its attorneys David Biek, Joseph Miotke, Charles Sara and Christopher Scherer are listed as top patent and trademark practitioners in Wisconsin and Minnesota.
Biek practices from the firm's Minneapolis office and specializes in Business Transactions, Intellectual Property, International Law, Non-Infringement and Patentability Opinions, Due Diligence, and Patent Litigation. Biek is listed as both a Patent and Trademark Star 2020/21 in the following practice areas:
Practice areas
Patent contentious
Patent prosecution
Patent strategy & counseling
Miotke practices from the firm's Metro-Milwaukee office and specializes in Intellectual Property Law, International Law, Litigation, and Patent Litigation. Miotke is recognized as a Trademark Star 2020/21 in the following practice areas and industries:
Patent litigation
Patent prosecution
Patent strategy & counseling
Trademark prosecution
Trademark strategy & counseling
Industry sectors
Financial services
Medical devices
Telecommunication
Sara practices from DeWitt's Madison office and specializes in Intellectual Property and International Law. Sara is recognized as a Trademark Star 2020/21 in the following practice areas and industries:
Practice areas
Patent prosecution
Patent strategy & counseling
Trademark prosecution
Trademark strategy & counseling
Computer technology & services
Fashion & luxury goods
Financial services
Technology hardware
Scherer is the co-chair of DeWitt's Intellectual Property Group and practices from its Metro-Milwaukee office. specializing in Intellectual Property and International Law. Scherer is listed as both a Patent and Trademark Star 2020/21 in the following industries:
Industry sectors
Computer technology & services
Mechanical
Medical devices
Oil & gas
Telecommunication
Managing Intellectual Property IP STARS is the leading international specialist guide to IP firms and practitioners worldwide. Managing IP has been researching and ranking firms since 1996. This research has expanded over the years, with more than 80 jurisdictions now covered, making it the most comprehensive and authoritative analysis of the industry.
About DeWitt
DeWitt LLP is one of the ten largest law firms based in Wisconsin, with an additional presence in Minnesota. It has nearly 140 attorneys practicing in Madison and Metropolitan Milwaukee, Wisconsin, and Minneapolis, Minnesota, in a variety of legal areas and has the experience to service clients of all scopes and sizes. The firm is known for its work in several areas, including intellectual property, patents, trademarks and copyright law, civil rights litigation, construction litigation, corporate law, employment, environmental, employee benefits, estate planning, family law, government relations, health care, litigation, real estate, and tax law. More information is available at dewittllp.com.
###
Photo by Richard Hurd
3rd Gen Painting & Remodeling TOP JOB Win
Madison, WI – 3rd Gen Painting & Remodeling was recently named by American Painting Contractor (APC) Magazine as the winner of the 2020 TOP JOB Madison, WI. TOP JOB honors a single painting company in a city or town for its superior work and commitment to excellence in the painting industry.
APC is the national magazine published for painting contractors, and the TOP JOB Awards are sponsored by top manufacturers such as Zinsser, Sherwin-Williams, Graco and Federated Insurance.
APC's TOP JOB Awards is in its 22nd year of recognizing painting contractors who go above and beyond for their clients and industry. The APC staff judges the entries and selects the winners based on craftsmanship, technique and creativity as well as the contractor's ability to overcome challenges, communicate with clients and deliver an excellent finished product.
Judges noted on this outstanding job "Intricate Queen Anne style details, challenging color change, exemplifies the craft of exterior painting" one of the judges noted.
Each winner will be featured in a full-page article about their company and TOP JOB in the April issue and on www.paintmag.com releasing April 21st­­­­, 2020.
About APC
American Painting Contractor is the #1 resource for painting contractors. For over 90 years, APC has been the source for application techniques, new products, business strategies and news. More information about the publication can be found on their site at www.paintmag.com.
About 3rd Gen Painting & Remodeling
Concurrently, the 3rd Generation name stands as an evolution from the typical painting or remodeling contractor. Simply put, 3rd Gen Painting looks to completely disrupt the status quo in the contracting industry.
The company aims to provide a new level of customer service and phase the "business as usual" tactics employed by the typical painting or remodeling contractor. 3rd Gen's award-winning system is tailored around the customer experience and provides unmatched value to our customer & employees alike. 2018 was a marquee year for us and we are excited for you to experience the 3rd Gen difference in 2019 and beyond!
###
Photo by Richard Hurd
WPS Health Solutions earns Energy Efficiency Excellence Award
FOR IMMEDIATE RELEASE
Contact:
DeAnne Boegli
Director of Communications
608-977-7343
deanne.boegli@wpsic.com
WPS Health Solutions earns Energy Efficiency Excellence Award
MADISON, Wis.—April 22, 2020—Focus on Energy in Wisconsin has selected WPS Health Solutions as one of 13 winners of the Energy Efficiency Excellence Award for 2020. The announcement, which coincides with Earth Day on April 22, recognizes WPS' commitment to improving the energy efficiency and sustainability of its operations in Madison.
The statewide program worked with its partner utilities to choose the winners.
"WPS Health Solutions is honored to earn this award for ongoing energy conservation efforts," said Ken Roseth, Vice President of Facility Operations. "Saving energy is just one of the ways we care for the environment, both today and for future generations."
Since 2017, WPS has completed more than 25 major energy-efficiency initiatives. The list includes major LED lighting retrofits; optimization of air handlers and associated support equipment; optimization of data center climate controls; and converting a steam heating system to a high-efficiency hot water system.
Including the last project applications from 2019, annual savings from those projects are estimated at 2.4 million kilowatt-hours of electricity and 23,000 therms of natural gas, according to Alex Dodd, an energy adviser with Focus on Energy.
Using 2019 electricity and gas prices, that equates to about $275,000 in annual savings. Also, that amount of energy is enough to power 210 homes for a year, according to the Environmental Protection Agency's greenhouse gas equivalency calculator. Total consumption (in British thermal units) at the Madison campus has been reduced by 15%.
Dodd also estimates total incentives from Focus on Energy at $215,000 for projects in 2017 through 2019.
Focus on Energy is funded by the state's investor-owned energy utilities and participating municipal and electric cooperative utilities.
About WPS Health Solutions
WPS Health Solutions is a nationally regarded government contractor and a leading Wisconsin not-for-profit health insurer. The WPS Health Insurance division offers affordable health plans and benefits administration. The WPS Government Health Administrators division administers Part A and B Medicare benefits for millions of seniors in multiple states, and the WPS Military and Veterans Health division serves millions more members who are active in the U.S. military, veterans, and their families. Wisconsin Physicians Service Insurance Corporation (WPS Health Solutions) has been based in Madison, Wis., for more than 70 years. For more information, please visit wpshealthsolutions.com.