Category: COVID-19
Photo by Richard Hurd
DoorDash Announces Winners of the Madison COVID-19 Restaurant Relief Grants
FOR IMMEDIATE RELEASE
March 4, 2021
Contact: press@doordash.com
DOORDASH ANNOUNCES WINNERS OF THE MADISON COVID-19 RESTAURANT RELIEF GRANTS
Winners will use funds provided by DoorDash's Main Street Strong effort to help offset the costs associated with running a restaurant amid the ongoing pandemic and local dining restrictions.
MADISON, WI – Today DoorDash announced the winners of the COVID-19 Restaurant Relief Grant program provided through its Main Street Strong effort. These grants are a part of DoorDash's five-year, $200 million Main Street Strong Pledge to empower local communities, which included a $10 million grant effort across select cities, states, and counties in the U.S. and Canada.
The grants are being administered by Hello Alice and can be used to cover operating costs during this challenging time, including rent, payroll, purchasing PPE, expanding outdoor dining capacity, and other expenses.
The below Madison restaurants have been selected to receive $5,000 grants through the program:
Bierock
Bistro 525
Cafe Domestique
Cranberry Creek Cafe & Catering
Crostini Sandwiches 
Dotty Dumpling's Dowry
El Rancho Dos Mexican Grill 
Estacion Inka
Fair Trade Coffee House
Gates & Brovi
Green Owl Cafe
Harvest
La Taguara
Lazy Oaf Lounge
Madison's
Mad Seafood Boiler 
Mickie's Dairy Bar
Nick's Restaurant 
Off Broadway Drafthouse 
Orient House Chinese Restaurant 
Osteria Papavero
Parkway Family Restaurant 
Pizza Extreme
Roll Play
Salads UP
Sconniebar
Teddywedgers 
The Jet Room
Tutto Pasta State Street
Valentia Coffee
All restaurants who applied for a grant will receive free access to the Hello Alice platform, which offers peer-to-peer networking, mentorship, and tools such as the COVID-19 Restaurant Resource Center, a curated list of industry-specific resources, information from fellow restaurant and food service owners about the challenges they're facing, and how-to guides designed to help restaurants reopen the doors and get back to business. Hello Alice will begin grant distribution in March, with all restaurants receiving their grant by early May.
"We are very excited to have been selected as recipient," said Sofia R. Pezua, Manager, Estacion Inka. "As we are struggling to cover our business expenses, this grant will allow us to meet those needs and continue to keep our doors open for takeout and delivery while more measures are put in place for restaurants to be able to open for dine-in safely. Thank you!"
When launching the program, Madison Mayor Satya Rhodes-Conway said, "COVID-19 has been devastating nationwide, and has taken a serious toll on our small businesses. Restaurants have searched tirelessly for resources to keep their doors open during the pandemic, as they've faced a number of hurdles. I'm thrilled about DoorDash's relief contributions which will help safeguard our local restaurants during this time of crisis."
"Restaurants have faced unprecedented challenges in the last year, and DoorDash is proud to support them," said Alexi Madon, Senior Manager, Government Relations, Central at DoorDash. "It is our hope that these grants will help restaurants as they continue to navigate the challenges posed by the COVID-19 crisis."
During the first round of DoorDash's Main Street Strong COVID-19 relief grants in 2020, 85% of restaurants stated that one of the biggest impacts on their business was reduced sales due to COVID restrictions, and 82% cited lost revenue attributed to the declining economy.
During the COVID-19 pandemic, DoorDash has taken significant active steps to ensure the safety of its entire community, including providing:
● $120 million in commission relief and marketing investments
● 50% reduction in commissions for local restaurants with five or fewer locations in the first months of the pandemic, plus 0% commissions for the first 30 days for restaurants new to DoorDash
● Free personal safety equipment for Dashers, including hand sanitizer, gloves, wipes, and masks
● Two weeks of earnings replacement for eligible Dashers affected by COVID-19
●   COVID-19 screenings and telemedicine appointments for just $4 for Dashers, per visit
●   Partnering with BlueVine, a leading provider of small business banking solutions, to provide a customized Payment Protection Program (PPP) application for merchant partners to help make PPP loans more accessible.
For a full list of winners across the U.S. and Canada, see Hello Alice's blog here. Read more about DoorDash's latest efforts to help the local merchants, Dashers and communities it serves here.
###
About DoorDash
DoorDash is a technology company that connects consumers with their favorite local and national businesses in more than 4,000 cities and all 50 states across the United States, Canada, and Australia. Founded in 2013, DoorDash enables local businesses to address consumers' expectations of ease and immediacy and thrive in today's convenience economy. By building the last-mile logistics infrastructure for local commerce, DoorDash is bringing communities closer, one doorstep at a time.
Photo by Richard Hurd
WPS Health Solutions shares a 'Love Letter to First Responders,' sends treats to hospital workers, adds red heart to face mask for Valentine's Day
MEDIA ADVISORY | February 12, 2021
Contact:
DeAnne Boegli
Vice President of Communications
608-977-7343
deanne.boegli@wpsic.com
WPS Health Solutions shares a 'Love Letter to First Responders,' sends treats to hospital workers, adds red heart to face mask for Valentine's Day
Following up on the "face mask" replicas that were added to its Madison campus sign in December, WPS Health Solutions is celebrating Valentine's Day by sharing a "Love Letter to First Responders" and adding red hearts to the sign at 1717 W. Broadway in Monona.
The temporary face masks call attention to the continued need for people to wear face coverings to reduce the spread of COVID-19, even as vaccines are being administered around the nation. The masks say, "We support first responders."
For Valentine's weekend, WPS is delivering treats and healthy snacks for Intensive Care Unit employees at hospitals in WPS communities: Madison; Wausau; Green Bay; Omaha, Neb.; Hampton, Va.; and southern Illinois. (Madison hospitals: SSM Health St. Mary's, UnityPoint Health – Meriter, and UW Health)
Jessica Marking, a Brand Journalist in WPS Corporate Communications, wrote the following tribute, which is being shared with WPS employees and on the company's social media channels.
A love letter to our first responders …
For so many serving in health care, your career path wasn't a choice but a calling.
As battlefield health care providers, you have tended to the fallen of an invisible enemy during the COVID-19 pandemic. With overrun hospital beds and supplies, you have sacrificed for us.
Your face is covered with scars from your mask while your capable hands heal us and do not fear us. You've persevered in the face of total exhaustion. You have protected us.
Showing compassion for perfect strangers. Every day honoring the oath you pledged. Treating every color, every age, every human with decency and dignity. You have loved us.
Encouraging the fight within us and showing up day after day with no end in sight. You have advocated on our behalf. You have listened to our circumstances, our stories, our concerns, and our hurt. You have shown us patience.
Holding our hands when it is time to let go. You comfort our families in times of grief, guilt, and sorrow—and clap your hands in celebration of recovery. You have raised them in thanksgiving as you lifted us in good health. You have cried over us, prayed over us, and healed us.
People have called you heroes; people have called you warriors. From the bottom of our hearts, we call you angels.
At WPS Health Solutions this Valentine's Day, we have a message for our employees, customers, and everyone else: Share your love for the first responders in your life.
Please #sharethelove by tagging @WPSHEALTHSOLUTIONS on Facebook and LinkedIn, and @WPS_HS on Twitter.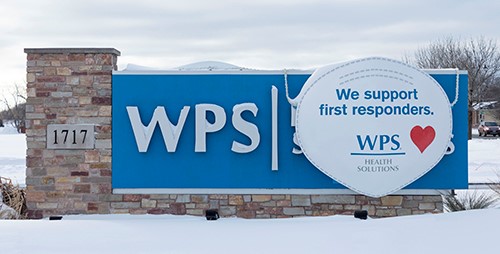 About WPS Health Solutions:
Wisconsin Physicians Service Insurance Corporation is a nationally regarded benefits administrator for a variety of U.S. government programs and a leading not-for-profit health insurer in Wisconsin. Wisconsin Physicians Service Insurance Corporation utilizes "WPS Health Solutions" to refer to our entire enterprise. Within our enterprise, there are three divisions, including Government Health Administrators, Military and Veterans Health, and WPS Health Insurance/WPS Health Plan/EPIC Specialty Benefits. WPS Government Health Administrators manages Medicare Part A and Part B benefits for millions of seniors in multiple states, and WPS Military and Veterans Health serves millions of members of the U.S. military and their families through TRICARE and Veterans Affairs programs. Wisconsin Physicians Service Insurance Corporation has been based in Madison, Wis., for nearly 75 years. For more information, please visit wpshealthsolutions.com.


Photo by Richard Hurd
Summit Credit Union's Cottage Grove Headquarters Becomes COVID-19 Testing Site
FOR IMMEDIATE RELEASE:           

Media Contact:
Emily Decorah
(608) 243-5000
publicrelations@summitcreditunion.com  
Summit Credit Union's Cottage Grove Headquarters Becomes COVID-19 Testing Site
Financial cooperative hosting free drive-thru testing in partnership with testing provider JangoDX, Wisconsin Department of Health Services
MADISON, Wis.—February 11, 2021—Summit Credit Union, a Madison-based financial cooperative, is now hosting COVID-19 testing at its Cottage Grove headquarters, located at 1709 Landmark Drive. The free drive-thru testing service is part of a partnership with testing provider JangoDX and the Wisconsin Department of Health Services (DHS).
"We are thrilled to be able to offer our headquarters as a testing site. This is so important to the health and well-being of our community. The site is easy to get to and will be open seven days a week," said Summit Credit Union CEO & President Kim Sponem.
JangoDX has been working with the Wisconsin DHS to expand testing availability throughout Dane County. In the FDA-approved, self-administered test, individuals are provided test kits and instructions on how to complete their test. The process collects patient information and swabs in under five minutes and provides results within 3-7 days.
The drive-thru testing lane is set up in the back parking lot of the Summit headquarters, located at 1709 Landmark Drive in Cottage Grove. Testing is offered seven days a week from 8 am – 3 pm, with hours subject to change due to weather and other factors. Please check the site's availability at https://jangodx.com/community-testing/ or by calling JangoDX at 1-800-936-0534 and selecting Option 1.
About Summit Credit Union:
Established in 1935, Summit Credit Union is a member-owned financial cooperative. Summit is the 2nd largest credit union in Wisconsin and holds $4.4 billion in assets and has more than 209,000 members and 679 employees across 45 locations throughout south-central and southeastern Wisconsin. Kim Sponem has been CEO & President of Summit Credit Union, and its predecessor organization, CUNA Credit Union/Great Wisconsin Credit Union, since 2002. Recognized for its excellence in employee engagement, Summit was named a Top Workplace in the USA in 2021 by Top Workplaces USA and the Top Large Workplace in the Madison area for 2020 by the Wisconsin State Journal. For more information, visit www.summitcreditunion.com or call 608-243-5000 or 800-236-5560.
For additional media information, visit https://www.summitcreditunion.com/about-summit/press-room or follow Summit on Facebook, Instagram and Twitter.  ###
Photo by Richard Hurd
State Bar of Wisconsin: Wisconsin lawyers offer free legal advice to small businesses impacted by the pandemic
MADISON, WI – Small businesses in Wisconsin now have a place to go for free legal advice on issues they face due to the COVID-19 pandemic and a tough economy.
Starting Feb. 5, volunteer attorneys with the State Bar of Wisconsin Business Law Section will meet with small-business owners each Friday for an hourlong appointment, as part of the section's new Small Business Assistance project.
The project, implemented in collaboration with the Marquette Volunteer Legal Clinics program, pairs volunteer attorneys and law students with pre-screened small-business owners who have legal questionsrelated to their business.
The Small Business Assistance will support a wide-variety of small businesses, including those that provide business services; restaurants and bars; retail; health, beauty and fitness; automotive repair, travel and lodging; and recreation, according to Patricia J. Lane, section board member and organizer of the project. Lane is a partner with Foley & Lardner in Milwaukee.
How it Works
Wisconsin-licensed lawyers will offer free consultations, by Zoom or by phone, of up to one hour. If a business
law issue cannot be adequately addressed during the session, the business person may be referred for an additional one-hour session at no charge. Topics include, but are not limited to:
Finance and lending
Insurance claims/coverage
Commercial leases and contracts
Tax
Labor and employment
Real estate
Commercial debtor/creditor
Regulatory compliance, including privacy and COVID-19 related requirements
Exclusions: Litigation; entity selection and formation; patent, trademark, or other intellectual property issues; or commercial real estate transactions.
A Very Real Need
Small businesses account for 99.4% of all businesses in Wisconsin, and they employ nearly half the state's workforce. Lane recognized the need after hearing that business lawyers were receiving many questions from small-business owners on issues regarding compliance with COVID-19 governmental orders and whether force majeure clauses in contracts may be invoked to excuse performance, and governmental loan programs, including determining eligibility and compliance.
"Other owners needed assistance with business-interruption insurance claims and labor matters," Lane said.
While the project currently offers an hour-long consultation for three businesses per week, additional consultations may be added in the future. "We will calibrate our future level of service to meet demand," Lane said.
The project, she says, is expected to last indefinitely.
"One way we can help these business – and thereby the community at large – is to provide free legal advice. We hope this will increase the chances that a local business will be able to survive and thrive – thereby preserving jobs," she said.
Request an appointment today for your free one-hour consultation.
###
Photo by Richard Hurd
CEC Helps Healthcare Organizations Prepare to Safely and Confidently Store COVID-19 Vaccines
Temperature-monitoring technology ensures vaccine effectiveness and automates compliance reporting
Hiawatha, IA (Dec. 9, 2020) – CEC (Communications Engineering Company), a nationally recognized technology solutions provider and systems integrator in the Midwest, stands ready to help hospitals, pharmacies, and medical clinics prepare to store vital COVID-19 vaccines as they make their way across the country.
CEC's team of in-house healthcare technology experts—including engineers, clinical application specialists, installers and technicians, and account executives—have the skills, expertise, and resources needed to help healthcare organizations prepare to safely and confidently maintain extremely cold storage temperatures (as low as -94 degrees F) to preserve the vaccine's active ingredients.
Through a partnership with Primex, CEC staff members are trained to deploy and integrate OneVue Sense temperature-monitoring technology. This technology helps hospitals, pharmacies, and medical clinics maintain proper vaccine storage temperatures, detect any temperature variations, and alert staff when temperature levels fall outside parameters so action can be taken quickly. This technology also frees healthcare staff from having to continuously monitor and log temperatures each day per CDC guidelines.
"To support healthcare organizations as they protect individuals and communities, Primex's temperature-monitoring technology ensures vaccine effectiveness and automates compliance reporting," says Kim Lehrman, CEC chief executive officer. "CEC is ready to help healthcare organizations adopt OneVue Sense now so they're ready when vaccines start to arrive."
OneVue Sense technology can also monitor temperature, humidity, and air pressure in patient care areas to ensure that isolation rooms are kept at proper levels to limit virus spread.
To learn more, visit https://www.cecinfo.com/about-cec/our-partners/primex/.
About CEC
With offices in the Midwest serving local and national customers, CEC offers solution design, integration, and technical services specializing in audio/video, fire and security, healthcare communications, IT, and two-way communications. Focused on creating world class technology experiences, the CEC team partners with clients to understand their businesses, tailor solutions, and plan for future technology needs. To learn more, visit www.cecinfo.com.

Media Contact: Angie Worrell – aworrell@cecinfo.com