Category:
Expansions/Relocations
Photo by Richard Hurd
Vogel Bros. Building Co.: Event Essentials Breaks Ground on New State-of-the-Art Warehouse
Photo by Richard Hurd
Open House at Henricksen's New Madison Showroom!
Get ready, Madison – Henricksen is now in Union Corners!
After an extensive search, commercial furniture dealer Henricksen has landed on an expansive 4,000-square-foot office space at Union Corners on the East Washington corridor at 2530 Winnebago St., Madison, Wisconsin. The multi-use space has a progressive and industrial feel and is closer to the architecture and design community. This proximal opportunity is significant to Henricksen, which prides itself on the strong relationships they nurture and grow with its broad clientele, ranging from the corporate and public sector to healthcare, education, hospitality, and more.
Henricksen is committed to melding its 20-plus year rich history in Madison with current popular demand, and the showroom within this new space captures this evolution.
—
Join Henricksen as they celebrate their NEW Madison showroom at Union Corners, 2530 Winnebago St., Madison, Wisconsin
Check out some of their latest products, snap selfies in their newly designed space, and prepare for a fun-filled night!
Cocktails and hors d'oeuvres will be served and parking is complimentary.
EVENT DETAILS:
June 29th, 4-7 PM
2530 Winnebago St., Madison, Wisconsin
Free parking on site
Register here: https://www.eventbrite.com/e/open-house-at-henricksens-new-madison-showroom-tickets-632747574027
ABOUT HENRICKSEN
Henricksen is a leading dealer of contract furniture and architectural products specializing in delivering the whole package – from distinct top-notch design and furniture selections to complete installation.
Learn more here: https://www.henricksen.com/
Photo by Richard Hurd
One Community Bank Breaks Ground in Cottage Grove
June 1, 2023
FOR IMMEDIATE RELEASE
Contact:
Jamie Balsiger
One Community Bank
608-838-3141
jbalsiger@onecommunity.bank
One Community Bank Breaks Ground in Cottage Grove
(June 2023) – As a growing organization, One Community Bank recently announced a new bank location in the Cottage Grove community. The new bank will be located at 1565 Landmark Drive between Commerce Parkway and Limestone Pass.
On Thursday, April 27, One Community Bank held a groundbreaking ceremony to celebrate this exciting new phase of the project. Local community members as well as OCB colleagues, directors, and partners gathered for the ceremony at the location of the future bank. Attendees included: Village of Cottage Grove president and staff, leaders from the Cottage Grove Chamber of Commerce, and several of our partners from Ideal Builders, OPN Architects, and many of our subcontractor firms.
"One Community Bank believes in serving clients, supporting colleagues, and investing in our communities. Cottage Grove has a strong community presence, and our colleagues are excited to participate in events and support local businesses," said Steve Peotter, President and CEO. "OCB has been fortunate to have worked closely with many Cottage Grove clients throughout the years. We are proud to bring OCB's 'Feel Good Banking' to Cottage Grove."
One Community Bank is working closely with Ideal Builders and OPN Architects on the new 6,000 square foot location at Landmark Drive.
"What we've seen in the communities that we've served with One Community Bank is they back up what they say," said Tim Cleary, Executive Vice President of Ideal Builders. "They've been wonderful community participants to the schools, the business community, and to countless other non-profits. The Cottage Grove community is winning by having this employer here and I'm excited to see what they do here."
"We are honored to be One Community Bank's architect for the new Cottage Grove location, our third bank location together", said Wesley Reynolds, Principal, OPN Architects. "Our long-time partnership is proof that OCB is committed to designing buildings that elevate the communities in which they live, work, and invest."
One Community Bank – Cottage Grove will offer full-service banking capabilities to current and future clients in Cottage Grove and surrounding communities. The new location will include a drive-through lane with a teller window and a remote interactive teller machine (ITM). The ITM will be available extended hours. The location will have several office spaces and a conference room for colleagues to serve clients. It will also include a welcoming spacious lobby for clients to enjoy.
Online account opening capabilities enable anyone to open an account on OCB's website today, instead of waiting until the new Cottage Grove location opens.
OCB – Cottage Grove is expected to open its doors in early 2024.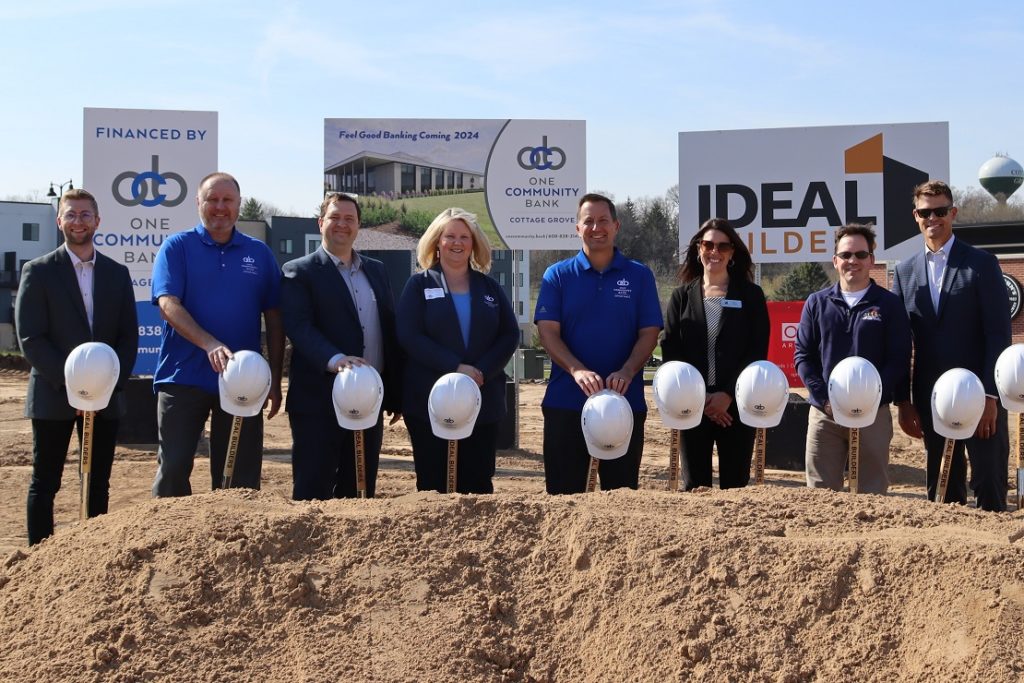 Pictured (left to right): Ryan Frank, Project Architect, OPN Architects; Jeff Versluys, Executive Vice President, One Community Bank; Wesley Reynolds, Principal, OPN Architects; Shelley Edgington, Sr. Vice President – Retail Banking, One Community Bank; Steve Peotter, President and CEO, One Community Bank; Britt Leach, Executive Director, Cottage Grove Chamber of Commerce; John Williams, Village President, Village of Cottage Grove; and Tim Cleary, Executive Vice President, Ideal Builders.
---
One Community Bank is one of the largest community banks in south central Wisconsin. The locally owned bank has 10 bank locations and $1.8 billion in assets. It provides both personal and business banking solutions, with an intense focus on serving clients, supporting colleagues, and investing in its communities. Five years in a row named one of Madison's best places to work, One Community Bank serves the communities of Oregon, McFarland, Waunakee, Stoughton, Sun Prairie, Middleton, Adams, Oxford, and Grand Marsh.
Photo by Richard Hurd
Mentoring Positives: Muriel's Place Opening Empowers Disadvantaged Youth to Further a Good Cause That Tastes Great
FOR IMMEDIATE RELEASE
MAY 11, 2023
CONTACT: WILL GREEN @ 608-345-1064
will.g@mentoringpositives.org
Madison-based Mentoring Positives is set to open Muriel's Place, a commercial kitchen where disadvantaged teens gain confidence, develop job skills and build relationships – all while making, marketing and selling Off The Block™ homemade pizza and salsa.
With operations now under one roof, Muriel's Place is open to the public every Monday, Tuesday and Thursday from 11 am – 2 pm for lunch and 5-7 pm for dinner. Off the Block™ pizzas come in seven varieties. They can be ordered hot or frozen, with dine-in and carry-out options available. Two flavors of homemade salsa are also available. All proceeds go directly back to Mentoring Positives, a transformational program serving youth in the Darbo-Worthington Park neighborhood.
RIBBON CUTTING SLATED FOR THURSDAY, MAY 18 @ 4PM
The Greater Madison Chamber of Commerce is hosting a ribbon cutting event for the grand opening of Muriel's Place, 2844 E Washington Ave, located on the ground level of the new Ella Apartments Building. Guest speakers include Chamber President Zach Brandon and City of Madison staff.
"In the throes of the pandemic, standing outside, physically distanced, Will laid out his vision for a new space for Mentoring Positives," said Zach Brandon, President of the Greater Madison Chamber of Commerce. "It is exciting to see the official opening of this space, which serves as a monument to Will and Becky's unrelenting commitment to inspiring, guiding and serving as champions for young people in this community."
MORE SPACE MEANS MORE OPPORTUNITIES FOR YOUTH
Previously, Off the Block™ products were produced in a shared commercial space leased at FEED Kitchens on Madison's north side. They are sold at several Madison area locations, including Willy Street Co-op, Metcalfe's Market and Regent Street Market.
"FEED Kitchens has been a nurturing space as our youth have built and grown the Off the Block™ brand," said co-founder Becky Green. "Our success there has been a springboard for our kids to further stretch their entrepreneurial skills."
"At Muriel's Place, they can see, learn and touch every aspect of the business, from sourcing Wisconsin ingredients to managing a pizza assembly line, taking care of equipment, marketing their products and delivering excellent customer service," Becky Green said.
With more ways to buy Off the Block™ products, the group hopes to increase sales and invest even more in the people who will eventually become adult leaders of the Darbo-Worthington neighborhood and beyond.
MURIEL'S PLACE NAMED AFTER BELOVED MOM
Founded in 2004, Mentoring Positives utilizes group mentoring, athletics and entrepreneurial opportunities to guide and empower disadvantaged youth. A former star UW-Eau Claire basketball player, Will Green uses the basketball court as his meeting place for building relationships with young people.
With backgrounds in psychology and social work, the Greens first met while working at the Eau Claire Academy, a residential treatment center for youth with emotional and behavioral problems. It was there that Will and Becky, both raised by devoted single moms, cemented their collective passion for helping young people chart their path to adulthood.
Muriel's Place is named after Will's mom, Muriel Pipkins, who died at age 46 of breast cancer.
"She is my hero and my motivation for helping kids", said Will Green. I turned my pain into passion after her death.
"I grew up without a father and my mom made heroic sacrifices so I could succeed. I want to give that same love and affection she showed to our family, friends back home in our community in Gary, Indiana," Green added. Our youth in the Madison community face monumental challenges. If we mentor and wrap them in love and support, while equipping them to succeed, I believe they will have a bright future."
###
Photo by Richard Hurd
Wisco Barbell Club Brings Fun and Fitness with Their Grand Opening Extravaganza
Madison, Wisconsin – Wisco Barbell Club is proud to announce their Grand Opening taking place on May 13th from 12-4PM. This free event will be a celebration of food, fitness, and fun for the whole family.
Expect a jam-packed day of activities including mini strength competitions, bouncy houses, local vendors, raffle prizes, live performances… and so much more! And for those who love their furry friends, there will even be a dog costume contest with guest judges Grace and Beni from Petphoria.
Food trucks will be on site serving up delicious fare and tasty drinks. This event truly has something for everyone, from fitness fanatics to foodies and families alike.
President and Head Trainer, Dakota Selje, says, "We're so excited to welcome the community to our new gym and to show everyone what we have to offer. Our goal is to bring fitness and fun together, and we can't wait to see everyone have a great time."
Whether you're a gym regular or a curious newbie, Wisco Barbell Club's Grand Opening Extravaganza is the perfect opportunity to discover what this fitness community has to offer. So come on down to Wisco Barbell Club on May 13th and join in the festivities!
For more information, visit the Wisco Barbell Club website at wiscobarbell.club, or follow them on the socials at @wiscobarbellclub.
EVENT DETAILS:
May 13th, 12-4PM
539 Tasman St, Madison, WI 53714
Free parking on site
wiscobarbell.club/events
EVENT TIMELINE:
12:00PM –   Food Trucks, Vendors & Bouncy House
12:15PM –   Ribbon Cutting Ceremony
12:30PM –   Mini Strength Competitions
1:00PM   –   Live Performances
2:00PM   –   Raffle Prize Winners 
3:00PM   –   Dog Costume Contest
VENDORS:
Crescendo Coffee
Petphoria
Pro Nutrition
The Black Sapphire Tattoo
Soho Gourmet
Fun Time Bounces
ARTISTS:
BOiNK! Dance & Film
Just For Fun
Lindsey Wismans
Paxfat
Sarah Krajewski
Sexe Dance Company
RAFFLE PRIZES FROM:
Doundrins Distilling
Wildewood
The Racoon Society
Dancing Goat Distillery
ABOUT: 
Wisco Barbell club is an employee owned 24/7 open gym that offers daily HIIT classes and affordable personal training. Month to month plans start at $55 with no sign up fees or long term contracts.
CONTACT INFO:
LAUREN ADDISON | COO + MARKETING
lauren@wiscobarbell.club
www.wiscobarbell.club
@wiscobarbellclub
(608) 200-3115