Category: Products
Photo by Richard Hurd
WPS Health Solutions' Arise Health Plan changes name to WPS Health Plan
FOR IMMEDIATE RELEASE
Contact:
DeAnne Boegli
Vice President of Communications
608-977-7343
deanne.boegli@wpsic.com
WPS Health Solutions' Arise Health Plan changes name to WPS Health Plan
MADISON, Wis.—Sept. 18, 2020—Beginning Oct. 1, Arise Health Plan will have a new name, logo, and web address. Arise Health Plan is being rebranded as WPS Health Plan.
"We are excited to change our name from Arise Health Plan to WPS Health Plan," said Jeremy Ott, Vice President, WPS Health Insurance Economics. "As we bring our brand more closely under the flagship WPS umbrella, we remain committed to providing exceptional products and customer service."
WPS' tradition of Wisconsin-based service remains steadfast. WPS Health Plan will continue to provide the same innovative, high-value health plans as well as top-quality health care through its network of doctors, clinics, and hospitals.
Bringing WPS to the forefront is a unified brand strategy to align WPS Health Plan to the rich history and long reputation of ethics and integrity that WPS offers.
"For nearly 75 years, we have served veterans, seniors, individuals, families, and businesses so that customers can get the health care they need at a price they can afford," Ott said.
WPS Health Plan, Inc. is a legal, for-profit corporate entity that has the certificate of authority to sell insurance and an HMO license in the state of Wisconsin. It also maintains accreditation with the National Committee for Quality Assurance (NCQA), which is required to sell on the Federally Facilitated Marketplace. WPS Health Plan is powered by WPS Health Insurance. Consumers will continue to see the WPS Health Insurance name as well as newly branded WPS Health Plan.
About WPS Health Solutions
Wisconsin Physicians Service Insurance Corporation (WPS Health Solutions) is a nationally regarded government contractor and a leading Wisconsin not-for-profit health insurer. The WPS Health Insurance division offers affordable health plans and benefits administration. The WPS Government Health Administrators division administers Part A and B Medicare benefits for millions of seniors in multiple states, and the WPS Military and Veterans Health division serves millions more members who are active in the U.S. military, veterans, and their families. Wisconsin Physicians Service Insurance Corporation has been based in Madison, Wis., for nearly 75 years. For more information, please visit wpshealthsolutions.com.
Photo by Richard Hurd
Suttle-Straus Announces Webinar on Omnichannel Marketing Campaigns
Suttle-Straus, a commercial printing and marketing services provider in Waunakee, is hosting a complimentary webinar titled "Your Back-to-Business Omnichannel Marketing Campaign."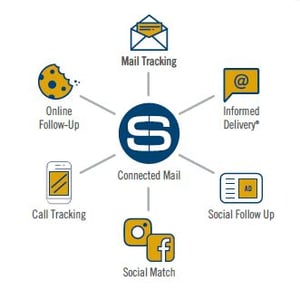 The Suttle-Straus team has been strategizing and putting together new solutions to help you get "back to business" for the end of the year. Join us for an exciting webinar where you can learn how to easily execute an omnichannel marketing campaign combining direct mail, email, social media and web retargeting for accelerated results!
Our new Connected Mail solution brings you the benefits of integrating direct mail with digital marketing without big spends in time or money. The result is 23-46% higher response over direct mail alone.
Learn about the 7 technologies you can add on to your direct mail in one streamlined omnichannel campaign package. All channels will play off of one another to create a marketing powerhouse at one of the most cost-effective price points on the market to deliver results. Your back-to-business campaign includes:
1. Mail Tracking
2. Informed Delivery Emails
3. Social Media Follow Up Retargeting
4. Google Ad Follow-Up Retargeting
5. Social Matching to Facebook and Instagram Profiles
6. Call Tracking and Recording
7. Lead Match
Want your website to work harder for you through the end of 2020? We'll also show you how you can create a mailing list from your website visitors to create a retargeting mailing list, without them having to take any action or give you their contact information so you can follow up with customers that have shown interest.
We'll track and report on all of the above through a transparent dashboard so you can see firsthand your marketing dollars at work – accelerating your response, customer engagement and business.
Join us for this free 45-minute webinar to see how you can use the new Suttle-Straus Connected Mail service to increase brand awareness and conversion in the most cost-effective way possible to accelerate your 4th quarter results. Only 100 spots are available, you don't want to miss this!
Your Back-to-Business Omnichannel Marketing Campaign
Speaker: The Suttle-Straus Direct Mail Team
Date/Time: Sept 24, 2020 11:00 AM – 12:00 PM CST
Cost: Complimentary
Register here: https://www.suttle-straus.com/backtobusiness
About Suttle-Straus (www.suttle-straus.com)
Suttle-Straus provides comprehensive marketing solutions including creative design, mailing, fulfillment, distribution, displays, signage, promotional products, conventional and digital printing. Our S4 Marketing Resource Center print-on-demand technology advances the execution speed of local marketing for distributed networks. Through long-term, collaborative client partnerships, Suttle-Straus delivers marketing solutions that help our customers win.
Photo by Richard Hurd
gBETA Madison: Have a startup, product, or idea? Want free help?
Have a startup, product, or idea? Want free help?
gBETA Madison is accepting applications through September 7.
Program Dates: October 1, 2020 – November 20, 2020
| APPLY |
About gBETA:
gBETA is a program of nationally ranked startup accelerator gener8tor. gBETA is a free, seven-week accelerator for early-stage companies with local roots. Each program is capped at five teams and requires no fees and no equity. The upcoming fall program will be 100% virtual.
Participating Companies Receive:
Access to a community of entrepreneurs including their fellow cohort members, as well as gener8tor and gBETA alumni.
A formal relationship with at least 2-3 mentors with relevant expertise.
Introductions to the gener8tor network of successful entrepreneurs, angel investors, venture capitalists and technologists.
Individualized coaching and mentorship from the experienced gener8tor team.
Office space.
$1M+ in deals and perks from vendors like SoftLayer, Rackspace, Amazon, PayPal, Zendesk and Microsoft.
Want to learn more?
Want to participate?
| APPLY |
Email Jenni Le (jenni@gener8tor.com) with any questions.
Photo by Richard Hurd
Foundation for Madison's Public Schools Joins Network of Partners Working to Deliver 5,000 At Home Supply Kits to Students
As the Madison Metropolitan School District (MMSD) prepares to start the 2020-2021 school year, an urgent need for individual sets of school supplies has emerged. Students need their own sets of supplies at home in order to properly engage in virtual learning. The need will continue once a return to in-person learning in our school buildings becomes possible. In order to adhere to COVID-19 safety protocols, the sharing of classroom supplies will no longer be an option, necessitating a supply kit for each student.
In response to this URGENT need, the Foundation for Madison's Public Schools and MMSD have partnered with the community to purchase, package, and distribute up to 5,000 individual supply kits to MMSD's most vulnerable students so they can begin the 2020/2021 school year on the strongest footing possible. The average cost of a supply kit is $50 and an initial round of 2,500 kits will be purchased and assembled. Another 2,500 supply kits will be secured with additional funds from the community. For ongoing updates and to see collaborating organizations, please visit the Foundation's school supply page. We greatly appreciate the publicity this initiative has already received, including a great article issued by the Wisconsin State Journal.
All donations for school supplies are being processed through the Foundation's MMSD Community Resource Fund. This effort will help deliver everything from pencils, notebooks, and headphones to those scholars most in need. Volunteers interested in helping assemble kits will be able to sign up at www.volunteeryourtime.org – as we await final details on volunteer arrangement, please contact the Foundation at fmps@fmps.org for more information.
While in-kind donations will be graciously accepted, financial gifts will make the greatest difference by ensuring all students receiving at home supply kits get the same materials. Again, please visit the school supply page for how you can contribute.
Photo by Richard Hurd
Timpano Consulting: 08/13 Workshop Creates Space for Employers to Explore New Workforce Strategies
People are invited to dive into the takeaways from the recent study involving over 100 employers and employees about the impact of the pandemic response on work and work life.
The interactive, virtual workshop will feature the study co-authors, Melanie Schmidt (Timpano Consulting) and Brett Remington (Blue Rock WI), who will present take-aways from the research, offer recommendations for reimagining management practices and workplace standards going forward, facilitate conversations among participants, and deliver low-/no-cost ways to optimize performance going forward. The format will include presentation and small group discussion.
Attendees should bring materials to write down ideas and formulate ideas. The Workforce Strategies: 2020 and Beyond report is available for download at https://bit.ly/workforcestrategies.
Register for the low-cost workshop through https://bit.ly/0813workforceworkshop.
Direct questions through insights@timpanogroup.com