Photo by Richard Hurd
Dane Buy Local's Holiday Shopping Season Kick-Off
Contact: Colin Murray, Executive Director, Dane Buy Local
(608) 729-7342/office • (608) 712-3440/cell • colin@danebuylocal.com • danebuylocal.com
Dane Buy Local's Holiday Shopping Season Kick-Off
228 East Main St., Downtown Sun Prairie, WI 53590
Monday, November 21 at 11:30 a.m.
Madison, WI – Dane Buy Local Executive Director Colin Murray, Dane County Executive Joe Parisi, and Bank of Sun Prairie Senior Vice President Retail John Loeffler join other local business leaders to commemorate Dane Buy Local's 13th Shop Indie Local campaign. The event highlights Dane Buy Local's 600 members and the importance of supporting local businesses throughout the holiday season.
"Bank of Sun Prairie is proud to be a presenting sponsor for Shop Indie Local for the third year," says Chief Retail Officer John Loeffler. "We encourage you to support local, independent businesses. They're the lifeblood of our communities. They support our local events, nonprofits, school fundraisers and provide services vital to our everyday life." Loeffler continues, "As Bank of Sun Prairie, a locally owned, independent community bank celebrates our 125th anniversary, we are thrilled to do our part is supporting this initiative at such an important time of year."
"Our small businesses are unique and help define Dane County's culture," said County Executive Joe Parisi. "By participating in Small Business Saturday and Shop Indie Local, Dane County residents do their part to keep our community vibrant and local economy healthy through the holiday season and beyond."
Small Business Saturday focuses on local business. Has Small Business Saturday made a difference?
 U.S. shoppers who shopped at independent retailers and restaurants on Small Business Saturday reported spending a record high total of an estimated $23.3 billion, up from $19.8 in 2020.
 66% reported that the day makes them want to Shop Small all year long.
 Online shopping at a small business on Small Business Saturday was up slightly, with 58% of shoppers reporting that they made a purchase online, compared to 56% in 2020 and 43% in 2019.
 More shoppers were eager to support independent restaurants with 54% reporting they dined or ordered takeout from a small restaurant, bar, or café, up from 48% in 2020.
 70% of respondents reported Small Business Saturday makes them want to encourage others to shop at small, independently owned retailers.
"Small Business Saturday is the perfect time to look for holiday gifts for loved ones or yourself while supporting local businesses," says Colin Murray, Executive Director for Dane Buy Local. "When you spend your dollars at locally owned retail businesses rather than a chain store, more money returns to the local economy."
According to Civic Economics, when you spend a dollar at an independent business, approximately 47 cents return to the local economy. When spent at a chain store, only 14 cents return. Spent at an online giant, only a few pennies return. The 47 cents also recirculate through the local economy, generating a ripple effect that strengthens jobs, charitable contributions, and community prosperity.
Shop Indie Local activites go through December, including The Passport Program (November 1-December 18), Plaid Friday (November 25), Small Business Saturday (November 26), Artist Sunday (November 27), Local Cyber Monday (November 28), and Giving Tuesday (November 29), Shopping Local (all year long).
For more information, contact Colin Murray at colin@danebuylocal.com or (608) 712-3440, or visit danebuylocal.com.
###
Photo by Richard Hurd
Support Sustain Dane's Year-End Giving Campaign
Support Sustain Dane through our 2022 Year-End Giving Campaign. With your help, we are making a powerful impact in the sustainability and climate movement.
Your support makes this possible.  Sustain Dane's work amplifies sustainable actions in the workplace, at home, in schools and throughout the community. Please consider donating to Sustain Dane today to accelerate equity and sustainable actions for community well-being.  
Photo by Richard Hurd
WPS Health Solutions: Navy Petty Officer First Class Matthew Kuzicki saluted for Operation Fan Mail
FOR IMMEDIATE RELEASE
Contact:
DeAnne Boegli
Vice President of Communications
608-512-5754
deanne.boegli@wpsic.com
Navy Petty Officer First Class Matthew Kuzicki saluted for Operation Fan Mail
Program is sponsored by WPS Health Solutions and the Green Bay Packers
MADISON, Wis.—Nov. 15, 2022—The Green Bay Packers and WPS Health Solutions paid special tribute this week to Navy Petty Officer First Class Matthew Kuzicki and his family in conjunction with the Nov. 13 game against the Dallas Cowboys. Operation Fan Mail, the program that recognizes military families and veterans at each Packers home game, marks its 16th season in 2022.
Kuzicki grew up in Sobieski, Wis., about 20 miles from Lambeau Field. The green-and-gold gene has been passed down for generations in his family. He grew up a Packers fan, with early cherished memories of his family gathering at his Grandpa Ed's house to watch the games together. When the Packers went to Super Bowl XXXI in 1997, Kuzicki collected every newspaper clipping possible and got a Packers Super Bowl Champion hat, which he still has all these years later.
Kuzicki joined the U.S. Navy at age 17 in 2005, making 2023 his 18th year of service to the country. During his service, he has completed five tours that have taken him to several countries including Cameroon, Ukraine, Germany, Spain, Sicily, Guam, and more. He will begin his sixth tour in February. He has earned four Navy and Marine Corps Achievement medals and the Afghanistan Campaign medal. He has also been awarded the Navy and Marine Corps Commendation medal. Currently, he is stationed in Gulfport, Miss., and is serving with the Navy Cargo Handling Battalion 13.
Kuzicki attended Sunday's game with his wife, Danielle, his parents, Mike and Marie Kuzicki, as well as his father-in-law and mother-in-law, Joyce and Mike Maszka, who nominated him for Operation Fan Mail. As the honoree for Operation Fan Mail this week, Kuzicki received four tickets to the game and a $150 Packers Pro Shop gift card, courtesy of WPS.
The program, which debuted in 2007, is designed to honor families with a member who is on active duty or a member who is a veteran. The Packers and WPS Health Solutions will host a family at each 2022 season home game and recognize the members on the video boards during pregame activities. A total of 153 individuals, families, or groups have been recognized through the program since it began.
The Packers and WPS Health Solutions invite interested families, or friends of eligible families, to submit an essay, 500 words or less, on why a particular family should be saluted this year. Families intended for recognition are those that have a member serving on active duty, or a member who is a veteran. The family member can be a spouse, mother, father, son, daughter, or sibling.
Essays can be sent to Operation Fan Mail, P.O. Box 10628, Green Bay, WI, 54307-0628 or online at operationfanmail.com.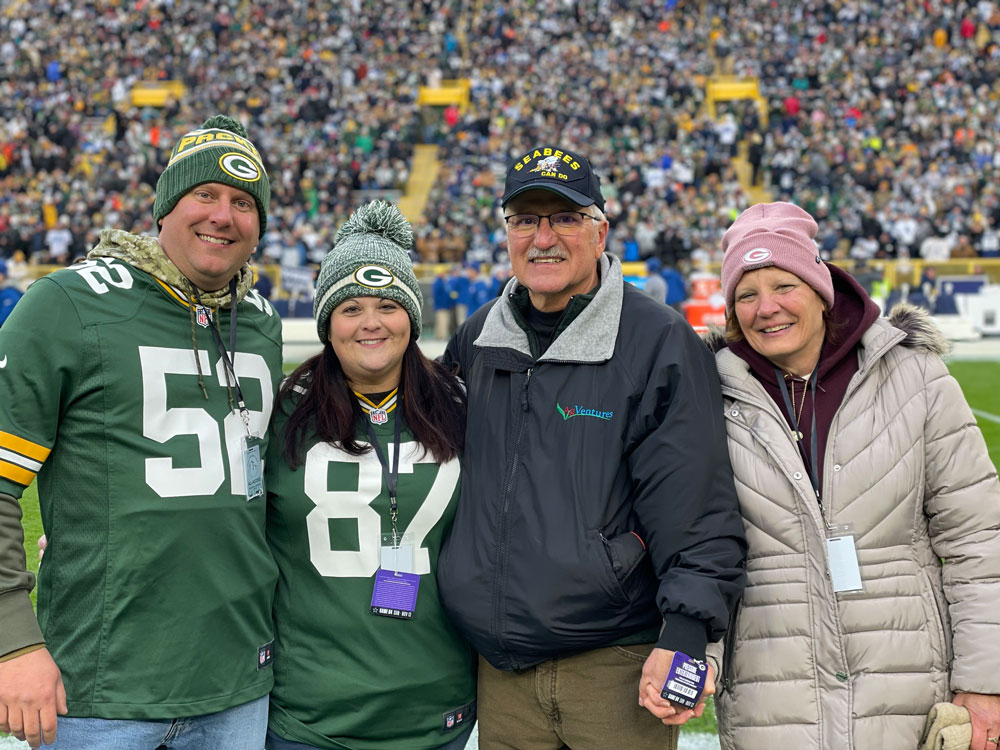 About WPS Health Solutions®
Wisconsin Physicians Service Insurance Corporation (WPS Health Solutions), founded in 1946, is a nationally regarded benefits administrator for a variety of U.S. government programs and a leading not-for-profit health insurer in Wisconsin. WPS Health Solutions serves active-duty and retired military personnel, seniors, individuals, and families in Wisconsin, across the U.S., and around the world. WPS Health Solutions, headquartered in Madison, Wis., has more than 3,100 employees. Within the enterprise, there are three divisions: WPS Government Health Administrators, WPS Military and Veterans Health, and WPS Health Insurance/WPS Health Plan/EPIC Specialty Benefits. For more information, please visit wpshealthsolutions.com.
###
Photo by Richard Hurd
Apparel Company Iron Joc and Wisconsin Union Launch a Clothing Line Collaboration
FOR IMMEDIATE RELEASE
Nov. 15, 2022
Contact Information:
Shauna Breneman, Communications Director
Email: sbreneman@wisc.edu
Phone: (608) 262-8862
READ RELEASE ONLINE: union.wisc.edu/about/news/iron-joc-wisconsin-union
APPAREL COMPANY IRON JOC AND WISCONSIN UNION LAUNCH A CLOTHING LINE COLLABORATION
MADISON – The Wisconsin Union team and University of Wisconsin–Madison alumnus-owned and Wisconsin-based Iron Joc Performance Gear and Apparel have launched a line of Iron Joc's performance clothing with the Union's iconic, trademarked Terrace chair sunburst image exclusively online and at the Badger Market at Memorial Union in Madison, Wis.
The Iron Joc and Wisconsin Union collaboration includes seven clothing selections with the trademarked Terrace sunburst chairback image on the left sleeve or back, including hoodies, t-shirts, a polo shirt, and a racerback tank top. The Iron Joc and Wisconsin Union teams anticipate changing the available types of performance apparel throughout the year.
Iron Joc's apparel includes exclusive fabric, called Enduretech, which features woven-in nano-silver technology that aims to eliminate odor-causing bacteria. The Iron Joc team weaves in the nano-silver technology to prevent the technology from washing or fading and uses lightweight, four-way spandex material designed for fast drying as well as sweat and water-wicking.
Iron Joc Founder and CEO Paul Hanson shared his thoughts on the new venture saying, "We are very excited to be working with the Union team and to be offering customers our gear with the special sunburst image. The University of Wisconsin–Madison is important to us, and we are thrilled to work with our brand ambassador, Braelon Allen, to promote this relationship."
Sales from this new clothing line, in part, help support the Wisconsin Union's ability to host more than 1,000 events each year, offer activities, maintain its buildings Memorial Union and Union South, provide dining options in downtown Madison, and provide student leadership opportunities for hundreds of students annually.
UW–Madison students in the Wisconsin Union's clubs and committees that make up the Wisconsin Union Directorate plan most of the Union's events, providing the students with hands-on leadership and professional development opportunities as well as academic stipends of up to 80% of in-state tuition for some student leaders. The Wisconsin Union is a non-profit organization.
"The purchase of apparel in the Wisconsin Union and Iron Joc collaborative clothing line makes a difference in the lives of UW–Madison students," Wisconsin Union Deputy Director Susan Dibbell said.
-###-
About the Wisconsin Union
The Wisconsin Union enhances the lives of members and visitors through recreational, cultural, educational and social opportunities. Formed in 1907, the Wisconsin Union is a membership organization that blends study and leisure to create unique out-of-classroom opportunities. Learn more about the Union and its tradition of providing experiences for a lifetime: union.wisc.edu.
About Iron Joc Performance Gear and Apparel
University of Wisconsin–Madison alumnus Paul Hanson created Iron Joc because he believed in the ability to create performance apparel that offers permanent odor protection, lasts, is moisture-wicking, and is comfortable. To combat odor-causing bacteria, the company uses Enduretech technology inside every piece of Iron Joc clothing, which is a fabric designed with bacteria-fighting nano-silver technology and is exclusive to Iron Joc. To learn more about Iron Joc, visit ironjoc.com.
Photo by Richard Hurd
Summit Credit Union Pays $2.5 Million in Member Dividends
FOR IMMEDIATE RELEASE
Media Contact:
Stephanie Tervort
(608) 243-5000
publicrelations@summitcreditunion.com
Summit Credit Union Pays $2.5 Million in Member Dividends
Cooperative's Cash Boomerang program puts money in members' pockets
MADISON, Wis. (Nov. 10, 2022)—Summit Credit Union has announced a patronage dividend of $2.5 million for its members. Called Cash Boomerang¹, the member give-back is based on Summit Credit Union's financial success and on an individual's use of Summit checking, savings, and borrowing services between Oct. 1, 2021, and Sept. 30, 2022.
The annual program will send cash payouts to more than 72,800 members, an increase of 3,800 from last year. In the nine years since Cash Boomerang started, Summit has distributed $19.6 million in cash payouts.
Banks only offer dividends to stockholders, but Summit, a financial cooperative, offers the patronage dividend to members as reminder of the value of doing business with Summit Credit Union, said Kim Sponem, CEO & President.
"We share our success with members who help build our cooperative. This dividend puts money in the pockets of members. In addition to Cash Boomerang, we work every day to offer members significant savings and financial education," Sponem said.
"The more business you do at Summit, the more potential dividend you will get because our members are the reason for our success," she added. "This is one of many ways Summit Credit Union values our members."
With the October acquisition of Commerce State Bank in West Bend, Wis., Summit Credit Union has more than 50 locations and 235,000 members in south-central and southeastern Wisconsin. For more information about Cash Boomerang, visit www.SummitCreditUnion.com/cash-boomerang.
Summit Credit Union is Wisconsin's No. 1 Mortgage Lender and has been the largest credit union lender of SBA loans to small businesses in Wisconsin for over a decade. ²
¹No minimum balances are required to be eligible for the program. Any fees/charges applied to an account will reduce the account balance and result in fewer dividends earned. A checking account must be open as of 9/30 of the year of payment to be eligible for the program. Only members in good standing at the date of the payout will receive it if the Cash Boomerang computes to $10 or more, with a maximum of $1,000. Cash Boomerang is not guaranteed. Cash Boomerang is a dividend and subject to tax reporting.
² The Wisconsin #1 Mortgage Lender designation is based on the number of loans originated in 2021, gathered from the Home Mortgage Disclosure Act data compiled annually by the Consumer Financial Protection Bureau. The results of the data were obtained through the Consumer Financial Protection Bureau's website.
About Summit Credit Union:
Established in 1935, Summit Credit Union is a member-owned financial cooperative. Summit holds $6.2 billion in assets and has more than 233,000 members and 882 employees across more than 50 locations throughout south-central and southeastern Wisconsin. Since 2002, Kim Sponem has been CEO & President of Summit Credit Union, formerly known as CUNA Credit Union/Great Wisconsin Credit Union. Recognized for its excellence in employee engagement, Summit was named a Top Workplace in the USA in 2021 and 2022 by Top Workplaces USA and a Top Workplace in the Madison area for 2022 and 2021 by the Wisconsin State Journal. For more information, visit www.summitcreditunion.com or call 608-243-5000 or 800-236-5560. For additional media information, visit https://www.summitcreditunion.com/about-summit/press-room or follow Summit on Facebook, Instagram and Twitter