Category: Accomplishments
Photo by Richard Hurd
Wisconsin Bank & Trust's Commercial Card Nationally Ranked Fifth Year in a Row
CONTACT:
Shawn Kesler
Regional Marketing Officer, VP 414.394.5946
SKesler@htlf.com
Brent Giles President and CEO 608.203.1224
BGiles@wisconsinbankandtrust.com
WISCONSIN BANK & TRUST'S COMMERCIAL CARD NATIONALLY RANKED FIFTH YEAR IN A ROW
JUNE 29, 2020 — MADISON, WI – Wisconsin Bank & Trust, a member of Heartland Financial USA, Inc. (NASDAQ: HTLF), announced today that for the fifth year in a row it has been ranked among the top U.S. commercial credit card issuers for purchase volume growth.
The Nilson Report ranked Heartland's commercial credit card program among the top 35 Purchasing Card programs, with over $453 million in purchasing card volume in 2019, a growth of 53.9 percent over the previous year. The Nilson Report is a leading publication covering payment systems worldwide for 50 years. Earlier this year, Heartland Financial USA, Inc. was also named by Forbes as the 40th best bank in America.
"Today, more than ever, we understand the importance for our clients to manage cash flow, maintain relationships with vendors, and negotiate favorable terms. It is an honor to be recognized as a leader in the commercial credit card space as we provide solutions that meet the needs of our clients, and the marketplace," said Brent Giles, President and CEO. "We're grateful to our clients for choosing Wisconsin Bank & Trust as their partner, and we remain committed to innovating solutions for today's dynamic environment."
Even before the pandemic, the Association of Financial Professionals 2019 Electronic Payments Survey shared that 47 percent of companies surveyed said "Cost Savings" is a top benefit of sending electronic payments, and 53 percent of companies surveyed said "Speed of Settlement" is a top benefit of receiving electronic payments. With this method of payment rapidly becoming more common, Wisconsin Bank and Trust is helping clients reduce operating costs, increase fraud protection and provide more streamlined payments processes.
About Wisconsin Bank & Trust
Wisconsin Bank & Trust (WBT), a subsidiary of Heartland Financial USA, Inc., (NASDAQ: HTLF), is a business-focused community bank with assets of more than $1 billion. With fifteen banking centers, Wisconsin Bank & Trust serves customers in the Madison, Milwaukee, Green Bay, Sheboygan, Monroe and southwest areas of Wisconsin. WBT offers a wide range of personal and business banking, private client and mortgage lending services. For more information, visit www.wisconsinbankandtrust.com or call 608.203.1214. Wisconsin Bank & Trust is a member of the FDIC and an Equal Housing Lender.
About Heartland Financial USA, Inc.
Heartland Financial USA, Inc. is a diversified financial services company with assets of
$13.2 billion. The company provides banking, mortgage, private client, investment and insurance services to individuals and businesses. Heartland currently has 114 banking locations serving 83 communities in Iowa, Illinois, Wisconsin, New Mexico, Arizona, Montana, Colorado, Minnesota, Kansas, Missouri, Texas and California. Additional information about Heartland Financial USA, Inc. is available at www.htlf.com.
# # #
Photo by Richard Hurd
Central Storage Leads Again in Commercial Solar
Media Contact:
Kelly Williams
(608) 333-6651
kscocos@csw-wi.com
Central Storage Leads Again in Commercial Solar
MADISON, Wis. – A new 653 kWdc solar energy installation at Central Storage & Warehouse's Caledonia, Wisconsin location now makes the refrigerated warehouse company the largest privately-owned host of commercial rooftop solar power generation in the state. At its three southern Wisconsin facilities, Central Storage now utilizes more than 2,140 kWdc of solar. The only business with more installed rooftop capacity is publicly-owned Target.
The family-owned business has consistently championed sustainability, and has found rooftop solar to be profoundly impactful in recent years. The company's first solar installation, a 741 kWdc system atop its Madison warehouse, was the largest installation in the state at the time of completion in 2016. The business case validated by that original system led to a subsequent 746 kWdc installation at Central Storage's Pleasant Prairie facility in 2018. The Caledonia facility is the company's third installation, and its leadership team expects further solar expansion in coming years.
"Solar has become a significant part of our overall business strategy. We not only want to increase our environmental sustainability, but we also want to demonstrate effective cost controls to our customers and our employees. These investments support our values and are helping us mitigate risk for the future," said John Winegarden, CEO of Central Storage & Warehouse.
With the addition of the latest installation, the use of solar-generated power across all of its locations is expected to save Central Storage more than $13.5 million in electricity costs over the next thirty years.
RENEW Wisconsin, a renewable energy advocacy agency, has tracked commercial adoption of solar statewide. Heather Allen, Interim Executive Director of RENEW Wisconsin said, "Solar is an incredible opportunity for businesses right now. In a time of economic uncertainty, investing in renewable energy helps protect a business from future energy costs and can help keep operating budgets affordable. It's really exciting to see renewable energy leaders like Central Storage & Warehouse stepping up to the plate continuously. It's an investment that not only helps their company, but it also contributes to our state's renewable energy goals. That has an impact for all of us."
CSW worked with SunPeak, a Madison-based commercial solar developer and construction company on all three of its solar projects. "Many businesses with heavy power loads during the day are good candidates for solar. We see an especially strong match with refrigeration businesses like Central Storage because their energy needs are especially high in the summer, which is exactly when solar production is greatest," said Mike Riverun, SunPeak's Director of Project Development. "Before solar, Central Storage was shifting its power loads to off-peak periods to take advantage of lower electricity rates. Now they can utilize more power during peak generation periods without incurring higher costs."
Riverun also echoed sentiments by Allen, "The economics of solar are very favorable right now, especially with federal and state incentives still available. There are some very powerful tools to help businesses take advantage of solar. With a lot of uncertainty in the business community right now, we are seeing many industries thinking more broadly on how to cut costs."
CSW's investment in solar supports other energy efficiency initiatives, including a full transition to LED lighting across all facilities and the implementation of refrigeration controls to reduce overall energy use.
"Every little bit helps. We've been in business for seventy-three years and we're extremely grateful for that. We're humbled by the support we've received from our customers, our community and our employees. We feel like this is a way we can give back to everyone," said Jack Williams, VP of Operations for Central Storage.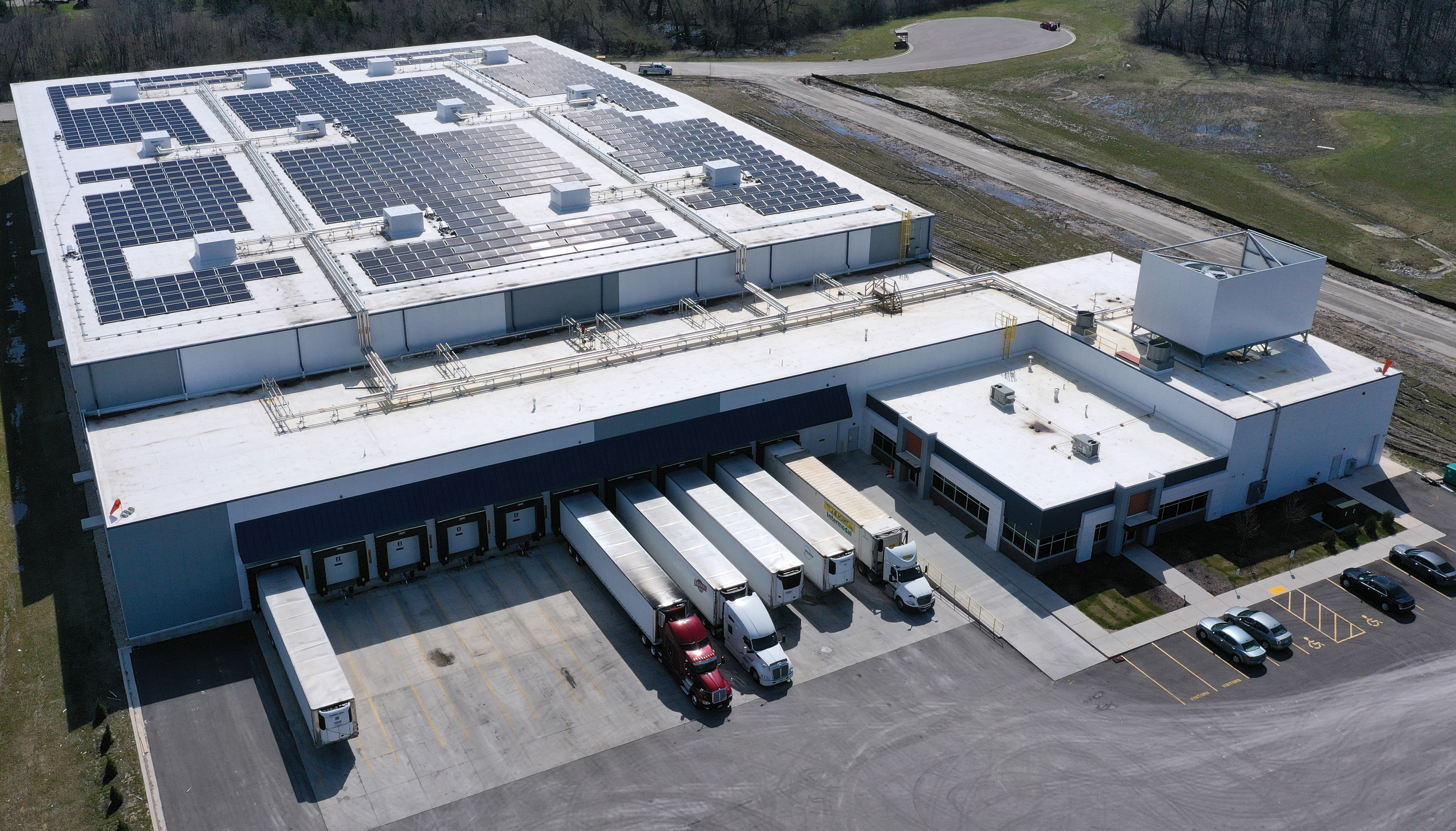 ###
Central Storage & Warehouse is a family-owned provider of temperature-controlled warehousing for food manufacturers and distributors. Established in 1947 and based in Madison, WI, the company has grown to over 20 million cubic feet of storage across six sites in four cities. CSW was a 2017 Wisconsin Family Business of the Year award winner, and the judges found notable the company's embrace of new technologies and commitment to employees, the community, and the environment. CSW's latest investment in clean energy once again embodies these values. For more information, please visit www.csw-wi.com.
SunPeak is a full-service solar photovoltaic developer specializing in commercial and industrial applications. Based in Madison, Wisconsin, the company works across the nation helping businesses, health care facilities, municipalities and educational institutions reduce electrical costs and enhance sustainability efforts using solar energy. SunPeak uses a value-added, comprehensive approach with its customers, partnering with them from the earliest stages to educate, assess, design, construct and ultimately maintain a solar installation through the expected thirty-year life of the system. For more information, please visit www.sunpeakpower.com.
Photo by Richard Hurd
M3 Becomes First Wisconsin-based Member of TechAssure
MADISON, WI – M3 Insurance has been named a new member of TechAssure, the international nonprofit association of insurance and risk management experts for technology-related risks, effective immediately.
"A partnership with TechAssure is a natural fit for M3," said Brad Reitzner, Vice President of Sales – Property & Casualty. "TechAssure allows us to network and share best practices with the leading insurance brokers in sectors like technology, life science, cyber, etc. We look forward to supporting the network's mission of delivering best-in-class insurance advice and program design to the area's most innovative companies."
TechAssure is an invitation-only organization, comprised of the top performing brokers in the tech-risk space. This partnership allows M3 to tap into a global network of insurance brokers that specialize in the technology and life science sectors, as well as cyber risks, and gain access to an unparalleled body of intellectual capital and resources that no other broker can bring.
"Madison, WI has been emerging as one of the fastest-growing tech hubs in the country over the past few years," said TechAssure Executive Director, Garrett Droege. "M3 has one of the best reputations in the industry and has the talent and resources to be the brokerage of choice for innovative firms in and around the Silicon Prairie."
_________________
ABOUT M3
M3 is a top 50 insurance broker and risk management firm in America. They are leaders in the products they represent and the industries they serve. M3's people are an extension of your team, providing world-class resources to help you manage risk, purchase insurance, and provide employee benefits. And their focus on community builds better places to live and work.
ABOUT TECHASSURE
TechAssure is a unique consortium of risk management experts serving innovative industries, such as technology, telecommunications, life sciences, clean tech, as well as the venture capital and private equity firms that fund them. Comprised of over 30 specialist firms located in strategic locations across the world, TechAssure members collectively serve over 5,000 tech-industry clients and represent over $10 Billion in premium volume. The association also produces a proprietary annual benchmarking report for the industries it serves. TechAssure is currently celebrating its 20th year.
Photo by Richard Hurd
MDC Raises More Than $6 Million for Venture Debt Fund
(MADISON, Wis.)—Madison Development Corporation's (MDC's) Venture Debt Fund, which provides financing for emerging growth companies in Dane County has successfully raised over $6.2 million for its sixth fund.
Since 2004, the MDC Venture Debt Fund has provided venture debt loans to over 60 Dane County companies that have created more than 1,400 high quality jobs in Dane County.
"Our goal is to keep high growth companies here in Dane County so they can create quality jobs that keep talent here in Wisconsin" said Lorrie Heinemann, Madison Development Corporation President & CEO and Venture Debt Fund Co-Manager.  "Our Venture Debt Fund continues to be a resource for many local companies when growth capital is critical."
The Fund's participants include MGE, Capitol Bank, Monona Bank, State Bank of Cross Plains, City of Fitchburg, First Business Bank, Middleton Area Development Corporation, Settlers Bank, Town Bank, Starion Bank, Bank of Sun Prairie, McFarland State Bank, Oak Bank, Old National Bank, Incredible Bank, Park Bank and MDC.
Companies that have received funding include TomoTherapy, Phoenix Nuclear, PerBlue Entertainment, EnsoData, Stemina Biomarker, Digsite and GrocerKey.
The MDC Venture Debt Fund typically provides financing for companies who reached revenue stage and have received an angel or seed round of funding. The venture loans are nondilutive to equity shareholders which allows companies to access capital at a predictable cost while maintaining ownership and control.
For more information about the MDC Venture Debt Fund program, visit https://www.mdcorp.org/venture-financing.
About Madison Development Corporation
Madison Development Corporation is a non-profit organization that owns and manages 305 affordable housing units in the Madison area and provides financing for hard-to-finance businesses in Dane County. Since 1977, MDC has provided loans to more than 450 businesses totaling over $35 million, helping to create over 5,000 quality jobs in Dane County.
Photo by Richard Hurd
Kraus-Anderson Construction completes new West Allis Infiniti dealership for Lupient
WEST ALLIS, Wis. (March 2020) – The Madison office of Kraus-Anderson Construction Company (KA) has completed construction of a new 31,726-square-foot Infiniti dealership for Lupient in West Allis, Wis. Located at 10595 West Arthur Ave., the new dealership is now open.
Infiniti of Milwaukee, owned by Lupient Automotive Group, will sell new and used vehicles. The new building includes 13 service bays to accommodate vehicle maintenance, a dual lane service reception area that accommodates up to six vehicles at a time, and an attached car wash facility.
The unique design also boasts a large, custom glass feature wall at the front entrance, as well as a significant amount of glass and glazing on the inside and outside of the building.
Designed by Neenah-Wis.-based Gries Architectural Group, Inc., the new dealership is Lupient's second in Wisconsin. Lupient also owns and operates Lupient Kia of Milwaukee, located in Glendale.
Based in Golden Valley, Minn., the family-owned Lupient Automotive Group has become a leading auto group for drivers for more than five decades.  In addition to its Wisconsin dealerships, Lupient provides Minnesota dealerships in Golden Valley, Brooklyn Park, Bloomington and Minneapolis.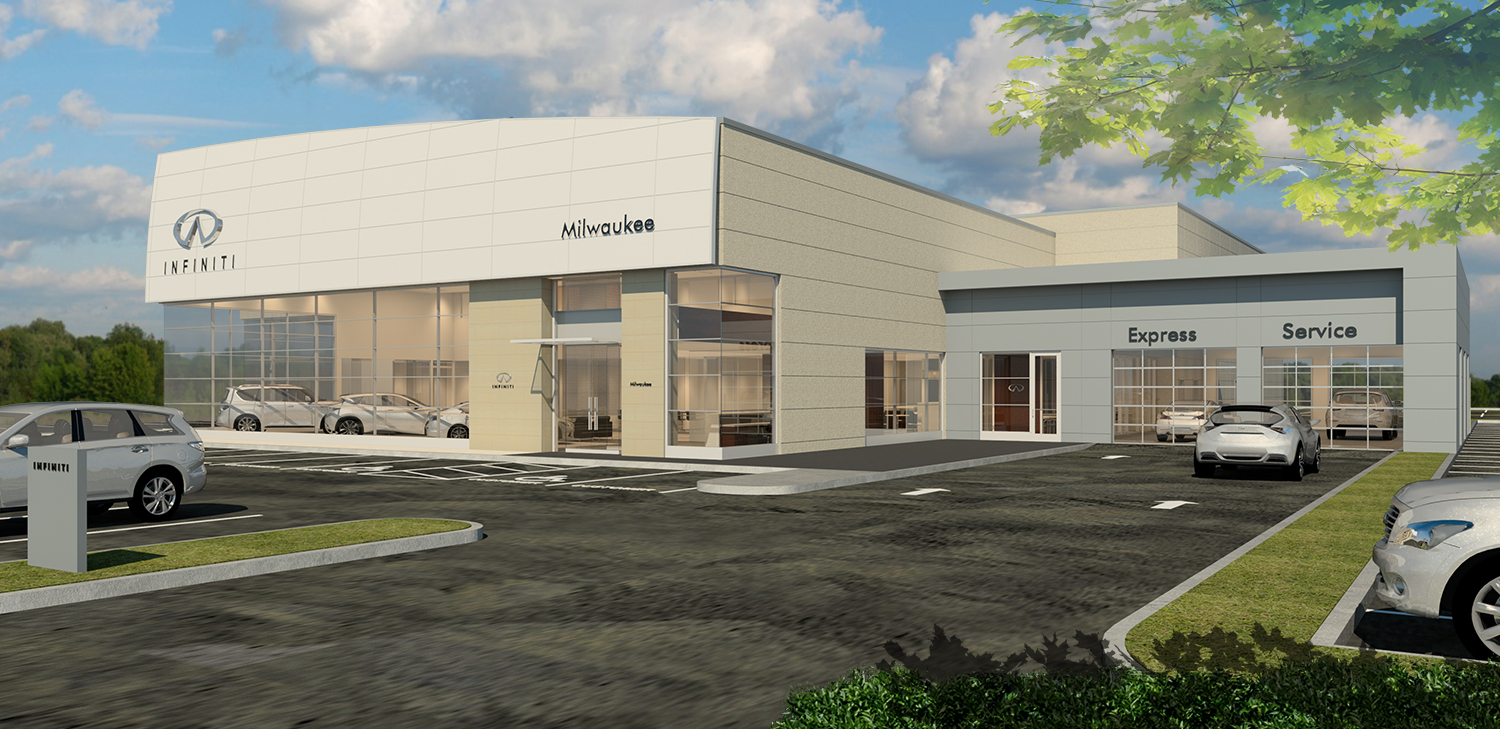 About Kraus-Anderson
Established in 1897, Kraus-Anderson® Construction Company (www.krausanderson.com) is one of the nation's premier commercial general contractors and construction managers. Kraus-Anderson, an Equal Opportunity & Affirmative Action employer, is headquartered in Minneapolis, Minn. and has regional offices in Madison, Wis., Bismarck, N.D., and Duluth, Bemidji and Rochester Minn.
###