Category:
Corporate Social Responsibility
Photo by Richard Hurd
Vicki Kenyon of Stark Company Realtors presents LGBTQ+ Safe Path to Home Ownership
For Immediate Release – November 16, 2023
Stark Company Realtors: LGBTQIA+ Safe Path to Home Ownership Seminar launching in January 2024
Vicki Kenyon of Stark Company Realtors wants the Dane County LGBTQIA+ Community
to know they are safe with the team of home ownership professionals she has assembled.
Madison, WI — 11/16/2023 — Today Vicki Kenyon of Stark Company Realtors announced the January 2024 launch of the Safe Path to Home Ownership Seminar. "My aim is to make sure the LGBTQIA+ knows that I have their back, and so does the rest of our seminar panel team," says Vicki.
50% of LGBTQIA+ Home Buyers & Sellers fear discrimination
In today's political climate these fears are valid, with 30% of LGBTQ+ buyers & sellers reporting discrimination at some point within the process. When asked about the reason for putting such a seminar together, Vicki answered, "Having faced discrimination when searching for a home in the past, this fear and apprehension resonates deeply with me. Buying and selling a home is usually the largest personal investment one makes in their lifetime. I want to do all I can to ensure that my clients' fears of discrimination can be put aside so they are able to focus on this important endeavor properly."
"Home buying and selling is scary enough without having this added anxiety. Vicki is working hard to be sure the LGBTQ+ Community in Madison can feel confident in her as a REALTOR®, with our organization, and with the Seminar Team she has assembled," noted Chris Stark, President of Stark Company Realtors.
The Seminar assembles a Certified Community & Allied Panel
All Panelists will have completed the LGBT+ Real Estate Alliance-Certified "Ally Certification Course 2023." Panelists include: Heidi Andrew of Epic Lending, Bex Laird of Goosehead Insurance, Adam Erdmann of Renovation Sells, Sam Considine of Haven Home Inspections and Vicki Kenyon of Stark Company Realtors. Panelists will discuss their specific role within the home buying and selling process, as well as offering their list of tools, resources, and best practices. Visit the seminar web page for more detailed information on the presentation and how to register. Although there is no cost to attend, seats are limited so registration is required. vkenyon.starkhomes.com/seminar
Stark Company Realtors is one of the largest real estate companies with a rich history of serving Southern Wisconsin home buyers and sellers since 1908. They are a fifth generation, family owned and operated company.
###
Stark Company Realtors is a real estate brokerage based in Madison, Wisconsin with offices throughout Southern Wisconsin. All Agents are independent contractors and Licensed REALTORS® with authorization to represent the brand and company.
For more information:
Vicki Kenyon
(608) 982-6794
VKenyon@StarkHomes.com
For more information on Seminar:
VKenyon.StarkHomes.com/seminar
Photo by Richard Hurd
Endres Mfg. Company Foundation November 2023 Grants Given
This November 2023 the Endres Foundation received 51 grant applications with a total amount requested of $780,000. The primary focus area was health and human services, with education and the arts second and third, respectively. This year 17 grants were given for a total of $213,583. In addition, we made 3 pledges to be spread out over the next 3 years (totaling $210,000) for the following organizations: The Playing Field, The Salvation Army, and the Wisconsin Youth Symphony Orchestra building. The EMC Foundation will also be matching $25,000 in grant decisions made by the UW Philanthropy Lab Class.
Henry James said: "Three things in human life are important: the first is to be kind, the second is to be kind and the third is to be kind." Be generous with your time, talent and treasure and show kindness to all of humanity. And Helen Keller said: "The true disability is not being blind. The true disability is having sight but no vision." Envision a better and brighter future, a world that is filled with kindness!
Happy Holidays from the EMC Foundation Team!
The grant requests awarded are:
Agrace HospiceCare, Incorporated – grief support services $5,000
Arts for All Wisconsin, Inc. – Veterans art studies $5,000
Asset Builders of America Inc. – Youth P.O.W.E.R. Academy of Finance $3,500
Badger Honor Flight, Inc. $5,000
Community Support Network, Inc. $1,000
Crossroads United Methodist Church Incorporated $8,200
Family Service Madison, Inc. – family health services $12,000
Food for Kidz $1,000
Habitat for Humanity of Dane County, Inc. $20,000
Center for Community Stewardship, Inc. – I Am We Global Village $2,250
Learning Atrium, Inc. – reading, dyslexia, tutoring and $11,700 coaching programs
Madison Area Community Land Trust $10,000
Madison Area Food Pantry Gardens, Inc. $8,000
The Playing Field, Inc. – The World We Imagine $16,333 ($50,000 over 3 years)
The Salvation Army $33,000 ($100,000 over 3 years)
UW Odyssey Project $25,000
UW Philanthropy Lab $25,000
Village Diaper Bank, Inc. $5,000
Wisconsin Council of the Blind and Visually Impaired, Inc. $1,600
Wisconsin Youth Symphony Orchestra $15,000 ($60,000 over 4 years)
TOTAL: $213,583
Photo by Richard Hurd
New Books for Kids this Holiday Season as Madison Reading Project Again Launches Community Book Drive
FOR IMMEDIATE RELEASE
MORE INFORMATION:
Rowan Childs, Rowan@madisonreadingproject.com, (608) 347-79790
Ann Christianson, Ann@madisonreadingproject.com, (608) 345-0792
New Books for Kids this Holiday Season as Madison Reading Project Again Launches Community Book Drive
DANE COUNTY – For the fourth year in a row, Madison Reading Project is launching its annual Community Book Drive, promising to fill the homes of area children with new books this holiday season.
The goal: Raise $100,000 and provide 15,000 new books before winter break; more than 12,000 children will receive the books via Empty Stocking Club distributions, community partners, schools, and social workers. In addition to kicking off their fundraiser, the nonprofit is also celebrating a proclamation from the City of Madison this month. November is officially Madison Reading Project and Family Literacy Month in Madison. The proclamation also thanks the nonprofit for its work and collaboration with many partners to bring literacy resources, engagement, and free books to all children.
Madison Reading Project staff and volunteers will place book collection bins at public locations such as shopping malls, and has 40 different groups already hosting individual new book drives to help reach the goal. Anyone can sign up to run a drive, shop online for the book wishlist, or at local bookstores.
Financial donations can be made online or by mailing a physical check.
"We believe it is important for children to have access to new books that reflect their unique identities as well as open their eyes to others' lived experiences," says Rowan Childs, executive director. "By supporting our Community Book Drive you will help get thousands of new, high-quality books to kids, many of whom have few books in their homes."
Madison Reading Project is again partnering with the Empty Stocking Club, Boys and Girls Club, and Reach Dane, along with other community programs, to widen its reach.
"We're confident we will reach our donation goals," Childs adds. "Everyone deserves that new book feeling, especially children, and books in the home are so very important."
Anyone can help by donating funds or by buying books from local bookstores, such as Lake City Books, Mystery To Me, Leopold's Books Bar Caffe or Books 4 School. The booklists make it easy to select a choice at any price point. Visit:
www.madisonreadingproject.com to get involved. A business, club, friend group or neighborhood can also organize a book drive, in person or virtually.
"We want to shine a light on our amazing community and encourage people to not only help us collect books bought locally, but also support local businesses when they visit our bins," says Ann Christianson, Book Drive coordinator. "To make it convenient, you can purchase from our wishlist via our website or through local bookstores."
Madison Reading Project's book drive works with the Wisconsin State Journal's annual Empty Stocking Club holiday toy distribution event. Open to all families regardless of their financial situation, every child receives a new book in addition to a brand-new, high-quality toy at the giving event.
For public donation locations, the link to make a financial contribution, and complete information about the Community Book Drive visit www.madisonreadingproject.com/communitybookdrive
The drive ends Dec. 8th to ensure books get to kids in a timely manner before schools close. The fundraiser is open until the end of the year.
Madison Reading Project is a nonprofit organization with a mission to connect our community with free books and literacy enrichment programs that ignite a love for reading.
—30—
Photo by Richard Hurd
One Community Bank Matches Donations for Firefly Coffeehouse Week of Giving Back to the Community!
November 2, 2023
FOR IMMEDIATE RELEASE
Contact:
Ameilia Abraham
One Community Bank
608-838-3141
aabraham@onecommunity.bank
OCB Matches Donations for Firefly Coffeehouse Week of Giving Back to the Community!
One Community Bank is proud to continue investing in our communities. OCB is delighted to match donations for Firefly Coffeehouse Week of Giving Back to the Community and donate a total of $6,000 across six local organizations. The organizations include Friends of Oregon School District, Oregon Area Council on Aging Seniors Helping Seniors Fund, 14 South Artists, Oregon Straw Hat Players, The Friends of the Oregon Public Library, and the Oregon Food Pantry. Each organization will receive $1,000 from One Community Bank.
"At One Community Bank we believe in serving our clients, supporting our colleagues, and investing in our communities. This feel-good donation allows us to fulfill that mission. We are proud to support Firefly Coffeehouse in their mission of supporting the Oregon community and are delighted to support each of the local organizations selected by Jeanne and Uri Carpenter, Owners of Firefly" said Steve Peotter, President and CEO of One Community Bank.
In honor of being voted the 2023 Gold Medal Winner for Best Coffeeshop in Madison by Madison Magazine, Firefly Coffeehouse celebrated by supporting local organizations in a Giving Back Week. During the week of September 19-23, they donated 20 percent of all daily sales to six local organizations and One Community Bank matched $1,000 of daily donations. With the support of the community a total of $12,400 will be donated.
"Thank you, One Community Bank, for matching donations during our Week of Giving Back! And thank you to everyone for your support. I am thrilled to be able to give back to the Oregon community as they have supported my business throughout the years," beamed Jeanne Carpenter, Owner of Firefly Coffeehouse.
One Community Bank is proud to support Firefly Coffeehouse and the six donation recipient organizations.
Sales from Tuesday, September 19, were donated to Friends of Oregon School District. They provide grants to students to attend leadership conferences, music camps, sports camps, driver's ed and college prep classes.
Sales from Wednesday, September 20, were donated to Oregon Area Council on Aging Seniors Helping Seniors Fund. They assist older adults with unexpected costs, such as emergency housing, medication, and emergency transportation.
Sales from Thursday, September 21, were donated to 14 South Artists and Oregon Straw Hat Players. 14 South Artists, Inc. is a community of artists and art supporters from south-central Wisconsin, working in a variety of mediums and promoting the visual arts. They also operate the Oregon Art Center Gallery in downtown Oregon. Oregon Straw Hat Players provide amateur theatre for the Oregon community, offering opportunities to participate in all production processes, striving for excellence while stressing enjoyment and entertainment.
Sales from Friday, September 22, were donated to The Friends of the Oregon Public Library for their Literacy Programs for Children. The Friends help foster a love of learning and literacy skills in children of all ages and help maintain reading skills during summer months. The Friends also sponsor a variety of opportunities for youth to learn and grow at the library all year long.
Sales from Saturday, September 23, were donated to the Oregon Area Food Pantry. The Oregon Area Food Pantry provides food and necessities to those in need residing within the Oregon School District. Their mission is to reduce the impact of poverty on area residents by compassionately and humbly providing information, education, and tangible and intangible resources.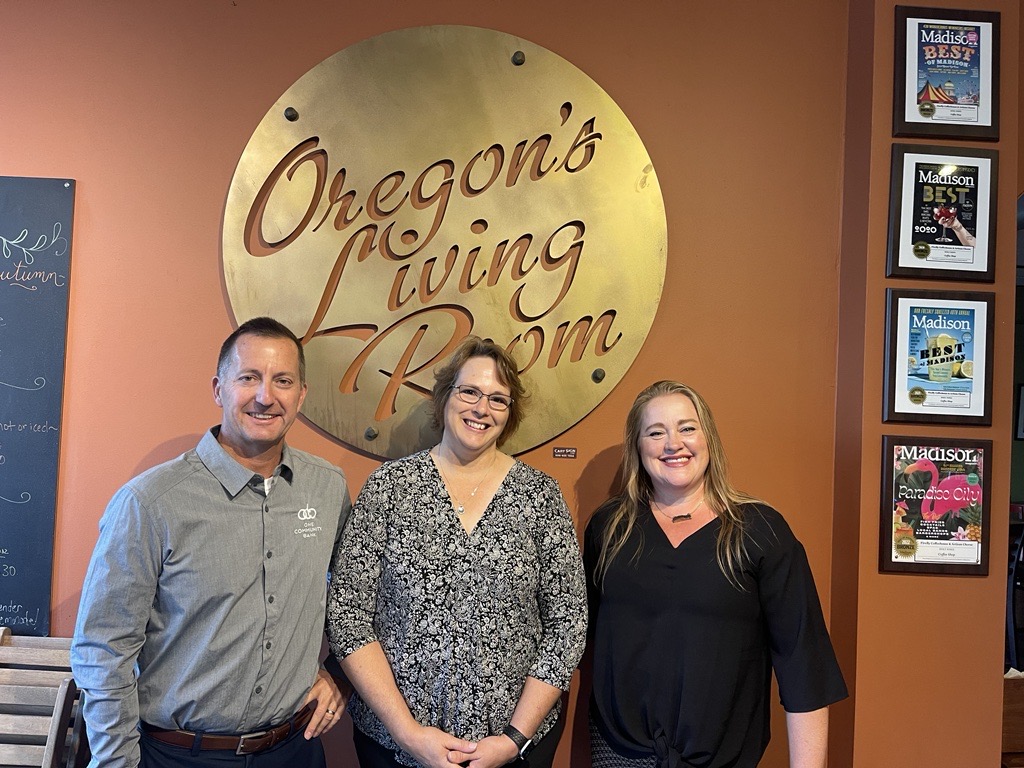 ---
One Community Bank is one of the largest community banks in south central Wisconsin. The locally owned bank has 15 bank locations and $2.1 billion in assets. It provides both personal and business banking solutions, with an intense focus on serving clients, supporting colleagues, and investing in its communities. Five years in a row named one of Madison's best places to work, One Community Bank serves the communities of Oregon, McFarland, Waunakee, Stoughton, Sun Prairie, Middleton, Adams, Oxford, Grand Marsh, Hillsboro, La Farge, Readstown, Wonewoc, and Union Center. Member FDIC.
Photo by Richard Hurd
Pre-Ordering of Wisconsin Union's House-Made Thanksgiving To Go Meals Opens Nov. 1
FOR IMMEDIATE RELEASE
Oct. 18, 2023
Contact Information:
Shauna Breneman, Communications Director
Email: sbreneman@wisc.edu 
Phone: (608) 262-8862
READ RELEASE ONLINE: union.wisc.edu/about/news/thanksgiving-2023
PRE-ORDERING OF WISCONSIN UNION'S HOUSE-MADE THANKSGIVING TO GO MEALS OPENS NOV. 1
MADISON – The Wisconsin Union team's annual Thanksgiving To Go will return in November with online ordering of group meals for six people and individual-sized meals beginning Nov. 1 at 9 a.m. CDT and ending on Nov.15 at 5 p.m. CDT or while supplies last.
Since 2004, the Wisconsin Union team has offered ready-to-reheat and serve, house-made Thanksgiving meals. This year's meal options include:
Group meals for six people for $175, which include a choice of a bourbon turkey or roasted turkey entree, sides of turkey gravy, mashed potatoes, herbed green beans, sage stuffing, mashed sweet potatoes, cranberry relish and fresh dinner rolls with butter, and a choice of pumpkin, pecan or fudge bottom pie
Individual-sized meals for $18, which include the choice of a roasted turkey, baked gingersnap mustard-glazed ham or creamy butternut squash lasagna entree, a variety of house-made side dishes, including herbed green beans and cranberry relish, and a choice of pumpkin, pecan or fudge bottom pie
Customers can add additional sides of cranberry relish, turkey gravy or creamy butternut squash lasagna and whole pies to their orders.
All members of the public can submit orders. At the time of ordering, customers can select a pick-up time window for a time between 11 a.m.–5:30 p.m. at Memorial Union on Nov. 22.
People can also give to support the donations of individual-sized meals to University of Wisconsin–Madison students experiencing food insecurity. Patrons do not need to purchase a meal to make a gift. The donating of meals is the continuation of a three-year-long partnership between the Wisconsin Union team and the UW–Madison Dean of Students Office. UW–Madison students in need of a free Thanksgiving To Go meal can complete the meal request form here beginning Nov. 1.
"We at the Wisconsin Union have almost 10 years of experience with creating house-made, convenient Thanksgiving meals that help people make the most of their time," Wisconsin Union Deputy Director Susan Dibbell said.
According to a 2022 FinanceBuzz survey, more than 69% of Americans would consider getting or have purchased their Thanksgiving meal pre-cooked from a restaurant. The Wisconsin Union team was an early adopter of this growing trend, having begun offering Thanksgiving meals to go in 2004. This replaced a previously offered Thanksgiving buffet, which waned in popularity in its final years.
Purchases of Thanksgiving To Go meals and all purchases at Wisconsin Union dining options help the Union team provide thousands of events, activities, spaces and student leadership positions, some of which include academic stipends of up to 80% of students' in-state tuition.
Customers interested in ordering Thanksgiving To Go as well as those who would like to donate to support students experiencing food insecurity can visit union.wisc.edu/thanksgiving.
-###-
About the Wisconsin Union
The Wisconsin Union enhances the lives of members and visitors through recreational, cultural, educational and social opportunities. Formed in 1907, the Wisconsin Union is a membership organization that blends study and leisure to create unique out-of-classroom opportunities. Learn more about the Union and its tradition of providing experiences for a lifetime: union.wisc.edu.