Category: Corporate Social Responsibility
Photo by Richard Hurd
WPS Health Solutions donates $20,000 to The Foundation for Black Women's Wellness to improve health and reduce disparities
FOR IMMEDIATE RELEASE
Contact:
DeAnne Boegli
Vice President of Communications
608-977-7343
deanne.boegli@wpsic.com
WPS Health Solutions donates $20,000 to The Foundation for Black Women's Wellness to improve health and reduce disparities
MADISON, Wis.—Oct. 16, 2020—WPS Health Solutions today announced a $20,000 gift to The Foundation for Black Women's Wellness, a Madison-based nonprofit organization that works to eliminate health disparities impacting African American women and their families. The gift will support the Foundation's health and wellness education and heart disease prevention efforts.
WPS Health Solutions has a long history of investment in local efforts that build strong, healthy communities. The Madison-based company has nearly 4,000 team members throughout much of the United Sates, including Wisconsin, Illinois, Nebraska, Missouri, and Virginia.
"In considering our giving priorities this year, WPS chose to support The Foundation for Black Women's Wellness based on its strong record of work and leadership to improve Black women's health outcomes, and to drive health equity in Wisconsin where racial disparities are among the highest in the nation," said Scott Kowalski, Executive Vice President of Marketing and Communications.
Established in 2012, The Foundation for Black Women's Wellness engages and supports over 5,000 women and girls each year to build healthier lives through education, outreach, support circles, powerful partnerships, and by influencing systemic change. The organization has gained statewide and national recognition for its advocacy to advance Black women's well-being as a public health priority.
"We are honored and excited that WPS chose us as one of its giving partners and at this crucial time where the need is so great," says Foundation CEO and President Lisa Peyton-Caire. "As we confront long-standing health disparities compounded by COVID-19's disproportionate impact on Black women and families here in Wisconsin and across the nation, never has it been more urgent to support Black women to live their healthiest lives. We look forward to the powerful impacts we will make with WPS' generous support."
About WPS Health Solutions
Wisconsin Physicians Service Insurance Corporation (WPS Health Solutions) is a nationally regarded government contractor and a leading Wisconsin not-for-profit health insurer. The WPS Health Insurance division offers affordable health plans and benefits administration. The WPS Government Health Administrators division administers Part A and B Medicare benefits for millions of seniors in multiple states, and the WPS Military and Veterans Health division serves millions more members who are active in the U.S. military, veterans, and their families. Wisconsin Physicians Service Insurance Corporation has been based in Madison, Wis., for nearly 75 years. For more information, please visit wpshealthsolutions.com.
About The Foundation for Black Women's Wellness
Established in June 2012, The Foundation for Black Women's Wellness is a Wisconsin-based nonprofit organization committed to mobilizing African American women to pursue and sustain mind-body-spirit wellness, and to raise the visibility and support of Black women's health as a community and public health priority. To learn more, please visit ffbww.org.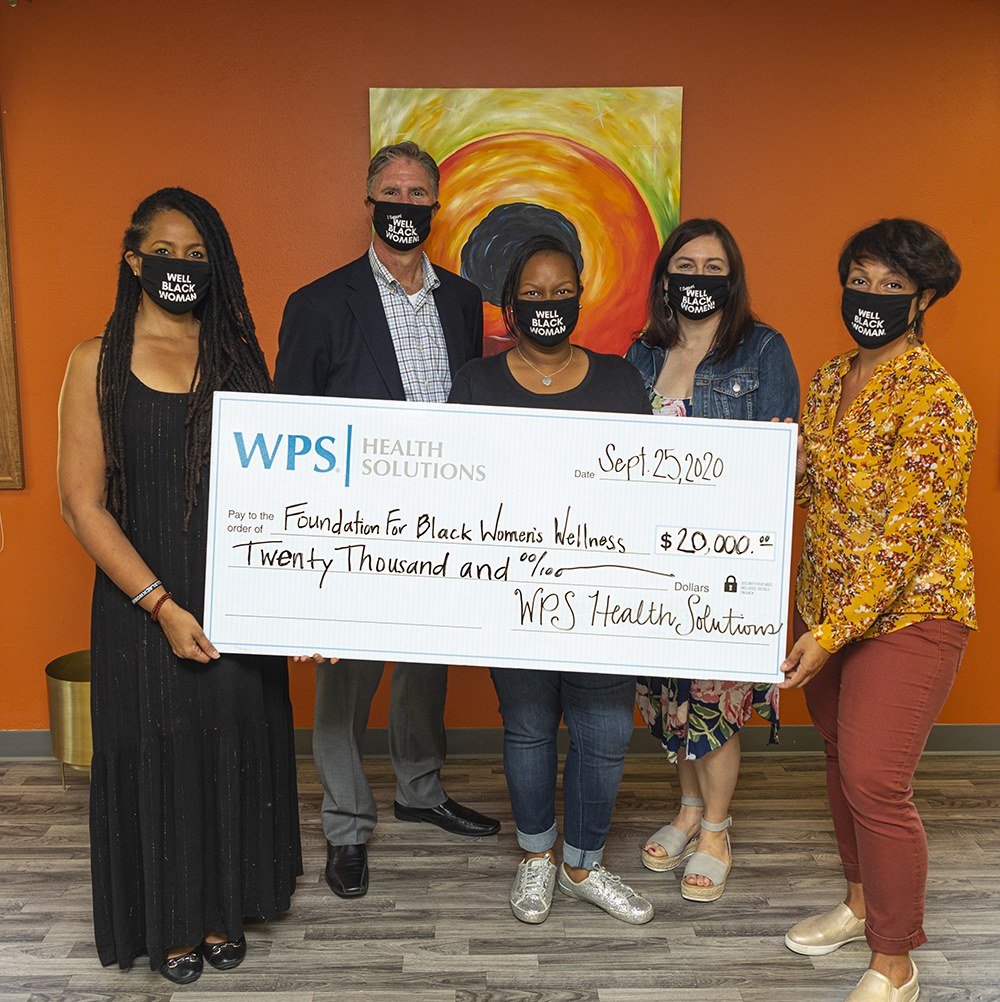 Left to right: Lisa Peyton-Caire, founding CEO and President of the Foundation; Scott Kowalski, Executive Vice President of Marketing and Communications at WPS; Janine Stephens, Chief Operations Officer of the Foundation; Megan Willauer, Director of Events & Strategic Partnerships at WPS; and Alia Stevenson, Chief Programs Officer of the Foundation.
Photo by Richard Hurd
Kollath CPA Introduces KollathKares Grant Program for Wisconsin Nonprofit Organizations
Photo by Richard Hurd
Wisconsin Bank & Trust Donates $20,000 to Toki Middle School
Contact:
Allison Lindorfer
Marketing Specialist
715.781.2665
alindorfer@wisconsinbankandtrust.com
Brent Giles
President & CEO
608.203.1224
bgiles@wisconsinbankandtrust.com
Wisconsin Bank & Trust Donates $20,000 to Toki Middle School
October 7, 2020 — Madison, WI — Wisconsin Bank & Trust announced today it will donate $20,000 to Toki Middle School.
"This week we celebrated World Teachers' Day, a day dedicated to recognizing teachers for the important work they do to help our children learn, grow and succeed," said Brent Giles, Wisconsin Bank & Trust's President & CEO. "It also serves as a reminder that this is a particularly challenging year for many of our K-12 schools, teachers and students."
Through its partnership with the national non-profit organization, AdoptAClassroom.org, the funds are intended for the school to purchase much-needed tools and materials, so they can successfully and safely continue to operate.
"Whether school is taking place in the classroom or remotely from home, the need for additional school supplies, especially personal protective equipment (PPE) and technology is significant," said Giles. "Our hope is that these funds will give students access to the resources they need."
Wisconsin Bank & Trust's mission is to enrich lives in the communities it serves. Earlier this year Wisconsin Bank & Trust contributed $100,000 to the Boys & Girls Club of Dane County, Greater Green Bay Community Foundation, Greater Milwaukee Foundation, Green County Emergency Medical Services, Sheboygan County Food Bank and UW-Platteville in support of their response to challenges created by COVID-19.
About Wisconsin Bank & Trust
Wisconsin Bank & Trust (WBT), a subsidiary of Heartland Financial USA, Inc., (NASDAQ: HTLF), is a business-focused community bank with assets of more than $1 billion. With fourteen banking centers, Wisconsin Bank & Trust serves customers in the Madison, Milwaukee, Green Bay, Sheboygan, Monroe and southwest areas of Wisconsin. WBT offers a wide range of personal and business banking, private client and mortgage lending services. For more information, visit www.wisconsinbankandtrust.com or call 608.203.1214. Wisconsin Bank & Trust is a member of the FDIC and an Equal Housing Lender.
About Heartland Financial USA, Inc.
Heartland Financial USA, Inc. is a diversified financial services company with assets of $15 billion. The company provides banking, mortgage, private client, investment and insurance services to individuals and businesses. Heartland currently has 113 banking locations serving 82 communities in Iowa, Illinois, Wisconsin, New Mexico, Arizona, Montana, Colorado, Minnesota, Kansas, Missouri, Texas and California. Additional information about Heartland Financial USA, Inc. is available at www.htlf.com.
About AdoptAClassroom.org
We are a national, award-winning nonprofit that provides the most flexible and accountable funding for K-12 teachers and schools throughout the U.S. Our proprietary, easy-to-use education fundraising platform helps teachers, principals, and administrators give every child the tools they deserve to succeed in school. Since 1998, we have raised $39 million and supported 5.4 million students. As a 501(c)(3) organization, we hold a 4-star rating from Charity Navigator and a platinum rating of transparency from Guidestar. For more information, or to make a donation, please visit www.adoptaclassroom.org.
Photo by Richard Hurd
Oak Bank Donates $21,000 to Boys and Girls Club of Dane County
For Immediate Release
September 25, 2020
Contact: Karen Virnoche, 608.441.6000
kvirnoche@oakbankonline.com
Oak Bank Donates $21,000 to Boys and Girls Club of Dane County
Donation supports local students and their families during the pandemic
Fitchburg, WI – Oak Bank donates $21,000 to the Boys and Girls Club of Dane County to provide support to local students and their families with food, school supplies, and access to technology during this unprecedented time.
The donation is a combination of Oak Bank's Community Giving Fund and Federal Home Loan Bank of Chicago's (FHLB Chicago) Targeted Impact Fund. The FHLB Chicago Targeted Impact Fund provides bank members with grants to support relief efforts for the populations hit hardest by COVID-19 as well as to promote equity and opportunity for communities of color.
"We knew exactly what needed to be done with the grant money. It should be given to a valued resource in our community that could use the funds to make a real and immediate difference," said Bob Gorsuch, Oak Bank CEO. "The Boys and Girls Club of Dane County is a lifeline to so many. We are honored to play a small role in helping to make our community a better place."
"We are grateful for businesses, like Oak Bank, that show our community support by helping us to provide for young people with resources like face masks, nutritious food, emotional support, and necessary supplies for virtual learning. Especially now during this pandemic and the social unrest happening locally and throughout our country," said Michael Johnson, Boys and Girls Club of Dane County President & CEO.
Earlier this summer, Oak Bank also received a $20,000 FHLB Chicago COVID-19 Relief Grant that was distributed among 12 different local non-profits.
About Oak Bank
Oak Bank has been deeply rooted in the Fitchburg community and Madison area for 20 years, meeting the financial needs of homeowners and businesses by offering top-notch service, quick answers and unique solutions, all while supporting over 100 local nonprofits each year. Visit oakbankonline.com to learn more.
###
Photo by Richard Hurd
DeWitt Law Firm Pledges $100,000 to Increase Access to the Justice System
CONTACT: 
Michelle M. Friedman
262-754-2877 | mmf@dewittllp.com
DeWitt Law Firm Pledges $100,000 to Increase Access to the Justice System
MADISON | MILWAUKEE | MINNEAPOLIS – DeWitt LLP announced today it is donating $100,000 towards assisting with the pursuit of greater access to justice for communities in Wisconsin and Minnesota. The law firm is committing $20,000 annually for the next five years to organizations that assist individuals who have historically been under-represented in the justice system. DeWitt's pledge is a commitment to support local communities and an acknowledgement of today's powerful call for change, equality, and justice.   
As a law firm, DeWitt recognizes that among the inequities that exist in our society today are the injustices suffered by those who cannot access the legal system, which often prevents equal justice from being realized. The justice system favors those who are represented, and justice for those without representation is a fleeting hope.
"While DeWitt has long volunteered time through various non-profits to offer citizens legal assistance in the pursuit of justice, we feel it is imperative to further the cause, especially now, by lending our financial support," said Bradley C. Fulton, President & Managing Partner at DeWitt. "As a law firm, we understand that not everyone has access to justice and this pledge aligns well with our commitment to respect the law, while helping to pursue true equality within our justice system. It is our hope this donation is a small step towards supporting the system's much needed transformation," he added.
About DeWitt
DeWitt LLP is one of the ten largest law firms based in Wisconsin, with an additional presence in Minnesota. It has nearly 140 attorneys practicing in Madison and Metropolitan Milwaukee, Wisconsin, and Minneapolis, Minnesota, in a variety of legal areas and has the experience to service clients of all scopes and sizes. The firm is known for its work in several areas, including intellectual property, patents, trademarks and copyright law, civil rights litigation, construction litigation, corporate law, employment, environmental, employee benefits, estate planning, family law, government relations, health care, litigation, real estate, and tax law. More information is available at dewittllp.com.
###