Category:
Corporate Social Responsibility
Photo by Richard Hurd
Renaissance Senior Living: Drop Off Your Toys for Tots!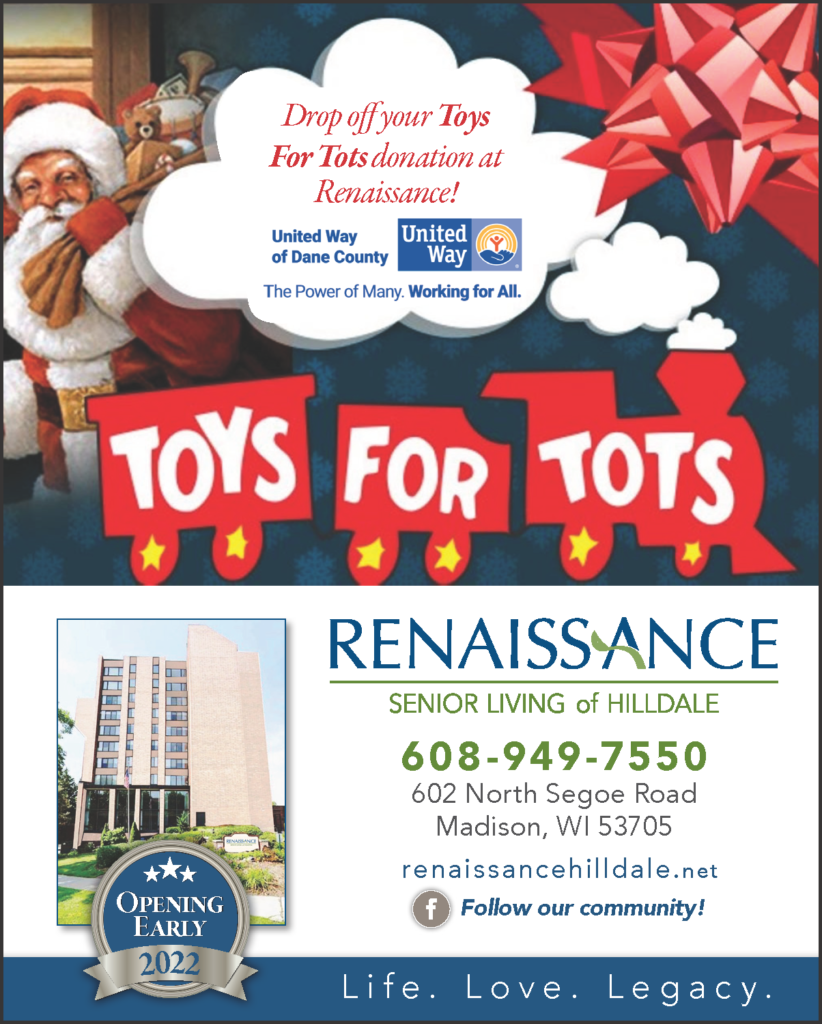 Photo by Richard Hurd
Exact Sciences Commits $500,000 to Urban League Black Business Hub
Company to be a foundational tenant in new facility
MADISON, Wis. – Dec. 9, 2021 – Exact Sciences today announced the company is committing $500,000 to support construction of the Urban League of Greater Madison's Black Business Hub (The Hub) on the city's south side. Exact Sciences also plans to lease space in the building to connect with job seekers and community organizations, adding the company's name to a growing roster of public and private sector tenants at The Hub.
"Few organizations are as consistent and persistent as the Urban League when it comes to improving lives and creating economic opportunity," said Kevin Conroy, chairman and CEO of Exact Sciences. "The Hub will offer formal and informal programming, create new supply chain opportunities for area businesses, and give entrepreneurs a place to call home. We cannot wait to see it open."
Scheduled to break ground in the coming weeks, The Hub fills an economic development void in the city by creating a place devoted to nurturing, accelerating, and supporting Black and other entrepreneurs of color. The 4-story, 76,000 square foot state-of-the-art center will include: retail and office spaces, co-working and meeting space, a rentable commercial kitchen, and business assistance and mentoring programs.
"The Hub ushers in a new era for Black and minority-owned business development in Madison," said Dr. Ruben Anthony, Urban League of Greater Madison president and CEO. "It will be a vibrant cultural, business, and community site that invites people to come together to support new businesses and build greater understanding of the challenges and opportunities we all share."
Equally important, The Hub will also transform opportunities for entrepreneurs by providing new funding sources via loans and grants underwritten by the Urban League of Greater Madison.
"When starting out, businesses need access to capital and help getting things off the ground," said Anthony. "The Black Business Accelerator Program is a fund of over $1 million to provide grants and loans to help populations that are historically under-represented within Madison's entrepreneurial ecosystem."
Exact Sciences is a longtime collaborator and supporter of the Urban League. Since 2018, the organizations have jointly operated a job training program which provides participants with career coaching, skills training, and hands-on experience to prepare them for roles within Exact Sciences' laboratory and customer care teams. To date, more than 120 people have graduated from the program, with more than 80% receiving job offers.
Last month, the Urban League announced that it had $3 million remaining to raise by the end of the year to ensure construction can begin on time, and up to $8 million to eliminate the need for any loans to construct The Hub. With the commitment from Exact Sciences, the Urban League now has less than $1.9 million remaining to meet its goal of being able to begin construction before the ground freezes.
# # #
Contacts:
About Exact Sciences Corp.
A leading provider of cancer screening and diagnostic tests, Exact Sciences relentlessly pursues smarter solutions providing the clarity to take life-changing action, earlier. Building on the success of the Cologuard® and Oncotype® tests, Exact Sciences is investing in its product pipeline to take on some of the deadliest cancers and improve patient care. Exact Sciences unites visionary collaborators to help advance the fight against cancer. For more information, please visit the company's website at www.exactsciences.com, follow Exact Sciences on Twitter @ExactSciences, or find Exact Sciences on Facebook.
About Urban League of Greater Madison
The Urban League of Greater Madison (ULGM) is part of a national movement dedicated to empowering Black and other under-served communities through programs & services, advocacy & civil rights, and community engagement activities. Our work is aimed at increasing opportunity and eliminating racial disparities in education, economic well-being, housing, and other quality of life factors.
Photo by Richard Hurd
Summit Donates $2 Million to the Center for Black Excellence
Largest donation in credit union's 86-year history
MADISON, WIS. — Summit Credit Union, Wisconsin's second largest credit union, today announced a $2 million donation to launch The Center for Black Excellence and Culture in South Madison. It is the first company to contribute to the multi-million-dollar effort and the largest gift in the history of the credit union founded in 1935.
"This Black-led, Black-inspired and Black-designed center aims to create a space that uplifts the Black Community and Black-owned businesses, especially those run by women," said Kim Sponem, CEO and President. "The time is now for all of us to join the Black community to transform Madison from one of the worst cities for Blacks to live in, to one of the best."
Sponem said Summit Credit Union strongly supports the center's unique blend of building Black wealth in its planned incubator and co-working spaces, and its art events and community services spaces.
Summit Credit Union has dedicated itself to the financial wellness of its members for 86 years and has been firmly focused on women's financial empowerment for 12 years.
The Center is slated to open in 2023. For more information, visit the Center for Black Excellence and Culture.
Photo by Richard Hurd
Endres Foundation Announces $203,500 in Fall Grants
In November, 2021, Endres Manufacturing Company ("EMC") Foundation announced grants of $203,500 to 18 non-profits which provide essential area services.
The seven Trustees met online to consider 34 grant requests. Also, annual gifts of $1,000 to Big Brothers and Big Sisters, $1,000 to Artists on Main in Waunakee, and $15,000 to Dane Arts have been made. And finally, the final payment of $34,000 was made to the Youth Art Center to complete our $100,000 pledge, and $25,000 will be given to match grant decisions made by the UW Philanthropy Lab Class at their graduation celebration in December, a class mentored by the EMC Foundation.
The grant requests awarded are:
Aldo Leopold Nature Center – $25,000
Badger Childhood Cancer Network – $8,000
Bethel Horizons – $5,000
Family Services Madison – $10,000
First Tee – $5,000
Girls on the Run – $500
Horizon High School – $5,000
Junior Achievement of Wisconsin – $5,000
Little John's Restaurants – $25,000
Lussier Community Center – $5,000
Madison Area Food Pantry Gardens – $25,000
Madison Reading Project – $5,000
Prevent Blindness Wisconsin – $5,000
Ronald McDonald House – $5,000
Saint Patrick Catholic Church – $20,000
Second Harvest Food Bank – $5,000
Urban League Black Business Hub – $25,000
UW Odyssey Project – $20,000
The Endres Foundation grants cover a diverse array of focus areas: including education, arts, human services, environmental and health. If you plan to apply for one of the grant cycles in either May or November be aware that agencies in the local area are a priority and the Foundation seeks to support new programs or projects rather than funding the same agencies annually. We want you to both grow your base of donors and your impact on a positive future. $449.64 billion was given by U.S. philanthropists in 2019, and of that, Corporate giving grew by 13.4% to $21.09 billion, Foundation giving grew by 2.5% to $79.69 billion, and Individual giving grew to an all-time high of $309.66 billion. And it has continued to increase due to the needs encountered during COVID. We are fortunate to have caring, compassionate, and generous people giving our communities hope and optimism for a brighter future. Thank you!
Photo by Richard Hurd
WPS joins Disability:IN Wisconsin
FOR IMMEDIATE RELEASE
Contact:
DeAnne Boegli
Vice President of Communications
608-512-5754
deanne.boegli@wpsic.com
WPS joins Disability:IN Wisconsin
Partnership promotes inclusion of people with disabilities
MADISON, Wis.—Nov. 8, 2021—WPS Health Solutions commits to support Disability:IN Wisconsin as a Sustaining Partner. Disability:IN Wisconsin is a nonprofit, nonpartisan, business-to-business network of professionals with disabilities and allies across the state. The partnership allows WPS to share best practices and local resources on disability inclusion.
Events organized by Disability:IN Wisconsin will allow WPS employees to engage with local, regional, and national experts on important topics in disability inclusion. Working with the organization also allows WPS to connect with local certified disability-owned businesses.
Jihan Bekiri, Vice President of Diversity, Equity, and Inclusion at WPS, said, "Joining Disability:IN is a conscious step toward disability inclusion at WPS. I am thrilled to have WPS join this group of dedicated advocates so we can learn more and move forward together."
Disability:IN Wisconsin offers participating employers resources for recruiting candidates with disabilities, information on disability issues/topics, recognition for best disability employment practices, and exposure to an untapped market for goods and services.
The new partnership follows on the heels of other WPS diversity, equity, and inclusion work, including hiring Bekiri in January, signing the CEO Action Pledge and participating in the Day of Understanding, joining the Wisconsin LGBT Chamber in June, and the creation of the 'WPS Diversity in Insurance' scholarship, which helps underrepresented Madison College students pursuing careers in insurance, in September.
About WPS Health Solutions
Wisconsin Physicians Service Insurance Corporation (WPS Health Solutions), founded in 1946, is a nationally regarded benefits administrator for a variety of U.S. government programs and a leading not-for-profit health insurer in Wisconsin. WPS Health Solutions serves active-duty and retired military personnel, seniors, individuals, and families in Wisconsin, across the U.S., and around the world. WPS Health Solutions, headquartered in Madison, Wis., has more than 2,800 employees. Within the enterprise, there are three divisions: WPS Government Health Administrators, WPS Military and Veterans Health, and WPS Health Insurance/WPS Health Plan/EPIC Specialty Benefits. For more information, please visit wpshealthsolutions.com.