Photo by Richard Hurd
Air Force veteran Rob Sehi saluted by WPS Health Solutions and the Packers
FOR IMMEDIATE RELEASE
DeAnne Boegli
Vice President of Communications
608-512-5754
deanne.boegli@wpsic.com
Air Force veteran Rob Sehi saluted by WPS Health Solutions and the Packers
MADISON, Wis.—Aug. 17, 2021—The Green Bay Packers and WPS Health Solutions paid special tribute this week to U.S. Air Force veteran Rob Sehi and his family in conjunction with the Aug. 14 game against the Houston Texans. Operation Fan Mail, sponsored by WPS, is the program that recognizes military families and veterans at each Packers home game. The program marks its 15th season in 2021.
Sehi, originally from California, has spent the last 23 years in Connecticut. He enlisted in the U.S. Air Force in 1969 and was deployed to Vietnam from December 1970 to October 1971. He continued serving in the Air Force until 1976, and he went on to serve in the Air National Guard from 1985 to 1997. During his 20 years in the military, he earned the rank of Master Sergeant and earned a Meritorious Service Medal.
Aside from his military career, Sehi spent his civilian career as a psychotherapist and is also a reverend, having attended two years of seminary in New York City.
Sehi's wife, Tamara, is also a veteran who served in the California Air National Guard. She has spent her post-military career working for the Department of Veterans Affairs. A Packers fan since the 1960s, Sehi recently celebrated his 71st birthday and is making his very first trip to Wisconsin and Lambeau Field. The Sehi family lives in Hebron, Connecticut.
As the honoree for Operation Fan Mail this week, the Sehi family also received four tickets to the game and a $150 Packers Pro Shop gift card, courtesy of WPS.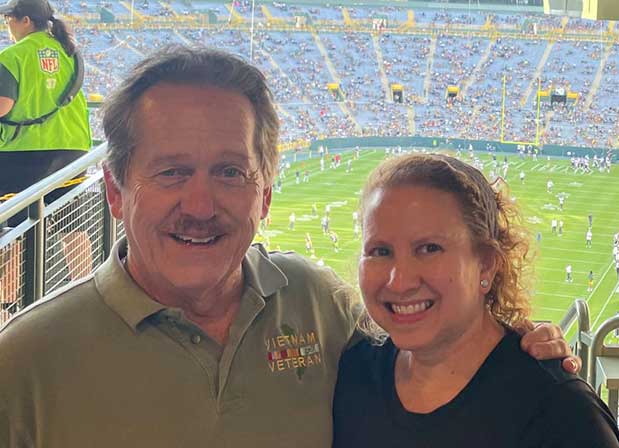 The program, which debuted in 2007, is designed to honor families with a member who is on active duty, or a member who is a veteran. The Packers and WPS Health Solutions will host a family at each 2021 home game and recognize the members on the video boards during pregame activities. A total of 137 individuals, families, or groups have been recognized through the program.
If you know someone whose bravery, sacrifice, and dedication deserves to be honored, WPS Health Solutions and the Packers invite you to submit an application. To apply, share an essay of 500 words or less describing why a particular family should be saluted at operationfanmail.com.
Essays can also be sent to Operation Fan Mail, P.O. Box 10628, Green Bay, WI, 54307-0628.
About WPS Health Solutions
Wisconsin Physicians Service Insurance Corporation (WPS Health Solutions), founded in 1946, is a nationally regarded benefits administrator for a variety of U.S. government programs and a leading not-for-profit health insurer in Wisconsin. WPS Health Solutions serves active-duty and retired military personnel, seniors, individuals, and families in Wisconsin, across the U.S., and around the world. WPS Health Solutions, headquartered in Madison, Wis., has more than 3,100 employees. Within the enterprise, there are three divisions: WPS Government Health Administrators, WPS Military and Veterans Health, and WPS Health Insurance/WPS Health Plan/EPIC Specialty Benefits. For more information, please visit wpshealthsolutions.com.
###