Photo by Richard Hurd
Attic Angel Association celebrates 130th birthday year with release of book and LIFE IS A PLAYGROUND! event and fundraiser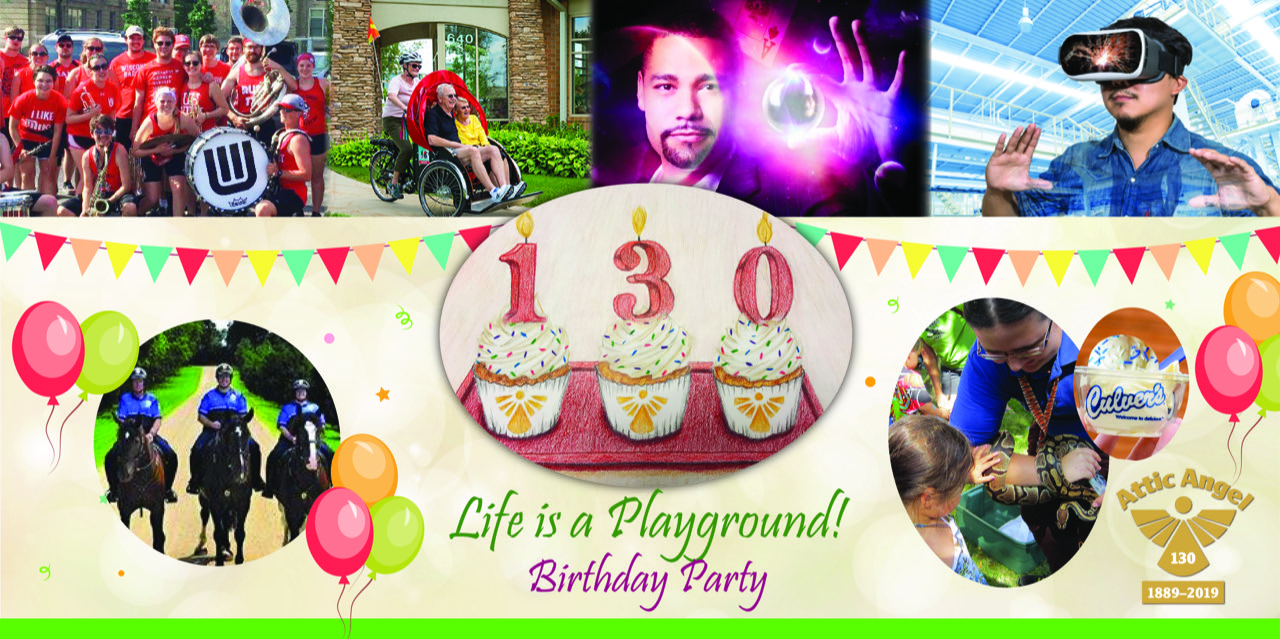 For more information, contact:
Kelly.Cheramy@AtticAngel.org
608-662-8886
Madison's historic Attic Angel Association of philanthropic women will celebrate its 130th birthday by giving a gift to the greater community: a playground to support children affected by early trauma.
Just as the Attic Angels, back in 1898, invited the whole city to the University Armory (now the UW Red Gym) to have a good time and raise money to build Madison's badly needed first hospital, today's Angels repeat the call for the entire city to come together for a time of play and fundraising. This time, though, it's a mostly-outdoor birthday party, themed Life is a Playground!, on the nonprofit Attic Angel Community campus, and their yearlong fundraising goal of $50,000 is for a playground that will serve homeless children and others enrolled at The Playing Field early learning center of Madison.
The birthday party will be Sunday, July 28, 2019, from 1 to 4 pm, kicking off with members of the UW Marching Band performing their famous 5th Quarter. A map and listing of all activities is online at www.atticangel.org/130. Gifts to the fundraiser will be accepted at the July 28 event and now through December online at www.atticangel.org/130.
"Our fundraising and partnerships of the past and for this event reflect the building of our community, but the event itself is even more about community-building," says Mary Ann Drescher, president/CEO of the nonprofit Attic Angel Association.
The sponsor lineup reads like a Who's Who of Madison history: Wisconsin State Journal (1839), Gallagher Tent and Awning (1880), Findorff (1890), UnityPoint Meriter (1903), Smart Motors (1908), Klein-Dickert (1919),  Kessenich's (1929), Summit Credit Union (1935), Chocolate Shoppe (1962), Culver's (1984) and the nation's oldest commercial playground manufacturer, Burke of Fond du Lac (1920). Businesses founded more recently also support the event.
The Association's Madison roots run deep, as storied in the newly released commemorative book THE ONE AND ONLY: Attic Angel, a Madison Original Since 1889. It tells of two sisters whose concern for children blossomed into a 130-year tradition of philanthropy that shaped a city by focusing on improvements to health and well-being.
Today, more than 500 dues-paying volunteers from all walks of life make up today's Attic Angel Association. Their mission is to identify community needs affecting children and seniors, and then do something about them. That pattern of progress is shown through their list of accomplishments and is reflected in the decision to raise The Playing Field's need for a sensory playground to the level of being a fundraising focus for their milestone anniversary year.
– 30 –
Attic Angel's Contributions to the Madison of Today:
1898 – The Angels held their first charity ball in the UW Red Gym, raising the equivalent of $15,000 to help build Madison's first hospital.
1899 – Madison's first children's library was the work of the Angels, who donated all their materials to the Madison Public Library when it opened a children's reading room in 1902.
1903 – Madison General Hospital (now UnityPoint Health – Meriter) opened, and the Angels provided for and maintained the children's ward.
1908 – Before organized health care, the Angels raised money to hire the city's first nurse to serve Madison families. The Attic Angel Visiting Nurse Service is now known as SSM Health at Home.
1915 – The Angels began what became a network of well-child clinics and is today overseen by Public Health – Madison & Dane County.
1953 – Seeking better care for seniors, the Angels opened the city's first non-government nursing home and set the gold standard for senior care. In 1975, they pioneered the idea of a "well-retirement" community in Madison. Their work lives on in the nonprofit Attic Angel Community of senior living and health care, located on the border of Madison and Middleton.
1969 – The Angels took up the cause of high-quality early education for low-income children by constructing and maintaining a building for a south Madison child care center. Now a charter school, it is known as One City Schools.
The Angels' affinity for playgrounds and parks comes from a desire for wellness. In 1908, they made possible the city's first supervised playground at Burr Jones Field, in 1998 they made a large grant to help build Warner Park Community Center, and in 2019 they are raising money to build a sensory playground for children experiencing trauma and other challenges.
Additional Historical Links to Today:
Charity Balls/Galas – The Angels may well have begun this tradition back in 1898!
Historic Madison names of streets, parks and businesses have "Angel" in their DNA: Women from these families were members of Attic Angel Association: Atwood, Brittingham, Fairchild, Findorff, Kayser, Main, Proudfit, Rennebohm, Smart and Vilas. In addition, Sen. William Vilas is an honorary member of Attic Angel Association, along with General EE Bryant, who is the father of the two founders. Both of these men were influential Madison citizens whose own impact reached a federal level.
The home of the founders (now called General Bryant Manor) still stands on Mansion Hill.
The Bryant graves are in Forest Hill and Resurrection Cemeteries
The Annie Stewart Fountain by Vilas Zoo, which has been a target for restoration, is linked to one of the very earliest Attic Angels.
Angel Marge Davenport is a 50-year halo award honoree (Association member who has served half a century); she lives at Attic Angel Place and is still active as a volunteer after 54 years!
Causes:
Each year, Attic Angel Association selects a community issue to focus on and then, from the funds raised largely through their signature sales each year, awards grants to Dane County nonprofits that meet the outlined needs. 2019-20's focus is support for families of children from birth to age 13 who are experiencing stress and trauma. In spring 2019, they provided nearly $220,000 in grants to Dane County nonprofits that serve children and seniors. Since recording began in 1983, their grants exceed $7 million.
Special Birthday Cause:
For Attic Angel's 130th anniversary year, they are adding a special cause: a playground that will meet the unique needs of homeless children and others enrolled in The Playing Field early learning center (www.playingfieldmadison.org). The Playing Field specializes in an approach to learning called Conscious Discipline®, and they are pioneers in trying to solve some societal issues based in homelessness and mental health issues.
The Angels invite the whole city and beyond to join in their mission by giving to this playground fundraiser: www.atticangel.org/130.
130th Anniversary Commemorative Book:
To be released April 30, THE ONE AND ONLY: Attic Angel, a Madison Original Since 1889 is a beautifully written and designed tribute to our own local "American girl" story! It tells about two sisters whose concern for children blossomed into a 130-year Madison tradition of philanthropy and progress to benefit both children and seniors. You'll also learn how they came up with their most unusual organizational name, and how it still applies today!