Photo by Richard Hurd
Christa Schonscheck Joins State Bank of Cross Plains as In-House Portfolio Manager and Trust Officer
October 21, 2019, MADISON, Wisconsin— State Bank of Cross Plains (SBCP) welcomes Christa Schonscheck, CFP®, APMA®, CRPC®, CLTC® as an in-house investment portfolio manager and trust officer.
Schonscheck works in collaboration with the bank's entire wealth management team to help customize the investing experience and provide local management of funds. In this unique melding of roles, she serves customers both behind-the-scenes through research and fund management and face-to-face through client meetings to answer questions about why specific funds are chosen for individual portfolios.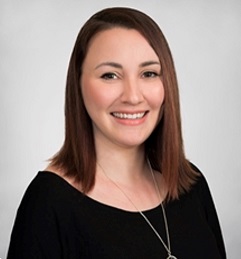 "I'm very passionate about financial literacy," explains Schonscheck. "Financial planning requires a dialogue. Everyone at every stage of investing should feel welcome to ask questions and fully understand how the process works. My goal is to analyze the complexities of each unique financial situation, create a strategy, and have a collaborative conversation about the next steps. I want everyone to feel comfortable, included, and empowered regarding their finances."
Schonscheck not only brings seven years of experience in all areas of wealth management, she has also worked diligently to advance her financial education, recognized as a Certified Financial Planner (CFP®), Accredited Portfolio Management Advisor (APMA®), Chartered Retirement Planning Counselor (CRPC®), and Certification in Long-Term Care (CLTC®) professional.
In addition to her work at State Bank of Cross Plains, Schonscheck and her husband own a small business providing pet boarding. She also serves as a volunteer for Lucky Mutts Rescue and competes with her Australian Shepherd in conformation in American Kennel Club, United Kennel Club, and Australian Shepherd Club of America.
"Christa has a great combination of experience, accreditation, and technical ability to perform all the day-to-day back-office work paired with the personality to provide great customer service during interactions with our clients," shares Mark Drachenberg, CFP®, Vice President and Senior Portfolio Manager for SBCP's Wealth Management Division. "I'm excited to have someone with her impressive experience and ability on our team!"
The Wealth Management Division at State Bank of Cross Plains is headquartered in the Madison office and provides a full spectrum of business and personal financial services, including:
Comprehensive financial planning services
Retirement income management
Risk management (insurance)
Education funding
In-house investment portfolio managers
Trust and Estate Administration
Business Continuation and Succession Planning
Anyone can work with the wealth management team at State Bank of Cross Plains. Specifically, customers do NOT need to bank at SBCP or live or work in the bank's service area. For more information about the financial planning and trust services available through the SBCP Wealth Management Division, visit sbcp.bank or call (608) 826-3570.
# # #
State Bank of Cross Plains is known for our modern, progressive approach to supporting businesses and consumers by offering services more typical of larger financial institutions in an environment that values one-on-one personal relationships and community involvement. Thanks to our recent merger, State Bank of Cross Plains is a $1.3 billion institution, offering a full range of business and personal financial services including business, real estate, and consumer lending, as well as wealth management and financial advisory services. We now also provide Crop Insurance and Ag Lending Services. SBCP has 15 convenient locations in Dane, Rock, and Green Counties. Member FDIC and Equal Housing Lender.
For additional information, please visit sbcp.bank or contact VP-Marketing Director Darin Tessier at 608-826-3514.