Photo by Richard Hurd
Per Mar Security Services Named Critical Infrastructure Partner of the Year
Contact:
Denielle Reeves, Per Mar Security Services
563-441-7481
FOR IMMEDIATE RELEASE
December 13, 2022
Per Mar Security Services Named Critical Infrastructure Partner of the Year
DAVENPORT, Iowa – Per Mar Security Services, a leading provider of total security solutions for residential and commercial clients based in Davenport, IA, was named Critical Infrastructure Partner of the Year by Axis Communications. The award was presented to Kevin Link, senior manager of technical services and Shaun Guidebeck, product coordinator, at the ACCC Awards night in Phoenix, Arizona. "On behalf of Axis, I'd like to congratulate Per Mar for receiving this year's Critical Infrastructure Partner of the Year. It was truly a pleasure to recognize them for their accomplishments, as well as personally express our appreciation for their partnership, at this year's ACCC event," said Larry Newman, senior director of sales, Axis Communications, Inc. "Successful business is built on trust, collaboration and excellence, and we're fortunate to have partners who exemplify these qualities—they're a true asset to Axis, the industry and the customers that we all serve."
The recipient of the Critical Infrastructure Partner of the Year award was determined by members of Axis Communications' sales leadership along with the company's senior management team in the Americas. Per Mar was selected for the award for continued growth and always making sure its clients have the best solutions now and in the future. "We are honored to be recognized by Axis for this award. Video, and specifically live video monitoring, has been increasingly popular with our customers and has been a significant driver of growth for us," said Chris Edwards, president of electronic security for Per Mar.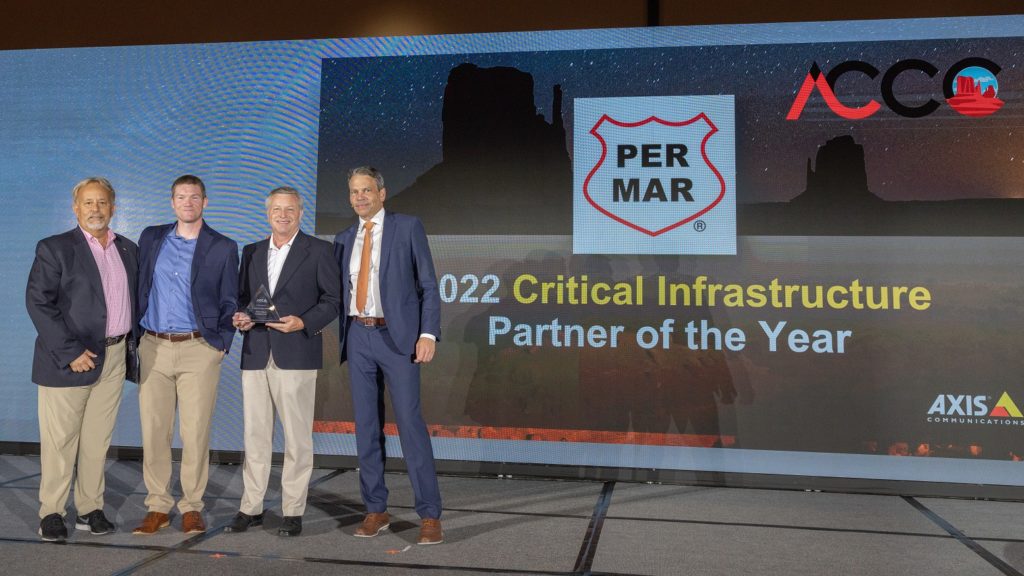 About Per Mar Security Services
Established in 1953, Per Mar Security Services is the largest, family-owned, full-service security company in the Midwest with more than 2,800 team members, operating in 25 branch locations. The company provides full-service security solutions for homes and businesses including security officer services, smart home automation, burglar and fire alarms, access control, security cameras, alarm monitoring, investigative services and background checks. For more information about Per Mar Security Services, please visit permarsecurity.com.