Photo by Richard Hurd
Portillo's Set to Open in West Madison in November
Oak Brook, Ill. – Fast-casual chain Portillo's is excited to announce that it will host the grand opening for its new restaurant, located at 7230 West Towne Way in Madison, Wisc., on November 30, 2021. The restaurant is the second location in the Madison area. It officially opens to the public at 10:30am.
Portillo's has always been known for its fast and efficient drive-thru. To cater to the increase in takeout and delivery business, the new restaurant will feature Portillo's first-ever three-lane drive-thru, with the third lane dedicated to delivery drivers and pickup for online orders.
Portillo's is now hiring in anticipation of the opening. On average, Portillo's hires approximately 150 people for new restaurants. The restaurant is looking to fill a variety of hourly and shift leader positions. Applicants can apply online; the brand is also conducting walk-in interviews on site. Details can be found at portillos.com/careers.
Once open, guests can expect to enjoy Portillo's signature menu items like Chicago-Style Hot Dogs, Famous Italian Beef Sandwiches, Char-Grilled Burgers and Portillo's Famous Chocolate Cake. The 7,800-square-foot restaurant features seating for more than 180 guests inside as well as a seasonal outdoor patio. The interior features a diner theme, drawing inspiration from the 1950s and 1960s.
To help launch the new restaurant, Portillo's designed a limited-edition t-shirt for this location. Guests are invited to sign up for Portillo's Birthday Club to receive one of these shirts on opening day, while supplies last. Fans who sign up also receive a slice of Portillo's homemade chocolate cake on their birthday.
Fans are invited to register for a chance to attend a sneak peek training meal prior to opening and receive updates on the Portillo's Westfield location by signing up at portillos.com/west-madison.
For more information on this restaurant and others, please visit portillos.com or follow Portillo's on Facebook, Twitter and Instagram.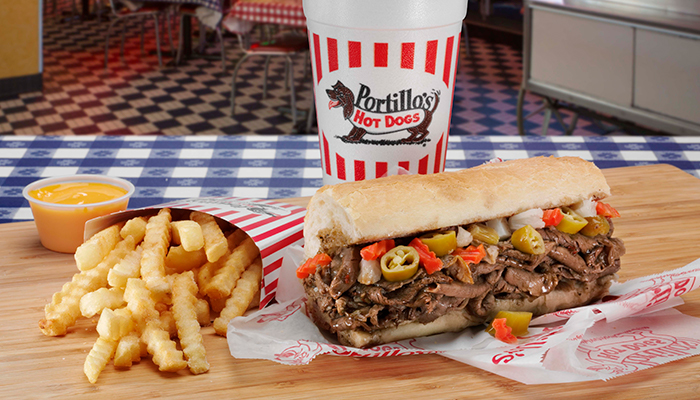 ABOUT PORTILLO'S HOT DOGS
In 1963, Dick Portillo invested $1,100 into a small trailer to open the first Portillo's hot dog stand in Villa Park, IL, which he called "The Dog House." Years later, Portillo's has grown to include restaurants in more than 60 locations across several states. Portillo's is best known for its Chicago-style hot dogs, Italian beef sandwiches, char-grilled burgers, fresh salads and famous chocolate cake. Portillo's ships food to all 50 states via Portillos.com. Portillo's Home Kitchen is the company's fast-growing catering business.
MEDIA CONTACT
ICR
PortillosPR@icrinc.com
###